RED 2, 2013.
Directed by Dean Parisot.
Starring Bruce Willis, John Malkovich, Mary-Louise Parker, Helen Mirren, Catherine Zeta-Jones, Lee Byung-hun, and Anthony Hopkins.
SYNOPSIS:
Retired C.I.A. agent Frank Moses reunites his unlikely team of elite operatives for a global quest to track down a missing portable nuclear device.
Bruce Willis has been making British headlines in recent weeks, though not solely because he has a new film soon to descend upon the multiplexes. Rather, a string of awkward press interviews concerning his new release have piqued the nation's attention as to the unsung comedy potential of this action icon when under siege from tabloid idiocy. Willis attended a Daybreak interview clad in a white dressing gown (nothing wrong with that), and elsewhere chastised Magic FM's host for fielding some fantastically inane questions about driving down the motorway in 'a cool car' [see here]. The mild furore over these public encounters is of course no detriment to the fortunes of the film itself, and will indeed manifest as added publicity for a feature that was – and possibly still is – destined to slip under the radar at the UK box office, coming up against stiff competition in James Wan's The Conjuring and Nicolas Winding Refn's Only God Forgives.
Most of the ridiculous questions targeted at Willis and co-star Mary-Louise Parker do justifiably originate from the core concerns of action sequel RED 2, a black comedy whose flashier fight sequences are surrounded by quasi-romantic lady-tussles for the affection of Willis, an apparent demigod of love. "How do you get the ladies, Bruce?" is the common inquisition these days, a rose-tinted perception encouraged by the onscreen warring between Mary-Louise Parker's Sarah and new cast addition Catherine Zeta-Jones as Russian temptress Katia – the 'kryptonite' to Willis' ex-CIA agent Frank Moses.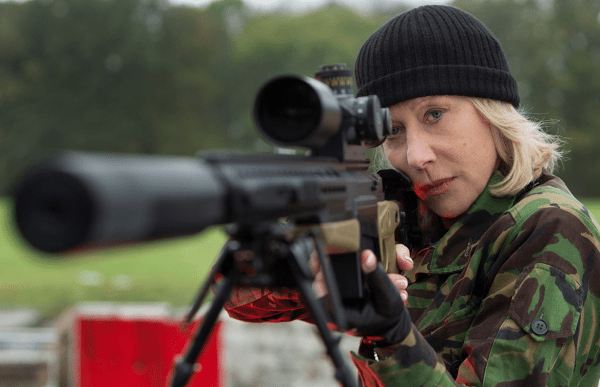 Katia's sultry disposition plays off against the domesticated innocence of Sarah, forcing the latter to constantly up her game with new outfits, action posturing and a taste for danger that aims to raise Frank's eyebrow approvingly. Frank's less immersed in her character overhaul; he'd rather his partner remain a dutiful housewife while he gets to work unravelling another vague conspiracy, alongside a different type of partner in ex-agent Marvin (John Malkovich). Their new escapade has them hunted by brand new nemeses in Agent Jack Horton (Neal McDonough), assassin Han Jo-Bae (Lee Byung-hun) and, in a nonchalant heel turn, Frank's old comrade Victoria Winslow (Helen Mirren). Her dispossessed acceptance of the contract upon Frank's head, alongside the litter of corpses in her car boot and hotel room floor, are indicative of the film's overall casual approach to death and violence.
Being that this is adapted from a comic book series by Warren Ellis, the overblown violence, and the degree to which most of it is shrugged off by the cast, is clearly to be expected. Luckily, incoming Dean Parisot has dispensed with the silly music that underlined most of the first film's comedic moments – and every other moment besides – allowing more room for the ensemble cast to generate laughs of their own accord.
It's a shame, then, that the presence of such a talented array of actors – chief among them Anthony Hopkins as Dr. Edward Bailey – fails to truly ignite. The film globetrots at such a dogged pace – from Paris to London to Moscow – picking up and dropping off characters along the way, that it's difficult for the viewer to really engage with proceedings. As these thinly-drawn characters traverse the big cities, we've just the one discernible individual in their ranks to examine. Parker's Sarah is the only character undergoing any semblance of development, even if it is an endlessly frustrating attempt to gain the attention of her gung-ho lover. Progressive-minded viewers will have a field day with her arc, though her compromise is still ironically the one sign of a weak pulse in this otherwise draining comedy. 
Flickering Myth Rating – Film: ★ ★ / Movie: ★ ★
Ed Doyle – Follow me on Twitter.