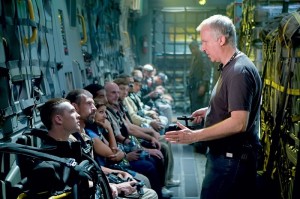 For the past couple of years, James Cameron has been busy hammering away at development on a trio of sequels to the 2009 mega-blockbuster Avatar, working with screenwriters Josh Friedman (Terminator: The Sarah Connor Chronicles), Shane Salerno (Savages), and Rick Jaffa and Amanda Silver (Rise of the Planet of the Apes) to perfect the scripts for the follow-ups to the highest-grossing film of all time.
Speaking during a Reddit AMA Cameron has offered up an update on Avatar 2, 3 and 4, stating that: "The second, third and fourth films all go into production simultaneously. They're essentially all in preproduction now, because we are designing creatures, settings, and characters that span all three films. And we should be finished with all three scripts within the next, I would say, six weeks."
Cameron also went on to discuss how the success of Avatar led to a change in plans with regards to his focus as a filmmaker:
"My intention when I made Avatar was to do Battle Angel next. However, the positive feedback for Avatar and the support of the message of Avatar, encouraged me to do more of those films. For me, the success was a factor because I was encouraged by the fact that an environmental film, or a film about nature, could be successful. It's certainly not just about money. I'm considering success to mean the measure of the ability of the film to communicate. Every director wants their film to communicate. The biggest factor, however, is the drive to continue developing the world– more characters, more creatures with unfettered creativity."
Avatar 2 is set to hit in December 2016 followed by Avatar 3 in December 2017 and Avatar 4 in December 2018 with Sam Worthington (Jake Sully), Zoe Saldana (Neytiri) and Stephen Lang (Colonel Quaritch) all confirmed to return.