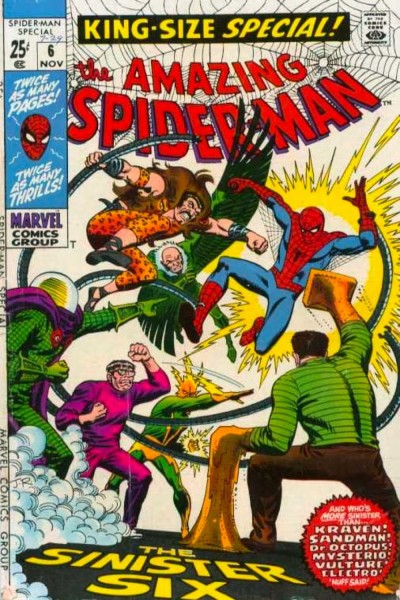 Before it revealed its plans for Venom and The Sinister Six, Sony set out its stall for the future of Marvel's friendly neighborhood Spider-Man by announcing that The Amazing Spider-Man 3 would hit cinemas on June 10th 2016, followed by The Amazing Spider-Man 4 on May 4th 2018.
Well, it seems that with the recently announced spin-offs, Sony's plans have changed and the studio is now looking to release both Venom and The Sinister Six before Spidey's fourth outing, with producer Matt Tolmach telling Den of Geek that:
"Before we know what we do with Spider-Man 4, we're going to do Sinister Six, Venom and Spider-Man 3. There is going to be a lot of crossover in those movies. So we're just not at Spider-Man 4, because we still have a whole other Spider-Man movie and two other movies. So we don't know yet what [Spider-Man 4] is going to be."
Tolmach went on to confirm to Den of Geek that the 2018 date will see the release of a Spider-Man movie, although no necessarily an Amazing Spider-Man movie, meaning that it seems it's a pretty good bet that we'll be seeing one of the two villainous spin-offs hitting on that date.
Meanwhile, to promote the release of The Amazing Spider-Man 2 [read our review here], director Marc Webb and stars Andrew Garfield and Jamie Foxx have shared a few thoughts on the Sinister Six to MTV…
The Amazing Spider-Man 2
is set for release on April 18th in the UK and on May 1st in North America, with a cast that includes returning stars Andrew Garfield (Spider-Man), Emma Stone (Gwen Stacy), Sally Field (Aunt May), Chris Zylka (Flash Thompson), Campbell Scott (Richard Parker), Embeth Davidtz (Mary Parker), Martin Sheen (Ben Parker) and Denis Leary (George Stacy) alongside new additions Jamie Foxx (Django Unchained) as Electro, Dane DeHaan (
Chronicle
) as Harry Osborn, Paul Giamatti (
12 Years a Slave
) as The Rhino, Chris Cooper (
American Beauty
) as Norman Osborn, Colm Feore (
Thor
) as Donald Menken, Felicity Jones (
Like Crazy
) as Felicia Hardy, Marton Csokas (
The Lord of the Rings
) as Dr. Kafka and B.J. Novak (
The Office
) as Alistair Smythe.