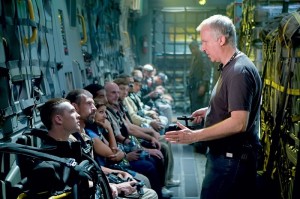 James Cameron has spent the past few years hammering away at development on the upcoming trio of sequels to his 2009 mega-blockbuster Avatar, and with the films gearing up to go into back-to-back production the director has provided a brief update during a chat with Empire.
Cameron has been working on the screenplays for Avatar 2, Avatar 3 and Avatar 4 with several writers, including Josh Friedman (Terminator: The Sarah Connor Chronicles), Shane Salerno (Savages), and Rick Jaffa and Amanda Silver (Rise of the Planet of the Apes), and he went on to discuss the writing process:
"I think we met for seven months and we whiteboarded out every scene in every film together," Cameron explains, "and I didn't assign each writer which film they were going to work on until the last day. I knew if I assigned them their scripts ahead of time, they'd tune out every time we were talking about the other movie."
Finally, he revealed that he's opted against shooting in 60 frames per second, instead choosing 48fps: "My thinking at the time was that 60 [FPS] might be a better segue to the video market. I'll be plugging into a system that's a little more mature, so it makes sense for me to do 48 frames at this point."
And finally, he also took a moment to big the sequels up, stating that: "I can tell you one thing about them. They're gonna be bitchin'. You will shit yourself with your mouth wide open."
Avatar 2 is set to hit in December 2016 followed by Avatar 3 in December 2017 and Avatar 4 in December 2018 with Sam Worthington (Jake Sully), Zoe Saldana (Neytiri) and Stephen Lang (Colonel Quaritch) all confirmed to return.