Laura Kitchens was last seen alive on March 7th.
She was murdered.
Castle, The Maltese Falcon, Sherlock – what do they all have in common besides being about detectives?
They're fictional – i.e. you can't be them.
Well, dust off your oversized magnifying glass and old electric razor (for the late nights you'll be pulling), because BBC Writers room have released a new immersive digital mystery as of…right now.
A woman named Laura Kitchens has been murdered. Using footage from the last 24 hours of her life (from the fictional surveillance programme SaturnEye), as well as access to her Facebook, Twitter and Instagram profiles, you must solve the mystery of her death. Click the image below to get started: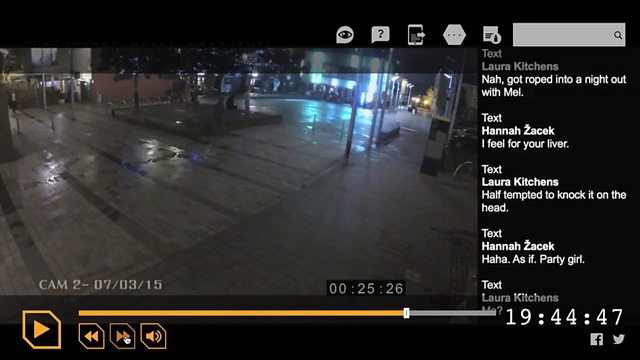 Although 'immersive digital mystery' sounds a bit hipster-esque, the grungey set-up of the site and the concept behind the 'experience' itself is wonderfully engaging. There are echoes of everything from The Matrix to Mike Figgis' Timecode, from Charlie Brooker's Black Mirror to Denzel Washington's often-overlooked Deja Vu. Check out the trailer below:
Watch the last twenty­four hours of Laura's life at www.TheLastHoursofLK.com and most importantly, join the investigation:
Twitter : @LasthoursofLK
Facebook: TheLastHoursofLK
Instagram : lasthoursoflk
#lasthoursoflk
If you think you know who the killer is, please get in touch. Email who, how and why at this address: info@saturneye.org.
Here's the press release:
The Last Hours of LK is a ground­breaking digital experience placing the audience at the heart of the story. Using 24 hours of footage from the fictional surveillance programme, SaturnEye, this is a disconcertingly intimate, unfiltered and impartial look into Laura's last hours before her death.
"The Project is inspired by the Edward Snowden quote, 'I don't want to live in a world where everything that I say, everything I do, everyone I talk to, every expression of creativity, love or friendship, is recorded' because it challenges the traditional conventions of storytelling, and questions how we live our lives now." ­ Kate Rowland, BBC Creative Director.
Launching on Monday 30th March, www.TheLastHoursofLK.com will allow users to find clues, motives and hopefully the killer by immersing themselves in the characters' digital lives via their Facebook, Twitter and Instagram profiles.
With forty character profiles already live on social media, as well as an alternative news blog 'SP117', the narrative threads are already there to be discovered. When and how users consume the content is entirely up to them.
Writers of the story include Gabriel Bisset Smith, who also directs, Rachel Delahey who plays Laura Kitchens, Kenny Emson and Ed Sellek, working closely with Producer Jon Davenport and Creative Director, New Writing, Kate Rowland.
www.TheLastHoursofLK.com was created by the small but tireless team at MediaBodies Digital Services, a London based digital agency headed by Vincent Chan and Edward Fuller.
'The Last hours of LK is a great multi­media project that really shows off the exciting creative opportunities to push the boundaries of traditional media and create truly immersive experiences' ­ Vincent Chan.