Those of you who have Gold subscriptions to Xbox Live will have another good selection of games coming this month on Games with Gold.
Starting with the Xbox One, we have a continuation for another month of Pool Nation FX which isn't the best pool game ever but is certainly a good game for how much it's costing subscribers at the moment.  But the game that is sure to attract some attention is Castlestorm: Definitive Edition. Castlestorm is a mashup of a 2D physics destruction game mixed in with a good splash of tower defence.
Featuring solo campaign and online multiplayer and co op modes building up castles and knocking them down has never sounded so much fun.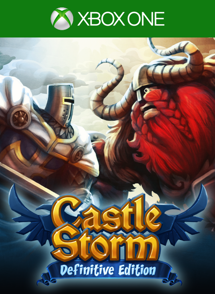 On the Xbox 360 from May 1st to the 15th we are presented with Mafia II.  A post World War 2 tale of  Italian immigrant, Vito Scaletta's rise in the criminal underworld. It's a big game with plenty to discover and explore.
From May 16th to the end of the month we get to drive round famous circuits such as Brands Hatch listening to the dulcet tones of Murray Walker in F1 2013.  This was a game that was highly rated for its realism and fine presentation and will be a must for any fan of the genre.
All in all it's not a bad month for Gold members.  Enjoy!