Well, WWE Sunday Night Raw Fastlane was…a show. Some good bits, some bad bits – but not enough either way to focus on for a whole '5 Reasons Why Fastlane was the Best PPV EVER!' piece, or '8 Times We Wished No Way Out Would Come Back'. So, instead, here is a completely unstructured list of 22 Thoughts on WWE Fastlane…in both video and text form!
1. Kalisto retained his US Title after defeating Alberto del Rio dos falls to uno in the pre-show. Del Rio intentionally lost the first fall via DQ by hitting Kalisto with a chair, so he could then capitalise on that for the second. I may be reading to much into this as a tribute, but it reminded me when Daniel Bryan used the same tactic in his 2012 Extreme Rules match against Sheamus.
Where's a Kevin Owens pop-up powerbomb when you need one?
2. Rapper Machine Gun Kelly was in the crowd. I have no idea why. He must be Kevin Dunn's kid or something. He is always there.
3. The opening Divas tag match had one of the best close hot tags I'd ever seen. Becky Lynch was millimeters away when Naomi yanked Sasha Banks off the apron.
4. Rather fittingly – and this goes for Charlotte/Brie later on in the night, too – a double submission win for the NXT women. Sara del Rey, the head female trainer down in NXT, is on a crusade to make submissions look painful again. She's coming for you, Cena.
5. I knew Dolph Ziggler was going to lose his Intercontinental Title match against Kevin Owens. Not because it makes sense from a booking standpoint, but because the show was in his home state of Ohio. The WWE must be one of the only 'sports' that has a 'hometown disadvantage'.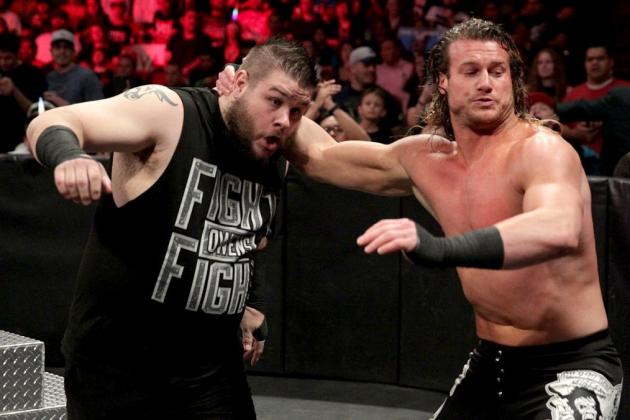 6. Owens is brilliant. The first thing he does after retaining the title is shout at Michael Cole – always a plus – and then he grabbed a Dolph sign from the crowd and threw it on the floor.
7. Kane, Big Show and Ryback cut an awfully scripted promo backstage. Nobody looked at either each other or the camera. I have no idea why anybody thinks looking off in different directions like the front cover of a Christian rock band album is a good idea.
8. Because that promo wasn't enough, we were then tricked – that's the opposite of 'treated' – to an overly long video package. Rather than tell the story development from week to week, of the Wyatts systematically taking out the Big Guys, it instead conveyed a sense of tone, of how menacing the Wyatts are. That's not what's needed here. Just recap the feud like you're telling a simple story in these pre-match promos. Preferably with a Creed song in the background.
9. I thought their actual match was pretty good, though. The six man tag format allowed them to keep a zippy pace by disguising the slow spots with quick tags and people running in.
10. Luke Harper is tremendous.
11. The Wyatts, however, lost, so if they were trying to build them up for the reported Brock Lesnar/Harper match at the March to Wrestlemania Network Special, it didn't work.
12. Ryback was made to look really strong though, especially with Kane and Big Show raising his hands at the end.
13. Brie Bella is over via Bryan. The crowd 'YESed' all over her in the Women's Title match.
14. Which she lost tapping out to Charlotte's Figure 8. The expression on Brie's face was mild discomfort at most. Like when one butt cheek starts to fall asleep. I wasn't buying what she was selling.
15. The AJ Styles/Chris Jericho match was actually too good for the crowd. There were at least two stunning spots where the fans hardly reacted. 1) An AJ crossbody over the top rope to the outside was countered by a perfectly timed Jericho dropkick; and 2) when Jericho cut off AJ's flying elbow with a springboard dropkick on the top rope AJ was balancing on. The match was slow, but that in no way means it was bad. It was like how you would call John Ford Westerns 'slow'. Sure, they had very long shots of the landscape, but they were god damned beautiful to look at. It was a methodical, craftsman-like approach to telling the story.
16. Unfortunately they shook hands at the end of it. Wrestlemania 32 could really do with another match besides Triple H vs Roman Reigns. And this was the perfect opporunity to turn Jericho full heel.
17. If it wasn't clear enough already, the triple main event confirmed it: Brock Lesnar really needs to start wearing a cup. The guy has an Achilles penis.
18. Ambrose vs Lesnar vs Reigns was entirely structured around Dean. 'Dean vs Brock' and 'Dean vs Roman' have been the stories they've been telling on Raw the last few weeks. Even the Royal Rumble had 'Triple H vs Dean' as the final two. Everything is gearing towards this guy, fan support included, yet the WWE refuse to change their Roman Empire plans.
19. In addition to the 'Lunatic vs Beast' and 'Brother vs Brother' stories, there was the extra dynamic of the 'SHIELD vs Brock Lesnar'. Every time Brock got to his feet, Dean and Roman would stop fighting to take him out. This provided three entwining narratives for the match, all told through the action, making for some great in-ring psychology.
20. But, despite all the near falls, you knew who was gonna lose here. Dean was the home-state boy. Vince McMahon 2, Ohio 0.
21. When Roman won, the camera couldn't find a crowd shot that didn't have people booing and holding their thumbs down. This isn't the guy people want to see wrestle for the championship. Luckily, Kevin Dunn had a crap load of pyrotechnics to drown out the reaction.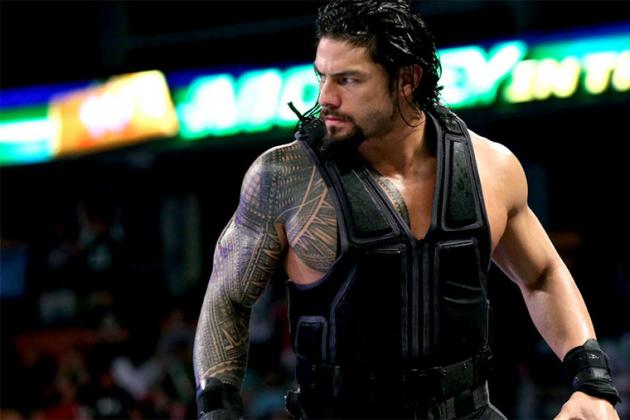 22. And finally, Triple H came down to stare at Roman with the Mania sign in the background and the title held between them. It must've taken everything they had not to turn slightly and look at the ever-inviting Wrestlemania sign. Wrestlers are like mosquitos to bug zapper lights with that thing.
So that's it. A show with no bad matches and two really good ones – the main event and Styles/Jericho. But that's not what WWE need right now. They need heated feuds that are entering their Road to Wrestlemania final act. Wrestlemania 32 only has one match right now – Triple H vs Roman Reigns – and that's a feud nobody particularly wants to see.
For a Pay Per View that's meant to be not just the company's biggest of the year, but their biggest of all time if they want to beat Wrestlemania III's attendance record, they're going to have to pull something special out the Gorilla position in the next 40 or so days before Wrestlemania 32.
While you're here, by the way, you might as well watch the latest episode of British Wrestling Weekly: