Calum Petrie reviews The LEGO Ninjago Movie Video Game…
The LEGO games have been around for a good few years now, often taking on a comical and lighthearted approach to the source material and its licensed properties. The franchises that have received this treatment have spanned from Star Wars to Harry Potter as well as everything in between with the collectable and ever growing adventures of LEGO Dimensions.
Though what happens when LEGO reverts back to its own IPs? What happens when they do not rely on the outside creations of other franchises? Well, The LEGO Ninjago Movie Video Game is possibly the most original LEGO game to come out in many years, but does this actually help or hinder the game's performance, as well as the film it is based upon?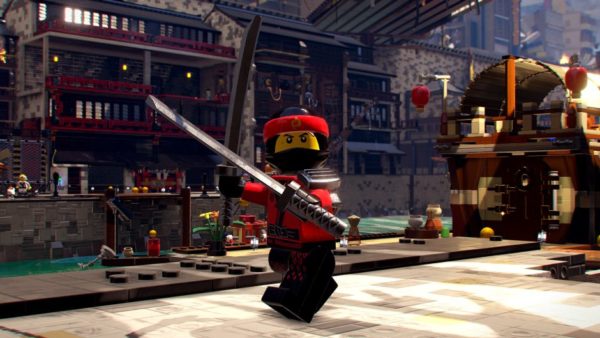 LEGO Ninjago is an action adventure game with a lot of exploration and block destroying thrown in for good measure. The game plays as a bog standard LEGO game; for people who do not know what that means, essentially you are given a series of levels to explore and tackle, and within these levels you will complete objectives to progress while destroying just about everything in sight to unlock and find hidden collectables. The game allows you to take control of multiple characters per level to navigate the terrain and use the strengths of different characters by switching who you control. It also a multiplayer aspect that allows a cooperative play-through of the campaign allowing for teamwork.
The story here focuses on a minor variation of the movie, and I imagine that most people who are going to buy the game will have already seen the film. Though the other way of working is fine as well,as  the game does contain clips from the film and explains the plot pretty well indeed. In fact, I would argue that the game is a more complete experience than the film, where you trade off the laughs in some places for a more interactive and rewarding experience in the shoes of the characters.
The game is bright and colourful, as we have come to expect from LEGO; the level design is fantastic where the backdrops can be as pretty to look at in the LEGO world as the foreground that the action takes place upon. This game does take a more heavy approach to combat than its predecessors, and players now have a number of different button combination and a much larger range of attacks. It almost feels like a Devil May Cry style game with the amount of combinations and button timing discipline needed to pull off some stylish looking attacks. This is most in depth combat mechanics I have witnessed in a LEGO game to date, and it felt somewhat refreshing and focus driven to have an option on the attacks instead of your usual range of 3 different attacks.
There are also "Mech Combat" mechanics to the game, and by this I mean that the ninjas for Ninjago have their own massive vehicles (think Power Rangers Megazord) to combat the forces of evil. The game's opening mission, not including tutorial, starts off with a very visually impressive set piece where you pilot a flying dragon mech and take out waves of enemies. The vehicle combat was a pleasant and unexpected part of the game which I found broke up some of the longer "on foot" sections.
The game itself is fun. The combat is more varied than its predecessors, and that is not a bad thing, and it is still easy to pick up and play for any age range wishing to jump in and try their hand at the on-screen fun. The LEGO games have always been good at pulling you in and letting you join in the imaginative fun without having to build a £1000 set purchased from your local LEGO store and spend the next month building it up. The fun and spirit of the LEGO experience is present, offering that special spark that many people get from playing these games, and any LEGO video game fan should have this little gem in their collection.
Pros:
Varied combat with more combat mechanics.
Very nice graphics.
Humour.
Cons:
Screens can be cluttered during combat causing players to lose sight of whats happening on screen.
Sometimes the game can be unclear of where the objective is
Rating: 7/10
You can find me on Twitter @Cetrie