Liam Hoofe gives his predictions for this Sunday's WWE Hell in a Cell event…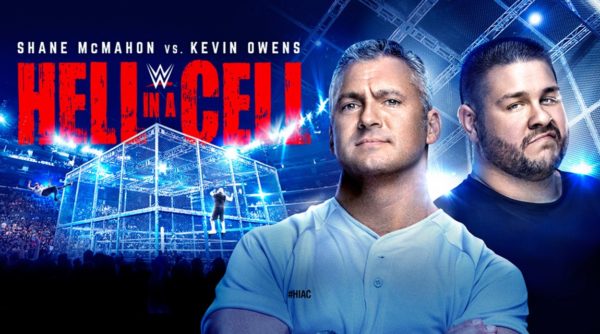 It seems like only last night I was staying up watching WWE No Mercy, but here we are once again – another WWE pay per view. To give the company some credit, it has done a great job of building Hell in a Cell, and the night's big match between Kevin Owens and Shane McMahon does feel like a big event.
SmackDown will also see every one of its titles defending this coming Sunday and judging from the matches on the card, Hell in a Cell could be a nice return to form for the brand, after their last solo PPV, Battleground, was a bit of a dud. 

So, who is going to walk away victorious this Sunday night? Let's take a look at my predictions for each of the night's seven matches.
AJ Styles Vs Baron Corbin (US Championship) 
Baron Corbin's drop down the card has seemingly halted a little in the last month, with the former Mr Money in the Bank finding himself competing for the US title against AJ Styles this Sunday night.
The upper mid-card is where Corbin belongs right now and a match with AJ Styles is likely to bring the best out of him. It's a shame that Tye Dillinger hasn't found himself in this match – getting to compete against two of SmackDown's more established wrestlers would have worked wonders for him as he still struggles to find his place on the card.
Styles should retain the belt here, before losing in a triple threat involving Corbin and Dillinger. That way, he can still be protected before moving back up to the main event.
Prediction: AJ Styles Retains
Natalya Vs Charlotte Flair (Women's Championship)
I'm finding this match extremely difficult to call. Natalya has only just won the belt, but Charlotte is one of the most talented women in the WWE right now and she would make for a much better champion. I have to assume, based on reports, that Charlotte is heading for a clash with Ronda Rousey at WrestleMania, and likely a Four Horsewomen of WWE Vs Four Horsewomen of UFC, perhaps at Survivor Series.
It remains unknown as to whether those matches will involve the women's title, but I'm going to play this safe here and have Natalya hold onto the belt. Charlotte will definitely win it in the coming months, but the company has a habit of dragging out feuds as long as possible.
Prediction: Natalya Retains
The Usos Vs The New Day – Hell in a Cell (Tag Team Championship)
This match has all the makings of a match of the year candidate. The Usos and The New Day have been on fire in recent months, and the addition of the hell in a cell structure to the match-up will likely only improve things.
The titles have switched hands a lot over recent months, but it is time to draw a line under this feud. The Usos have played their part excellently here, but The New Day should walk away with their belts and head into a feud with Chad Gable and Shelton Benjamin now.
Prediction: The New Day Retains
Randy Orton Vs Rusev
After being embarrassed by Orton at SummerSlam, Rusev really should walk away with the victory here, and I'm still unsure as to whether or not they will give it him, but I'm going with my heart on this one.
Orton has had one of the worst years for a main eventer in recent memory and giving him a victory over Rusev does nothing to help anyone. Don't rule out Aiden English getting involved here, either, the former Vaudevillian's alliance with Rusev could be a good thing for both men, and having them screw Orton on Sunday night would be a step in the right direction.
Prediction: Rusev Wins
Bobby Roode Vs Dolph Ziggler
What has happened to Dolph Ziggler? A year on from his unforgettable bout with The Miz at No Mercy 2016, the former World Heavyweight Champion is now nothing but a jobber to the stars.
This is the easiest match to call of the night. Ziggler is stuck in no man's land with a terrible gimmick, while Bobby Roode is riding a wave of momentum following his debut on SmackDown last month. This is just a rehashing of Ziggler's feud with Nakamura a few months back.
Prediction: Bobby Roode Wins
Jinder Mahal Vs Shinsuke Nakamura – Hell in a Cell (WWE Championship)
It saddens me to see Shinsuke Nakamura having to do the business to Jinder Mahal, but sadly, I see exactly that happening again this Sunday night. The WWE is heading to India in the near future and they won't want to take the belt off Jinder for that.
Most of the WWE universe will rejoice the night that Jinder drops the belt, and Shinsuke is more than deserving enough to take it from him. As much as I would love to see that happen, I have a horrible feeling that Jinder is going to hold the belt all the way through to WrestleMania. Hopefully, I'm wrong, and Jinder coming out on top this week on SmackDown could indicate that Shinsuke is going to leave with the belt. I just don't have the faith in the company to see predict it.
Prediction: Jinder Mahal Retains
Kevin Owens Vs Shane McMahon – Hell in a Cell
Kevin Owens has been excellent over the last month and I hope that the WWE doesn't go cold on him anytime in the near future. He has made this match feel absolutely huge, and considering the internet's reaction when they heard rumours this match was going to happen, that was no easy task.
A victory for Kevin does leave the company in a tricky situation, though, as I suspect they will want to carry this feud on through to Survivor Series at the very least. With that in mind, I'm still giving the win to Owens – a loss to Shane would be damaging, but I'm going to say it wins it via some sort of outside interference. Who from? I'm going out a limb here and saying either Triple H or a heel turn from Sami Zayn.
Another option, though, is Kevin just absolutely destroying Shane, continuing his character build and forcing Triple H to come down and confront him at the end of the show. Either way, Owens is winning this one.
Prediction: Kevin Owens Wins
Who do you think will win at Hell in a Cell? Let us know in the comments below, and let Liam know on Twitter @liamhoofe