Liam Hoofe reviews WWE Hell in a Cell 2017…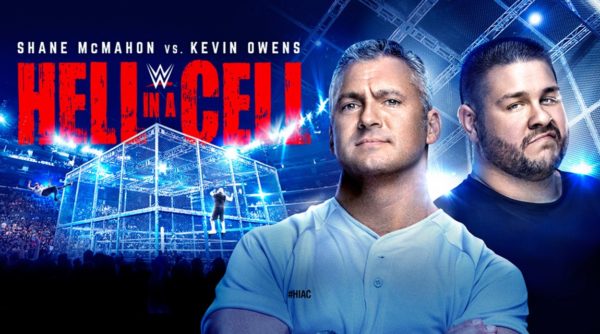 Despite its incredibly impressive roster, Smackdown has failed to put on a good pay per view this side of WrestleMania. Sunday's Hell in a Cell is the brand's first pay per view following SummerSlam and will likely set in motion several storylines for the next big 4 event – Survivor Series, in November. 

Could SmackDown finally get back on track this past Sunday night? Let's take a look at every one of the night's matches and find out.
Pre-Show: Shelton Benjamin and Chad Gable Defeated The Hype Bros
As pre-show matches go, I really enjoyed this one. Watching Gable and Benjamin wrestle is never a chore and the latter is still looking sharp despite having been away from the WWE for a long time. The teased break-up between The Hype Bros didn't happen, but Gable and Benjamin can no move into the tag title picture in the next month or so. The bout featured a surprising amount of near falls and was giving a fair bit of time for a pre-show encounter. This was a nice reminder that there are other teams capable of performing on Tuesday nights.
Match Rating: ***
The Usos Defeated The New Day inside Hell in a Cell to win the SmackDown Tag Team Titles 
Exciting, physical, innovative – this match had a bit of everything and all four men can be proud of the way they have redefined the SmackDown tag team division over the last few months. There were too many awesome spots in this match to list them all here, and the character work, especially from The Usos, who have been awesome in recent months, was second to none.
This also felt like the first Hell in a Cell match in some time where the match lived up to its name. The four men were brutal here, and their use of Kendo sticks was something The Sandman would have been proud of.  The near falls were so perfectly executed throughout the match and the spots just continued to get more and more innovative.
The Usos' victory also means we will get at least one more match between the teams in the coming months.  This is likely going to be the match of the night.
Match Rating: ****
Randy Orton Defeated Rusev
Can we all just take a moment to appreciate how awesome Rusev is? His work over the last month has been highly entertaining, and I hope, despite this result, we see more of him and Aiden English, perhaps in the US title picture.
The match itself was a fairly standard Orton affair and nothing particularly worth writing home about. I can't help but think they missed the chance for an awesome finish when Rusev nearly slapped the Accolade on from out of nowhere. It would have been a fitting conclusion to the match but instead, Orton managed to hit the RKO. Rusev should have been given the victory here – Orton doesn't need it, and this is just compensation for him putting over Jinder all Summer.
Match Rating: ** 1/2
Baron Corbin Defeated AJ Styles and Tye Dillinger to win the US Title
The addition of Tye Dillinger seemed fairly inevitable here and I'm fine with him getting a shot on a PPV, as he has been woefully booked since he arrived after Mania.
The match itself was a good, if not slightly problematic encounter. The match excelled most when it actually made use of the fact that it was a triple threat encounter. The issue was that Styles spent a lot of time out of the ring and considering who he is, that seems a strange decision to me.
Corbin was booked to look strong for most of the bout and he needed that, even if it didn't make that much sense following the last few months. The fans chanting 'where's your briefcase?' was also amusing. The ending was nicely executed and made sense from a storyline perspective. I have no issue with Corbin taking the belt – the finish protected AJ and he can finally move back up the card again in the next few months.
Match Rating: ***
Charlotte Flair Defeats Natalya By Disqualification
Well, this sucked. How did two of the most talented women in the WWE put on such a woeful match? Sorry Natalya, but the quality of this one falls on you a lot more than Charlotte. Flair spent the majority of the match selling an injury, so Natalya worked a plodding match with had a terrible, terrible finish. Just give Charlotte the belt already.
Match Rating: *
Jinder Mahal Defeated Shinsuke Nakamura
Well, we all knew this was coming. With WWE heading to India, it was pretty obvious going into this one that Jinder was going to retain. The match itself was lame. Jinder works an awfully boring style and he has no connection with the audience whatsoever. Shinsuke has, sadly, struggled on the main roster and in his time on SmackDown he has only delivered one really good match.
The finish was fairly clean for Jinder, which is an insult to Nakamura really. Jinder will move on to a new challenger now and Shinsuke will find something else to do. This whole feud has been dire.
Match Rating: *
Bobby Roode Defeated Dolph Ziggler 
God, this show has really run out of steam. Dolph Ziggler and Bobby Roode are two of the most talented performers on the SmackDown roster, and this was a huge disappointment.
The two men just gave us an incredibly formulaic affair that never got out of the first gear. SmackDown has fallen into a very lazy way of booking its matches in recent months and this was just another example of that. Roode got the win, as we all predicted, and then Ziggler hit the zig-zag after the match. Not really sure why they bothered with the post-match stuff, not really sure I care either.
Match Rating: * 1/2
Kevin Owens Defeated Shane McMahon
Thankfully, after three terrible matches, the night's main event delivered. Shane and Kevin battered each other from pillar to post and made effective use of the Hell in a Cell match gimmick. The two fighting on top of the cell was great to watch, and Shane can put on a great show when the occasion requires it.
The finish of the match was awesome, with Sami Zayn saving Kevin from Shane's elbow from the top of the cage and then putting his former best friend on top of the SmackDown commissioner for the pinfall. The only issue I have really is how dominant Shane got to look here, but that's a minor gripe, as this was a great match.
Match Rating: *** 1/2
Final Thoughts: Hell in a Cell was bookended by two excellent encounters. The rest of the night, though, was pretty woeful and WWE need to figure out a better way to utilise the SmackDown roster. Jinder Mahal needs to drop the belt asap, as it has now lost all relevance and the company need to stop giving us such dull, formulaic matches.
What did you think of Hell in a Cell? Let us know in the comments below, and let Liam know on Twitter @liamhoofe