Back in May we brought you word that Everything Epic had secured the rights to the original Rambo trilogy, and were in development on Rambo: The Board Game. Well, we've now got some official promotional artwork for said game, as well as news that the title will hit Kickstarter in January 2018.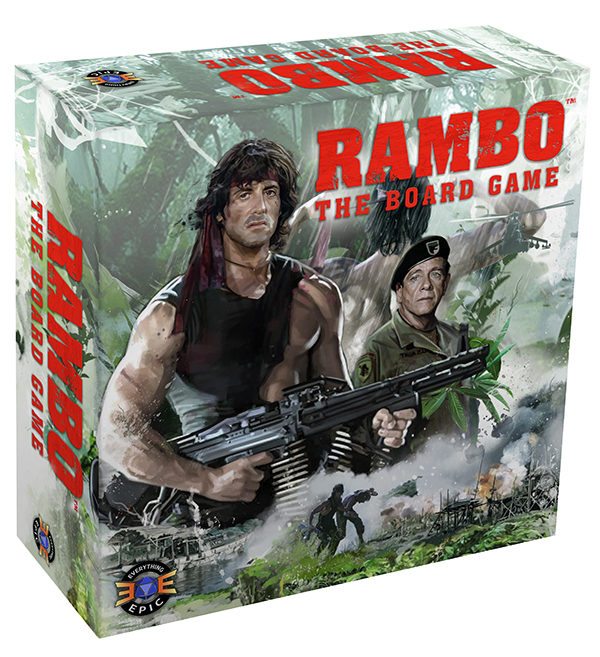 Here's the official press release:
"Rambo: The Board Game" has been in development since May 2017 and is currently in beta testing getting ready for crowdfunding. The game is being designed by an Epic team including Chris Batarlis (Big Trouble in Little China the Game & Secrets of the Lost Tomb) and Samuel Bailey (Star Wars Imperial Assault, Forbidden Stars, Talisman,  & Elder Sign). The designers have been huge fans of the film series since the 80's and are passionately making a game that will do this fan favorite justice. It's not just a "pasted on theme with movie stills": It's a highly thematic, cooperative, and tactical miniatures mission-based campaign game that allows 1-4 players to experience the events they remember from the films as well as embark on new, never before seen, missions .
The game provides sealed "self-expanding/legacy-like" Operation Envelopes which gradually expand the game as each mission completes. Each mission tells a story and takes the players on a unique adventure to various locations to save POW's, escape a military prison, raid a jungle encampment, defend a secret air base, or survive a treacherous jungle and much more! Missions unlock new gear and tactics cards to help players customize their experience and allow for high replayability and great tactical strategy. Taking actions and engaging in combat is done with a card-based system, the player is in control, and every choice may be life or death.
Players choose from an iconic variety of special forces characters, each with highly detailed miniatures, including, of course, John Rambo, Col. Trautman, members of Baker Team, and other companions that Rambo teamed up with over the years. Each hero has unique abilities and customization options that make them valuable during missions.
You control how to approach the mission: Do you go in guns blazing? Or do you take a more stealthy approach? Perhaps you set a trap for the enemy? It's up to you to decide and lead Rambo and his team to victory!
For more information, visit the official site here.