The Week in Star Wars is back with a Last Jedi special, with reviews of the film, everything you need to know about the box office and much more…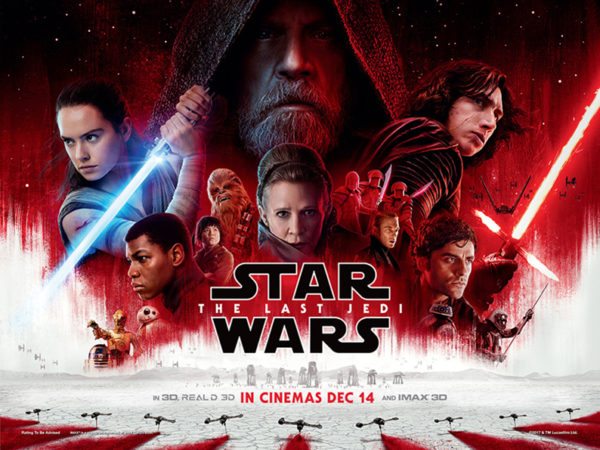 It's finally here! Rian Johnson's eighth adventure in a galaxy far, far away with Star Wars: The Last Jedi! Reviews for the film were incredibly strong – the film is 93% on Rotten Tomatoes at press time – but it has divided some of the fan base. There has even been a petition launched for Disney to remove the film from cannon and "push back Episode IX" so they can remake Episode VIII. Whatever the case, you can read Robert Kojder's ★★★★ review here, James Turner's ★★ review here and my own ★★★★★ review here. What did you all think of it?..
…And it's been good news for the film at the box office, with Star Wars: The Last Jedi scoring the second-biggest Thursday preview of all-time (beaten only by Star Wars: The Force Awakens) and the second biggest opening day of all-time (again beaten by J.J Abrams' film). All in all, Star Wars: The Last Jedi is tracking to earn around $425 million worldwide…
…Someone who has had mixed feelings about this new Lucasfilm era of Star Wars has been Mark Hamill. The man who made Luke Skywalker a legend has been very vocal about the franchise, revealing he had disagreements with Johnson over Skywalker's role in the movie, and has now said he wishes Disney had followed George Lucas' sequel trilogy outline rather than their own. "What I wish is that they had been more accepting of his guidance and advice," he told Metro. "Because he had an outline for 7, 8, and 9' And it is vastly different to what they have done… I don't want to be an old stick in the mud. There were the originals. There's the prequels. But that's all George. And now we have the next generation. And as far as I can see they are more popular than ever…"
…Hamill has also thrown some shade on Star Wars: The Force Awakens, saying the much-maligned Prequel Trilogy was more original than Abrams's seventh part of the saga. "What I thought was great about the prequels was the different technology that I had never seen before," he added in his Metro interview. "All that CGI. And the fact that [George Lucas] wasn't trying to do the same experience all over again. I thought The Force Awakens did that more than the early ones, because it had that the girl from a different planet, the Death Star, the Cantina sequence. [J.J. Abrams] was trying to figure out what was it about the original movies that everybody loved. And that's a different thought process than what George would have done. Because he would go, 'I had a beginning, middle, and an end'…"
…Speaking of Lucas, and The Hollywood Reporter spoke with the man himself to ask what he thought of Star Wars: The Last Jedi – which he called, "beautifully made"…
…And if you like Mark Hamill, Hot Toys has unveiled its 1/6th scale collectible Luke Skywalker figure which is based on the likeness of the man himself in Star Wars: The Last Jedi. Check it out here…
…Johnson has spoken about the controversial Porgs, which many fans are very unhappy about. In a humorous interview with Rolling Stone, Johnson revealed how he came up with the creatures and sort-of apologises for their inclusion. "When we first scouted Skellig Michael, the island where we shot Luke's stuff, it was covered in puffins," said Johnson. "It's a bird sanctuary, actually. So there were all these adorable little puffins all over the island. It was first just like, 'OK, let's come up with the Star Wars version of that.' Also, I knew that I wanted any opportunity for lightness or comic relief I could find on the island. So that combination led to the Porgs. I apologize. [Laughs] No, I love 'em, I really love 'em!.."
…You can also check out concept art for the Porgs here, and a bald Kylo Ren that nearly made it into the movie here…
…Resident film grump Anghus Houvouras wasn't a fan of Star Wars: The Last Jedi, and you can read why here…
…And finally on Star Wars: The Last Jedi, and you can listen to John Williams' score for the movie here…
…In other Star Wars news, a group of student filmmakers from Orlando's DAVE School have used McQuarrie's artwork to produce a concept trailer for The Star Wars, which brings to life this early vision of the galaxy far, far away. Check it out here…
…And in an interview with Esquire, Sebastian Stan has revealed he would like to play a middle-aged Luke Skywalker in a movie after fans pointed out how much he looks like Mark Hamill. "I feel like I have some sort of his blessing," he said. "I didn't even realize it actually, I used to love Luke Skywalker when I was younger. Then a friend said to me, they've already done young Luke Skywalker, so you would be middle-aged Luke Skywalker… That's where I'd come in…"
…A batch of promotional images arrived online for LEGO's latest Star Wars Mos Eisley Cantina set which is set to go on sale January 2018, priced at $39.99; take a look at the official images here…
…And finally, here's a preview for Star Wars: Doctor Aphra #15: Rogue archaeologist Doctor Aphra may be in over her head…
…but at least she's not alone!  Er…let's hope they're friendly!
That's all for this week – may the Force be with you.
Luke Owen is the Deputy Editor of Flickering Myth, a presenter for WrestleTalk, and the author of Lights, Camera, GAME OVER!: How Video Game Movies Get Made. You can follow him on Twitter @ThisisLukeOwen.