Just when you thought that nothing could beat the jeep and motorcycle for 7 Days to Die Joel Huenink of The Fun Pimps showcases the brand new gyrocopter in an all new developer video.  You can see the new gyrocopter, along with changes to the other vehicles, in the new video below.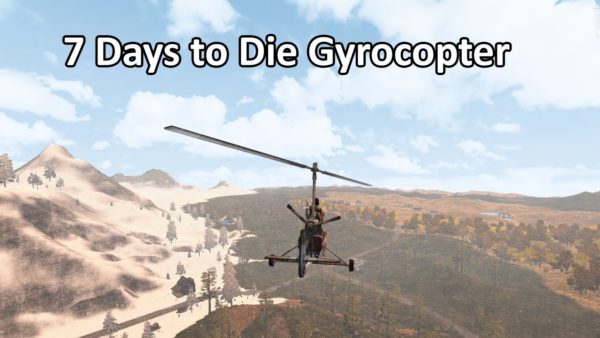 The Gyrocopter is certainly going to be a game changer in terms of travelling around the post apocalyptic wasteland and the video shows how easy it will be to travel across great distances without having to worry about land mines or hordes.  In fact it would be quite interesting to see this used during a horde night.  It's certainly looking amazing in action but unfortunately Joel can't promise it will be ready for the Alpha 17 release.
Land based vehicles have also had some tweaking carried out on them and these look very ready now for appearing in Alpha 17.  The Jeep's collision has been greatly improved so there is no longer the shuddering pause when a bag of rubbish is hit.  There is also much better looking explosions from hitting flammable/ explosive items.  The motorbike's engine sound has been changed so that it emits a more satisfying deeper rumble.  Motorbikes will also be able to be driven under water, providing you have enough oxygen; this does away with having to dismantle the bike only to rebuild on land.
Look out for more news on Alpha 17 coming soon when Joel introduces us to improved melee combat.