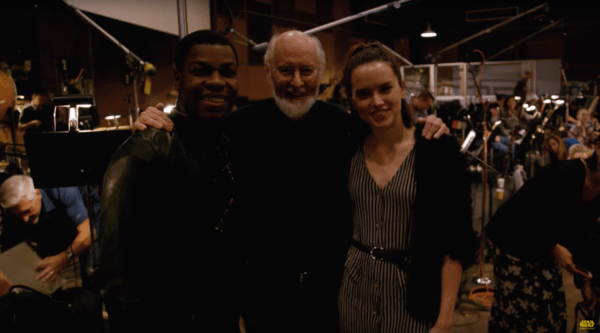 One of the mysteries left over from Star Wars: The Force Awakens concerned the identity of Rey's parents. That speculation over her parentage reached a fever-pitch by the time Star Wars: The Last Jedi opened last December. Fans were eager to learn the truth behind Rey's parents, and to see if any of the hundreds of fan theories online held any weight. Well, in the end, it turns out the truth was a lot more banal than many hoped.
As we learned in Star Wars: The Last Jedi: Rey is a nobody; born from nameless parents who abandoned her on Jakku for a pittance. Obviously, this rubbed some fans the wrong way, and plenty are claiming that this third-act shocker was a lie. Interestingly, one of those people is Star Wars composer John Williams. Recently talking with KUSC Radio, the legendary composer — who has always found Rey to be an artistic muse while working on this new trilogy —  called BS over Kylo Ren's claims about Rey's parents:
"I don't believe it either. Rey, of course, is played by Daisy Ridley, who I so loved in The Force Awakens. And last year, when [Lucasfilm president] Kathy Kennedy rang me up and said, 'Would you do the last music for The Last Jedi?' I said to her, 'Is Daisy in it?' and she said yes, so I said yes."
SEE ALSO: Star Wars: The Last Jedi retired the Wilhelm scream
SEE ALSO: First-look images from Star Wars: The Last Jedi's deleted scenes
Do you think Kylo Ren was lying about Rey's parentage? Or are we reading way too far into things? Let us know in the comments below…
In Lucasfilm's Star Wars: The Last Jedi, the Skywalker saga continues as the heroes of The Force Awakens join the galactic legends in an epic adventure that unlocks age-old mysteries of the Force and shocking revelations of the past.
Star Wars: The Last Jedi sees returning cast members Mark Hamill (Luke Skywalker), Carrie Fisher (Leia Organa), Adam Driver (Kylo Ren), Daisy Ridley (Rey), John Boyega (Finn), Oscar Isaac (Poe Dameron), Lupita Nyong'o (Maz Kanata), Domhnall Gleeson (General Hux), Anthony Daniels (C-3PO), Gwendoline Christie (Captain Phasma), Billie Lourd (Lieutenant Connix), Andy Serkis (Supreme Leader Snoke), Peter Mayhew and Joonas Suotamo (Chewbacca), Tim Rose (Admiral Ackbar), Mike Quinn (Nien Nunb) and Warwick Davis joined by new additions Jimmy Vee (Pan) as R2-D2, Kelly Marie Tran (Ladies Like Us) as Rose, Benicio Del Toro (Guardians of the Galaxy) as DJ and Laura Dern (Jurassic Park).
…You can find Jordan on Twitter, and Facebook.