Liam Hoofe reviews this week's Raw…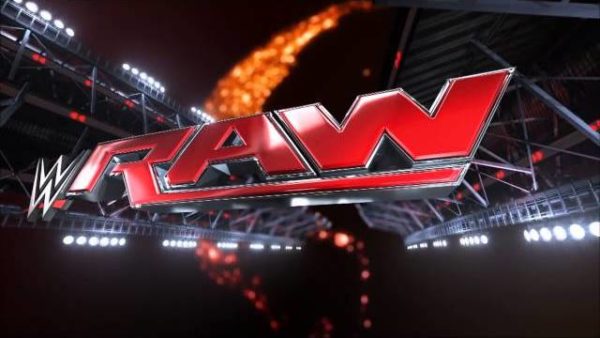 Kurt Angle is out to start the show. He talks about how Triple H suckered punch him last week and calls him out to the ring. Instead of Triple H, he gets Stephanie. Steph makes her way to the ring and says Triple H isn't here yet. She talks about Angle's actions, and asks him whether or not he could afford to pay the bills off his accolades alone (pretty certain he could). This prompts Rousey to come out to a pretty decent pop.
Rousey hugs Kurt and shakes Stephanie's hand. She says that Triple H's attack on Angle made her realise a few things. Stephanie stops her and reminds her that she is now a contracted WWE superstar and that Triple H and Stephanie were the ones who helped her achieve that. Rousey brings up the clause in her contract that says she can choose her opponent at Mania. She announces that she is going to face Stephanie to a big pop. Triple H's music hits.
Trips makes his way to the ring and says that match will never happen. Kurt then brings up the fact that Stephanie has two contracts. One as an executive, and one as a wrestler. He says he knows someone else with two contracts, and then he announces that at WrestleMania, it will be Stephanie McMahon and Triple H Vs Ronda Rousey and Kurt Angle. The crowd are really into this segment. Stephanie gets in Angle's face and goes to slap him but Rousey grabs Steph's arm. Stephanie manages to get under the rope and then Triple H goes to punch Kurt, only for Angle to stop him. The two brawl in the ring, Stephanie tries to escape but Rousey drags her back in and hits her with a pretty clean Samoan drop.  Triple H goes for the pedigree but Angle slaps in the Angle-lock to end the segment. This was a fun way to open the show, and Rousey is getting along just fine in her current role, and while this match is clearly not going to steal the show at Mania, it will no doubt be entertaining. Here's hoping Rousey can do the business in the ring.
Asuka Vs Nia Jax is the night's next match. This was, presumably, the last match in this duo's rivalry, and the women's title matches at WrestleMania feel even murkier than ever now. Asuka won the match, forcing Nia to tap after she had dominated the majority of the bout, as usual, but the outcome still left us none the wiser as to who is facing who at Mania. The commentators spent the whole match hyping Nia, with Michael Cole even saying she was getting a title shot as she walked to the ring, while Asuka got very little mention at all. Surely Asuka can't be going to SmackDown now? There has no build to a match between her and Charlotte, and the focus is now definitely on Alexa and Asuka facing off. The booking of this whole situation has been a little odd, to be honest. The match itself was basically a re-run of previous matches we've seen, only this time, Asuka forced Nia to tap. Nia left the ring clutching her arm to a good reaction from the crowd. (Grade: C-)

The Bar Vs The Revival is up next, and if The Revival win, they will get a title shot at WrestleMania. The match was a solid piece of tag team action, with The Revival doing plenty of nice tag team combinations throughout.The biggest problem with this bout was that the crowd really didn't get into it. The Revival have been booked terribly since their return from injury, and even as a fan of their NXT run, I'd kind of forgotten what great performers they can be. The Bar picked up the win here and I'm guessing that's that for The Revival's Mania hopes. (Grade: C)  Having The Bar defeat the last remaining team not to have challenged surely means that an NXT team is coming up to take them on, right? Otherwise, both men can look forward to entering the Andre the Giant Battle Royal.
John Cena comes out next, to once again talk about his road to WrestleMania. This segment basically existed to plug Fastlane on Sunday, as there was no other real reason to have Cena on both Raw and SmackDown this week.  Goldust, of all people, then interrupted Cena's promo and talks about his dreams of sharing the spotlight at Mania. This leads to an impromptu match between the two. I enjoyed Goldust coming out and interrupting, he is always a joy to watch, but the rest of the segment felt kinda pointless.
The match-up only goes a few minutes, and Cena picks up the win after a fairly unremarkable bout. (Grade: E)
We see Elias trying to worm out of his 'Symphony of Destruction' match backstage, and we also see an announcement that Hillbilly Jim will be inducted into this year's Hall of Fame.
Bayley is out next to address her actions last week. Just as she is going to explain herself, Absolution interrupts and Paige tells Bayley that if she is going to succeed, she will need some allies. This leads to a match between Bayley and Mandy Rose.
The two women put on a solid bout, which Bayley eventually wins. I like Mandy Rose, but she is definitely being booked as the jobber of the group at the moment. Absolution have nothing to really do on the Road to Mania, so having them involved with this storyline makes sense. (Grade: C)  It seems as though the WWE is toying with the idea of turning Bayley, and not Sasha, heel here, which is a move that would be ill-advised. Bayley is the most natural babyface on the women's roster, while Sasha would excel as one of the top heels of the division. After the match, Sasha saves Bayley from a beatdown, only for Bayley to once again walk out on Sasha.
We see a very odd backstage segment next, where Alexa makes Nia cry, by rubbing in her defeats to Asuka in recent weeks. Still really not sure where all of this is heading, but surely Nia is now a face? Heels can't cry, right?
Next, we go to ringside, where various instruments are set up on the stage for Elias Vs Braun in the first ever symphony of destruction match. Elias comes out and impresses the crowd with his instrumental skills, he sings a song running down the city before requesting the lights are turned off. The lights go out, and when they come back on, Elias is, rather comically, running away from the match. He runs to his car and goes to escape before Braun turns up and lifts up the back of his car. Braun then drags Elias to ringside and the match is started.
Braun runs through Elias and takes him up to the stage, where he proceeds to break the double bass on his back, and then drop a piano on him, before getting the pinfall. This was really stupid, but also really fun. Elias and Braun are two of the best characters on Raw while now, so it makes sense to have them doing this mini-feud while they figure out what they are going to do with them at Mania. (Grade: C+)
Bray Wyatt is out next, and he squashes Rhino inside a minute. He then talks about Matt Hardy, which leads to a video package from the Hardy compound. We see Skarsgaard, the dilapidated bout, and various shots of Vanguard 1, before Hardy announces the 'ultimate deletion'. So it looks like we're finally getting the Broken universe in the WWE, it's just a shame that the whole thing has lot all of its steam at the moment and that fans don't really seem to care about it now.
Will The ULTIMATE DELETION of @WWEBrayWyatt commence at The #HardyCompound?! @MATTHARDYBRAND #RAW pic.twitter.com/ipUkeo1Aud

— WWE (@WWE) March 6, 2018
The Miz is out next for the third annual 'Mizzies'. The Miz announces two awards for the ceremony, which he uses as an opportunity to run down Kurt Angle, Seth Rollins and Finn Balor before Balor and Rollins make their way to the stage. The Miz verbally destroys both men. He says that Balor is going to need more than a hand sign to get him over, and tells him that he isn't in Japan now. This stuff was great. The Miz is one of the best mic workers in the company right now and he controls the audience at will. The Miz challenges the two to a handicap match against The Miztourage.
That match is up next, and it's an enjoyable bout. I'm really enjoying Balor and Rollins trying to one-up each other, and they worked it into the match well. These three men should put on a great match at Mania, and it's really difficult to say who I would like to see win. Rollins picks up the win for the team after hitting a curb stomp on Miz. (Grade: C+) This, combined with The Mizzies segment, was probably the best thing on the show last night.  After the match, Angle confirms that the three men will meet in a triple threat match at Mania.
Paul Heyman is out to close the show, and address Roman Reigns' comments last week. Heyman, as you would expect, cuts a great promo here, where he addresses Reigns' comments and says that The Universal Title is Brock's bitch and that more than anything else, the belt is proof that you are number one. Reigns makes his way down to the ring and says that if Lesnar is going to be here next week, he needs to bring his fighting gear. He cuts a similar promo last week about Brock not caring about the WWE, and Heyman leaves the ring to close the show.  This was a nice way to end the show, and Heyman really delivered on the mic once again. I'm not sure how much fans are buying the shoot aspect of this storyline, but it is probably the best option the WWE has right now.
Verdict: This week's Raw made good use of its runtime, and continued several Mania storylines effectively. While it didn't have any standout matches or moment, it was an enjoyable show that managed to make the most of its 3 hour time and keeps everything moving along nicely.
Liam Hoofe