Liam Hoofe predicts WrestleMania 34's match card…
WrestleMania 34 is five weeks away, and the company's plans for the event are slowly starting to become clearer. More so than any other year perhaps, the build to this year's event has been full of rumours, some credible, some not so much, and the WWE will have likely kept several cards as close to their chest as possible.
So let's try and predict what matches we will be seeing in New Orleans on Sunday, April 8th.
The Miz Vs Finn Balor Vs Seth Rollins Vs Elias Vs Braun Strowman
After paying his dues and taking part in a mixed-gender tag match aimed to promote Total Bellas last year, The Miz deserves a big match on this year's WrestleMania and having the whole of Raw's upper mid-card competing for his belt certainly gives him that. Finn's recent reunion with The Bullet Club has given him a much-needed new lease of life on Monday Nights, while Rollins is also experiencing a mini-renaissance thanks to some impressive performances as of late.
Braun and Elias have been having a mini-feud over the last few weeks, and that will no doubt tip over into the Intercontinental Title scene. Braun remains the only mystery here, as he may be in the main event, but the rest of the men are almost definitely going to be taking part. Will there be a stipulation added? The WWE likes to have some sort of multi-man stipulation match somewhere on the card, so don't rule it out.
Sasha Banks Vs Bayley
Sasha Banks has been on great form since the Royal Rumble and the more the WWE teases a heel turn from her, the more I get excited about the prospect of this match. Sure, the match probably should have taken place last year, but with the right build, this match could be one of the best on the card at WrestleMania. It would also be a big step forward for the women's revolution in the WWE, with the company actually choosing to focus on other storylines and not just the ones involving the champions.
Randy Orton Vs Bobby Roode Vs Jinder Mahal
With SmackDown's mid-card featuring many potential contenders for Bobby Roode's US title at the moment, there is every chance that the company will opt to go for a big multi-man match at WrestleMania for the belt. Roode and Randy are set to square off at Fastlane, however, and I suspect Jinder Mahal may get himself involved in that one, leading to a triple threat at WrestleMania. There is every chance this match happens at Fastlane, and Orton Vs Roode one-on-one is saved for Mania, but I can't see it.
The Usos Vs The Bludgeon Brothers
The Usos are two of the WWE's most consistent performers right now, and they are more deserving of a place on the WrestleMania card after their amazing run at the end of 2017. They have, however, not had the best of luck when it comes to performing on the grandest stage of them all, with the duo often finding themselves propping up the show on the pre-show.
Will that change this year? I'm honestly not sure, but their feud with The Bludgeon Brothers is building up nicely and will definitely culminate on April 8th.
Sami Zayn Vs Kevin Owens
I can't help but think the WWE had good intentions when they began the Shane McMahon/Daniel Bryan/Sami Zayn/Kevin Owens storyline that has dominated Tuesday nights for the last 6 months. Somewhere along the line, however, those good intentions got skewered and the storyline has easily become the worst thing on WWE television.
So what will the payoff be? There is the option of a tag match, though, Shane has no obvious partner and then there is still Daniel Bryan to worry about. Instead, I suspect they will just go down the laziest route possible and give us Owens Vs Zayn for the umpteenth time. I have no issue with these two men squaring off, it just feels like a cop-out after months of build.
Rusev Vs Shane McMahon
Rusev has taken to Twitter this week to complain about how he is being used on SmackDown. With the superstar riding a wave of popularity at the moment, I can't help but think that these tweets are nothing more than a work and that the company is, in fact, reviving a storyline that they just dropped last year in favour of a Jinder Mahal push.
With Rusev being so over right now, the company will likely be considering big matches for him, and with Shane not having a clear opponent, especially if Sami and KO are tied up with each other, I guess this sort of makes sense, even if it is incredibly contrived.
Nia Jax Vs Alexa Bliss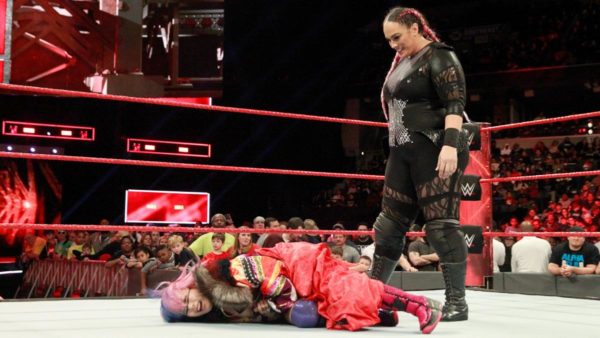 Nia Jax has been on a great run as of late, and it seems as if the company are positioning her for a title run at some point this year. Despite losing to Asuka at Elimination Chamber, I still think that Nia will be facing Alexa at Mania, especially if Asuka jumps ship to SmackDown. While there has been speculation this week that Asuka is going to stay put on Raw, this makes a lot more sense to me.
Andre the Giant Memorial Battle Royal Match
Reports this week have suggested that this match may be scrapped this year, but taking a look at the roster, and the timing of the match (ESPN's Andre the Giant documentary release), I don't see the WWE doing away with this one.
There are plenty of big names who currently don't have a place on the card. The likes of Dolph Ziggler and Baron Corbin, for example, don't have a clear route to Mania, and this is likely their best shot at getting on the card.
Women's Battle Royal
That being said, the rumours about a women's version of the match taking place also seem believable. The women's division has a lot of eyes on it right now, and the company will be wise to cash in on that by having as many women on the show as possible. The likes of Becky Lynch, Naomi, Mickie James, Absolution and The Riott Squad are all likely to have very little to do, so having them compete here would be a nice way to get them on the card. 

Mustafa Ali Vs Cedric Alexander
One match we know will be taking place at WrestleMania is the final of the Cruiserweight Championship tournament. The 205 Live brand has been on fire as of late, with the tournament taking central stage on the show. The tournament is currently in the quarter-final stage, with Cedric Alexander and Roderick Strong being confirmed for one of the semi-finals.
Alexander seems destined to win the tournament, and Mustafa Ali makes a lot of sense as his opponent. He has been receiving a lot of positive attention on the show for the last few weeks, and having two faces collide at Mania would be a good moment for a division that has had some pretty big controversies so far in 2018.
Charlotte Vs Asuka
Asuka and Charlotte are arguably, the best two female wrestlers in the WWE right now and a match between the pair at WrestleMania is a mouth-watering prospect. Asuka may be on Raw at the moment but the fact she has not declared who she will face at Mania implies to me that she will be heading to SmackDown before Mania. She has already destroyed the women's division on Raw and right now, Charlotte poses the viable threat to her unbeaten streak.  These two women would put on one hell of a match. Make it happen, WWE.
Ronda Rousey and Kurt Angle Vs Triple H and Stephanie McMahon
Rumours initially suggested that The Rock would be partnering with Ronda Rousey in this match, but that never looked like a very realistic possibility. The recent contract signing at the Elimination Chamber all but confirmed that this match will be taking place in New Orleans. The biggest question surrounding this match, however, is whether or not Rousey can perform in the ring.
Roman Reigns Vs Brock Lesnar
Roman's recent victory inside the Elimination Chamber confirmed this match and frankly, it wasn't much of a surprise. Fans have known this match was coming for some time, and the only real question now is, how will the fans react when Roman Reigns walks away victorious at the end of yet another WrestleMania?
Recent talk of Lesnar leaving the company, whether it is a work or not, could also see the New Orleans crowd turn on him here, and this could be another Brock Lesnar Vs Goldberg, WrestleMania 20 style disaster, with the fans heavily booing both competitors. There is every chance, depending on reactions in the build-up, that the WWE could place Braun Strowman in here out of sheer panic.
Shinsuke Nakamura Vs AJ Styles
The other confirmed match for the event, AJ Styles Vs Shinsuke Nakamura was confirmed for the show after the Royal Rumble. Could AJ lose the belt before Mania? Yes. Will he? No. This is a dream match in the eyes of many WWE fans and given the right time, this match will, without a doubt, steal the show on April 8th.
John Cena Vs The Undertaker
Whether or not this match actually happens remains a mystery. Earlier this week, Sports Illustrated reported that John Cena could be facing Rey Mysterio at the event, which was met with an overwhelming 'meh' from the WWE universe.
Cena has teased this match a lot in recent months, and many fans would be satisfied to see Taker's career end at the hands of Cena. If this match does happen, the WWE would be smart to have it headline the show, especially if it is The Undertaker's last ride.
Liam Hoofe – @liamhoofe