Josh Brolin has confirmed that he is sharing a scene with Brie Larson in an upcoming Avengers movie.
Avengers: Infinity War and its companion movie, Avengers 4, are set to be such colossal events, bringing all corners of the Marvel Cinematic Universe together, it can be hard to keep track of which characters will be appearing and where.
Brie Larson's yet to be debuted Captain Marvel is unlikely to be appearing in Infinity War but with that film shot back to back with Avengers 4, Brolin's comments about sharing a scene with her indicate that the fourth movie will likely be where this takes place.
Brolin of course is playing Thanos, Infinity War's main villain, and the actor has spoken to Total Film Magazine (via CBM) about the scene in question:
"I thought, 'What the fuck am I doing here?' Because you're in a onesie, man. You've got to walk around in a onesie and imagine yourself as an actor with some impact. It starts messing with your head. I'm Josh, who's got dots on him, and a onesie, and a helmet can, and I've got Scarlett right there, and I've got Brie, and Don Cheadle, and Hemsworth, and Chris Evans, and Downey…I'm sitting there and I'm looking like I look, which is not 700lb and purple and eight feet tall. I mean, I'm feeling about as far from Jason Statham as one can feel at that moment, and yet I'm acting like I feel 10 times what Jason Statham is. I'm the man!"
Putting to one side the Jason Statham/Thanos comparisons, it's certainly amusing to hear Brolin's take on the humorous nature of playing a CGI villain, and regarding the scene with Brie Larson, while Avengers 4 would be the likely option, the Infinity War directors are surely hiding one or two things from fans.
SEE ALSO: The Russo Brothers on Avengers: Infinity War and Avengers 4 being "two distinct movies"
SEE ALSO: Destiny arrives in latest Marvel's Avengers: Infinity War TV spot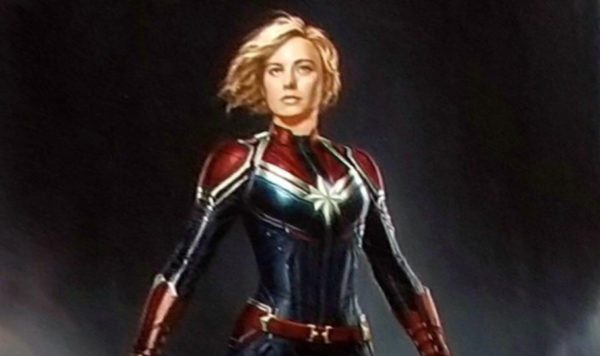 An unprecedented cinematic journey ten years in the making and spanning the entire Marvel Cinematic Universe, Marvel Studios' "Avengers: Infinity War" brings to the screen the ultimate, deadliest showdown of all time. The Avengers and their Super Hero allies must be willing to sacrifice all in an attempt to defeat the powerful Thanos before his blitz of devastation and ruin puts an end to the universe.
Avengers: Infinity War opens on April 27th 2018 and will feature an all-star cast including Robert Downey Jr. (Iron Man), Chris Evans (Captain America), Mark Ruffalo (Hulk), Chris Hemsworth (Thor), Scarlett Johansson (Black Widow), Jeremy Renner (Hawkeye), Chadwick Boseman (Black Panther), Tom Holland (Spider-Man), Sebastian Stan (Winter Soldier), Anthony Mackie (Falcon), Paul Rudd (Ant-Man), Paul Bettany (Vision), Elizabeth Olsen (Scarlet Witch), Don Cheadle (War Machine), Josh Brolin (Thanos), Benedict Cumberbatch (Doctor Strange), Benedict Wong (Wong), Chris Pratt (Star-Lord), Zoe Saldana (Gamora), Dave Bautista (Drax), Bradley Cooper (Rocket), Sean Gunn (Rocket, Kraglin), Vin Diesel (Groot), Karen Gillan (Nebula), Pom Klementieff (Mantis), Tessa Thompson (Valkyrie), Tom Hiddleston (Loki), Samuel L. Jackson (Nick Fury), Cobie Smulders (Maria Hill), Benicio Del Toro (The Collector), Danai Gurira (Okoye), Letitia Wright (Shuri), Winston Duke (M'Baku), Terry Notary (Cull Obsidian), Tom Vaughan-Lawlor (Ebony Maw), Carrie Coon (Proxima Midnight) and Peter Dinklage in an as-yet-unrevealed role.