Liam Hoofe breaks down this week's episode of Smackdown Live…
The Good
A New Paige in her Career
After announcing her retirement on Raw last night, Paige was back on Smackdown with some slightly more encouraging news. Now that Daniel Bryan has returned to the ring, Paige will be taking over his role as General Manager of Smackdown.  This was a great move by the WWE, and given Paige's record on the mic, she is likely to excel in the role. Her first act as general manager was to announce Daniel Bryan Vs AJ Styles as the night's main event- not a bad first night on the job. Of course, this does mean that Absolution are now without a leader, though, in fairness, Paige has not really contributed to them since her injury, and the two women should be able to find their feet on their own.
The Usos Vs The New Day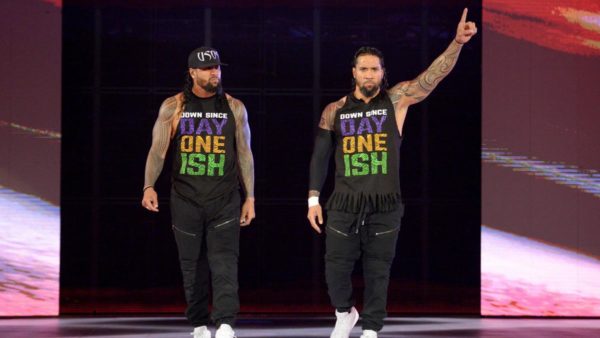 The Usos and The New Day had a match this week to decide who would be the new number 1 contenders. While there are many fans who may feel as though they have seen this match too many times before, the two teams always put on a solid show, and if it is excellent tag team wrestling you want to watch, then you needn't look any further than these guys. The Usos picked up the victory here, securing their rematch against The Bludgeon Brothers at The Greatest Rumble Ever event. Though, why the champions had to earn a rematch seems strange to me.
Carmella Cashes in
Charlotte's match with Asuka at WrestleMania was, in my opinion, the best match on the card. While many will question the decision to have Charlotte go over, I think that it was the right choice. Charlotte was out to address this on last night's Smackdown when she was interrupted by the debuting Iconic Duo. The former NXT stars beat down the women's champion, leaving her lying in the center of the ring.
Of course, this prompted Carmella to run down and finally cash in her briefcase. Royce and Kay did a great job of beating down Charlotte, so Carmella's opportunistic cash-in and subsequent victory were totally believable.
Carmella will make a great heel champion, in the same vein as Alexa Bliss, and Charlotte will no doubt help bring the best out of her in their ensuing feud. Royce and Kay being involved also gives those women the chance to excel on Smackdown, and a feud with Charlotte only benefit them.
The Main Event
AJ Styles Vs Daniel Bryan on the Smackdown after WrestleMania? What more could you ask for? These two men put on a great match, and the crowd were really into it. Bryan looks as though as he not been out of the ring for five minutes, let alone two years, and AJ is, well, AJ. I actually enjoyed this match more than AJ Shinsuke at WrestleMania, and I liked the fact that it was ended prematurely by Shinsuke.
Having Shinsuke Naks attack both men further established his heel persona and it sets up a potential blockbuster bout between Bryan, Styles and Nakamura. This was an excellent closing match and a great way to top off what was an excellent show.
The Bad
Jinder Mahal Vs Randy Orton
A rivalry renewed.@RandyOrton @JinderMahal #SDLive pic.twitter.com/t3FRWUbkum

— WWE (@WWE) April 11, 2018

Only one complaint from this week's show and that is the fact that we will have to sit through yet another Randy Orton Vs Jinder Mahal match on PPV. It's been a year since Jinder defeated Orton to win his WWE title, and the two men will be having another match on the exact same PPV a year later. The two men, despite having wrestled 5,529 times in the last 12 months, have zero chemistry in the ring, and I've seen nothing to suggest that either man has anything interesting up their sleeve at Backlash.
I know Orton is entitled to a rematch (though, why he had to earn it, I'm not sure) but they could have gotten that out of the way on Smackdown this week. Hopefully, one of these men is drafted to Raw next week and we never have to see them share a ring together again.
Verdict: This week's Smackdown was the best the show has given us in a long time. In fact, it was probably the best edition of the show in 2018. The main event was excellent, as was the match between The Usos and The New Day, and Paige's appointment as GM gave the show a feel-good opening. Really good stuff all around.
Liam Hoofe