Back in May it was announced that the long-awaited Bill & Ted 3 – a.k.a. Bill & Ted Face the Music – is officially a go, with filming slated to get underway in January.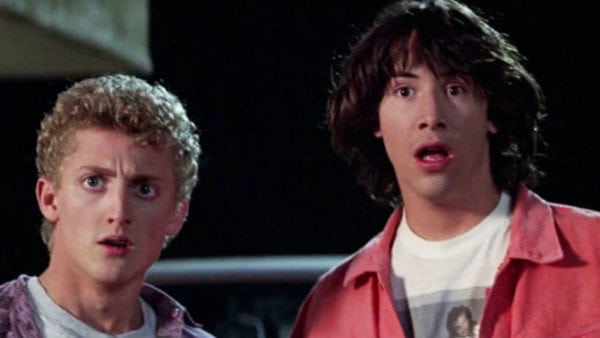 While that was music to the ears of Wyld Stallyns fans, Keanu Reeves was quoted last month as stating that he has some reservations as to whether the movie will get made; however, his co-star Alex Winter doesn't seem to share those concerns, telling SlashFilm that he still expects to begin filming in the New Year.
"We're still in pre-production," said Winter. "It's still the same. Early 2019 is still the same. I'm still being told to hold those dates. That's all I know. What I keep telling everyone is I don't trust a movie as being made, frankly, until, literally, I'm watching it on cable two years after it's done. Not even while we're shooting it. To be fair to Reeves, his point is just anything can go wrong at any point. We made the first movie and it was shelved for a year and a half. We were like it's done, never going to come out, no one's ever going to see it. It's a pain in the ass. It's not ever not a pain in the ass. Nothing has changed in a radical way. If it is, that'll be news."
According to the official synopsis, Bill & Ted Face the Music "will see the duo long past their days as time-traveling teenagers and now weighed down by middle age and the responsibilities of family. They've written thousands of tunes, but they have yet to write a good one, much less the greatest song ever written. With the fabric of time and space tearing around them, a visitor from the future warns our heroes that only their song can save life as we know it. Out of luck and fresh out of inspiration, Bill and Ted set out on a time travel adventure to seek the song that will set their world right and bring harmony in the universe. Together with the aid of their daughters, a new crop of historical figures and some sympathetic music legends, they find much, much more than just a song."
Assuming it does move forward, Dean Parisot (Galaxy Quest) will direct Bill & Ted Face the Music, which has been scripted by original Bill & Ted creators Chris Matheson and Ed Solomon.