Peelers, 2016.
Directed by Seve Schelenz.
Starring Wren Walker, Caz Odin Darko, Madison J. Loos, Cameron Dent and Al Dales.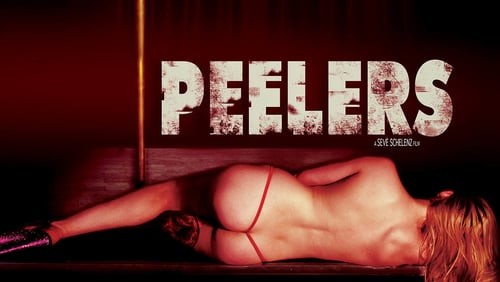 SYNOPSIS:
The owner and patrons of a roadside strip club are getting ready for one final night of fun before the doors close for good and the club is taken over by a greedy land developer. However, as the evening progresses, a group of celebrating mine workers soon come down with a case of the undead and begin to gruesomely kill the strippers and patrons, with the uninfected survivors battling to make it to the end of the night alive.
Yes, it's me with yet another review of yet another horror film, but this time it's something a little bit more fun than the usual dreary stuff, as we take a look the very silly oily zombie strip club bonanza Peelers.
The acting on display is hardly going to win any awards, but the film's cast does an able job with their parts, managing to create a band of largely likeable characters that we can root for when Mr Shit decides he would like to meet Mr Fan.
Wren Walker (I still love alliteration) leads our merry band of survivors as is our heroine Blue Jean, a creative quick thinking badass who doesn't shy away from bashing undead sucker's heads into mulch, while also having a groan inducing one liner on hand when she does so.
The rest of the cast all perform their parts ably, with surprisingly decent character development and all get a moment in the spotlight, whether it's kickboxing the crap out of a zombie, or dousing a zombie's face with amniotic fluid (yes that happens). Although they do sometimes lapse into the stereotypical character traits that you usually see in horror movies, like the lovelorn bouncer, or the wayward son, but this is really just nitpicking on my part.
The visuals of the film are nothing special, but they are a cut above what usually see from low budget horror films, with the dancing scenes being well shot and the directors' even channelling the likes of Boogie Nights by introducing our principal players via a well executed long take.
The gore effects are quite impressive for what was likely a small budget, with them being appropriately gruesome, yet wonderfully over the top with claret and black oily sludge spraying across the screen like an explosion at a sewage factory.
The violence is somewhat stomach churning at times, the sight of a woman being horrifically disembowelled after giving birth is pretty nasty to watch, but it's all largely done in a such an over the cartoonish fashion that I was able to eat my dinner while watching so I imagine you can too. Besides, the most unpleasant moment for me didn't come during one of the many death scenes, but during one of the many topless dancing scenes, which brings me to my main issue.
While the film is pretty silly fun, one major problem comes in the form of its build up to the horror kicking off. Now I don't mind a bit of build up to my horror films, and for the most part in this one the build up is fine, it serves to introduce the characters, whose who and generally lets us get to know and like them so we'll be sad when they die.
However, all this character development is contained within a solid half hour of near-ceaseless topless dancing, and some of the dancers are, to put it in a way, "speciality" acts with names like "Thundercunt" a musical act that provides a cheap laugh I'll admit.
Then we get to the creepy vibes with the dancer called "Baby" who performs a sultry dance while wearing a nappy and while ending her dance by performing an act allegedly enjoyed but the current US president on his trips to Moscow and requires a fresh nappy afterwards.
The rest of it is just your standard topless dancing and as I said before it's all well shot, but you can only see so many pairs of naked breasts before you start to get a bit bored. The eventual tedium of these moments isn't helped by the choice of the filmmakers to score them with some of the worst music ever used to convey eroticism; it's just abysmal.
Peelers is hardly the greatest or the most original horror film ever made, but with a fairly short run time and some joyfully silly moments, this is one of those films best watched with your friends cracking jokes.
Check it out if you're curious, but prepared to sit through non-stop topless dancing and surprise urinations.
Flickering Myth Rating – Film: ★ / Movie: ★ ★ ★
Graeme Robertson