Indie developer Refract Studios has announced that their survival racing game Distance will be leaving Steam Early Access for a full release on 18th September.  This atmospheric racer has been on Steam Early Access since 2014 and has attracted more than 150K players who have played more than 13.5 million levels.  The new trailer below shows off this futuristic racer in all its neon glory…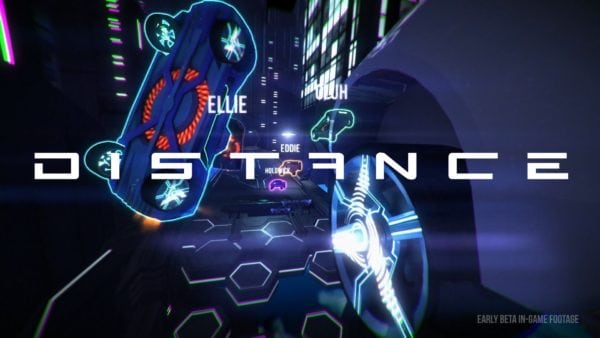 Distance is an atmospheric racing platformer that combines futuristic arcade racing with crazy parkour.  Racers will take to the treacherous roads of a mysterious, neon-drenched city and will needs to survive the obstacles littering the streets using the car's special abilities of driving up walls, upside down and even flying to discover new shortcuts.
The game features:
Adventure Mode: A short single-player narrative experience. Drive into the heart of a dark, mysterious city as you pursue an ominous threat.
Arcade Mode: Race ghosts to take on the leaderboards' best. Earn medals to unlock a wide variety of tracks in several different modes.
Multiplayer: Online (up to 12 players) and split-screen (2-4 players) play in modes such as Sprint, Reverse Tag, Stunt, and Challenge.
Trackmogrify: Random track generation with advanced seed modifiers.
VR: Full VR integration with support for Oculus Rift CV1 and HTC Vive.
Level editor: Use a powerful level editor to create levels from within the game and share them with players around the world.
An original soundtrack from the composer behind award winning games like Nitronic Rush, Solace and The Fourth Wall.
Distance will see its full release on Steam on 18th September.