Ahead of its premiere at the BFI London Film Festival, a trailer, poster and images have arrived online for the upcoming comedy drama Sometimes Always Never which is directed by Carl Hunter and stars Bill Nighy, Sam Riley, Jenny Agutter, Tim McInnerny, and Alice Lowe.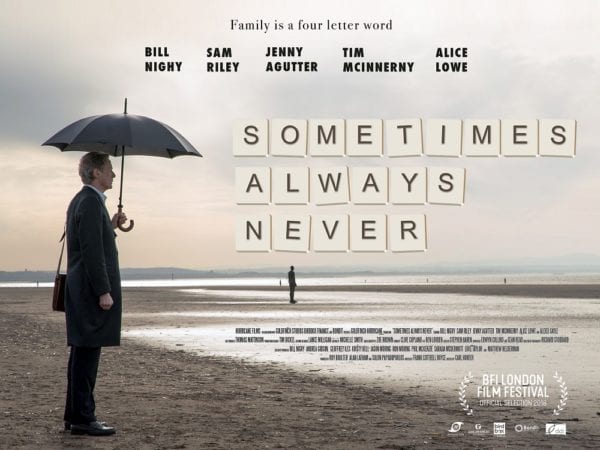 Sharp of suit and vocabulary, Bill Nighy plays deadpan Scrabble-obsessed Merseyside tailor Alan, whose eldest son Michael stormed out of the house after a particularly heated round of the popular board game, never to return. Years later, Alan and his other son Peter (Sam Riley) continue the search while trying to repair their own strained relationship. Sometimes Always Never (which describes the way to button up a gentleman's suit jacket) comes from a witty and astute script by acclaimed screenwriter Frank Cottrell Boyce (24 Hour Party People), debut feature director Carl Hunter deploys a vivid visual style and striking production design to capture the shifting moods of a family who know plenty of words but struggle to communicate.
Sometimes Always Never premieres at the BFI London Film Festival today with additional screenings on the 14th and 21st.