Red Stewart reviews the seventh episode of Black Lightning season 2…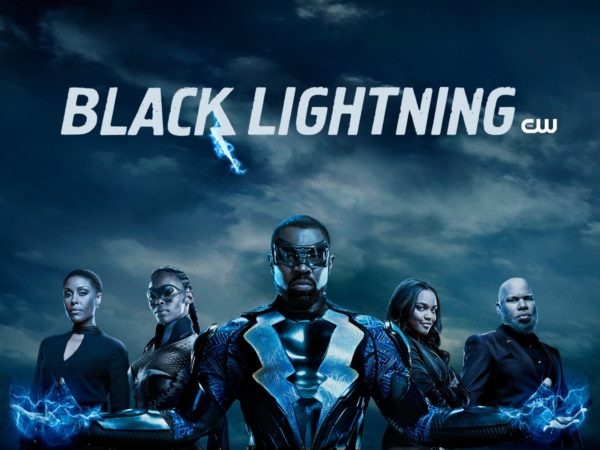 One of the things I've been hearing about Aquaman, based on early social media reactions, is that it is reportedly very zany, full of balls-to-the-wall imagery, action, and plot threads. As a comic book fan, this is nothing short of fantastic to hear. But as a cinephile, I have to wonder if the story can support so many crazy ideas without faltering to the old adage of "style over substance."
Such is the dilemma I find myself in with Black Lightning. I've talked before about how an inherent problem with the Arrowverse is having every show fill in the 23-episode quota mandated by The CW, and how one of my hopes with Black Lightning was that it wouldn't fail prey to the same issues. Alas, not only have the writers insisted on squeezing several seasons worth of content into one, they've also had an inconsistent approach to the pacing and implementation of said content.
After last week's surprisingly enjoyable "The Perdi," I was under the impression that perhaps they had finally gotten their act together and decided to just embrace the weird urban genre thrills that the show has incorporated over the past year, somehow throwing in racism and crime with resurrections and superpowers. All of this craziness has been attributed to experimental vaccines and drugs, specifically Greenlight, and while I personally find it to be a less than satisfactory explanation, it does serve its purpose and has allowed the creators to go nuts with their ideas.
But those ideas need better planning and execution. "The Sange" finishes a mini arc in the second season of Black Lightning that began with the fifth episode "Requiem," detailing a longstanding conflict between two rival gangs out in a district of Freeland. I'm hoping it will be something beyond a temporary diversion from the more interesting Tobias storyline, but with how things have played out before, my expectations are quite low.
When we last left off, Jefferson was following a trail of metallic liquid created by Looker, the leader of the Sange, while Anissa led the surviving members of the Perdi to a safe house. To help with the postpartum recovery of Anaya, Anissa has Lynn come over, whose emotional turmoil over the deaths of the pod kids is apparently resolved as she looks and acts like her original maternal self.
Never mind that. Jefferson finds himself in hot water when he runs out of juice during a battle with some of Looker's henchmen, which leads to an interesting confrontation between the two that could have gone deeper into the show's themes, but otherwise serves as an entertaining dialogue. Elsewhere, Jennifer decides to give in to her feelings for Khalil by helping him get out of his abusive predicament with Tobias. This is one of those plotlines that could have gone south had the writers not laid out the stones for her decisions perfectly. It's one of those instances where her social censorship by her parents and emotional control over her powers blend perfectly into a natural, reasonable outcome.
Given these two positive traits, you're probably wondering where all my negativity comes from. The answer is the pacing. As intriguing as these two plots were to watch, they're so sluggishly slopped together with a myriad of other narratives that you have to wonder how no one in the editing bay got bored watching the final cut. For a series that is indulging in all sorts of science fantasy tropes, this is one of the worst results that could have happened.
And it becomes all the more worse in the third act when we get several developments tossed together at once: it's revealed that Anaya's mother was killed, Jefferson finds out Gambi is alive, Jennifer discloses her powers to Khalil, and the two defect from Freeland. It just dragged and dragged and dragged to the point where I actually questioned whether this was 42 minutes.
If the writers can keep the future six entries more personal and concise, it could go a long way towards helping Black Lightning recover lost viewers. As it stands, this is a show that is becoming harder and harder to look forward to.
Rating – 5/10
Red Stewart