In an exclusive interview, Flickering Myth sat down with Los Angeles-based actress Autumn Kendrick to talk about working with horror guru, Wes Craven and the release of her latest TV show Scuba Love…
Have you always wanted to be an actress? How did acting come about for you?
Acting has always had a place in my life but embracing it and facing my fear of acting only started a few years ago. As a kid I was obsessed with Shakespeare and would perform and compete in festivals around Canada. Some of my favourite roles include Juliet, Ophelia and my all-time favourite play, and role, Portia from the Merchant of Venice. Portia is such an amazing strong character who saves her husband's life using her quick intellect.
My first love and passion was ballet. I left home at a young age to train and perform and had the honour and joy of dancing around the world including New York City, Russia, Chicago, Indiana, Montreal and more. For me dance was all about telling a story and bringing a character to life. After a challenging season of injuries my life lead me to modelling and touring the world walking runways and shooting modelling campaigns. With time and desire to settle, and some good old-fashioned luck, I started booking a bunch of national commercials and films for high profile companies like Prada. Eventually this led to my break out starring role as Victoria in The Girl in the Photographs, produced by Wes Craven.
From that outstanding start I was invited to train with world-renowned mentors, Margie Haber, Judith Weston and more. Between training, opportunity and passion I knew the acting world is where I belonged.
What and who inspired you to become an actress?
My mum. In the last decade she has gone from dipping her toes in community theatre to really working and studying the craft of acting to now where she really starting to shine in TV guest star roles and movies. She took that desire and did all the hard work to achieve her dreams. Nothing could be more inspiring to me.
A part of me has always wanted to be an actress. I remember being a kid and watching inside the Actors Studio and planning how I would ask the final set of questions. By the way my most disliked sound is chewing, my favourite sound is a child's laughter. As a child, I would play out or perform every show or play I could to my toys at home.
I notice, aside from acting, you have trained as a dancer and choreographer. Have you ever had the opportunity to mix them all together?
Blending interests, worlds and passions are the best! I have had a couple great opportunities to mesh my passion of fashion, acting, and dance together. So far this has been mostly for commercials, such as the one I did for denim giant, Parasuco Jeans. I starred in, danced and created the movement for that commercial campaign. But, to be honest these genres are not that different. Dancing for me was more about discovering the life of my character and ¬giving a performance that was more story and emotion than steps and movements. So, in a way, they are all linked.
As a kid I had always imagined myself growing up and becoming a world-renowned choreographer, but life has its own plans. I had great success with choreography at a very young age, winning awards and bursaries for my work. Maybe it was my desire to bring a vision to life that gave me the drive and ability to bring Scuba Love, my new TV series, to life.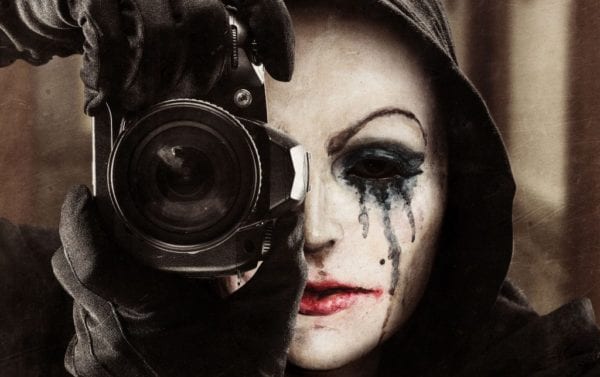 You recently starred in the horror film, 'The Girl in the Photographs', produced by Wes Craven. Can you tell us about the film, and your character?
It was the best experience ever and couldn't be more of an honour to have this production as my first leading role. Wes Craven was the sweetest and most giving person to work with and having him cast me when he has started the careers of so many big stars of today, was fantastic.
The Girl in the Photographs is an in same vein of 80s horror films. Which was a stretch for me as The Girl in the Photographs was the first horror film I had seen. The film follows an LA-based photographer (played by Kal Penn) who brings a couple of Los Angeles models to his small home town to shoot a big campaign that copies photos being released by a serial killer in that same town. A group of people hanging out in a secluded cabin in the woods. What could possibly go wrong?
Victoria, my character was a lot of fun. I found inspiration from all of my wonderful model friends and past experiences. I built an individual that was deeper than her original description of 'not so smart 17-year-old model.' I basically said to myself, she isn't dumb, she doesn't care about being book smart, she just needs to be life smart, and play the game.
What was it like to work on such a big set? Can you share some of the highs and lows on the set of the horror-thriller?
Working on the set with Wes Craven, and the cast and crew was beyond fantastic. I think some of my favourite highlights were making music videos between takes and sharing lip synch videos to each other. Wes Craven coming to the table read and sending such positive daily comments was crazy. We were a really close crew so the best high was gaining a second family to this day we are still all super supportive of each other and close.
Some of the lows, probably shooting mostly nights and having no understanding of a sleep schedule. That and film blood is super cold and sticky. The death scene with my co-star was an experience, especially since he was super super sick and it was super cold on set. I felt so sorry for him.
More recently we have seen you in the fun comedy TV show, 'Scuba Love', which you also co-write and produce. Can you explain the show and what was its inspiration?
FUN! It's a comedy that follows a young female instructor who losses her job and her boyfriend in one fell swoop and decides to jump into the pool and make her life about scuba diving. She begins working at her local dive shop. We follow my character, Aly, as she helps update a 'pen and paper' scuba shop, faces a male dominated world and has to find her way through the fun world of Los Angeles dating. While we follow her adventures we also get to introduced to a beautiful world under the sea. One of the cool features of this series, besides being the only script series about scuba diving, is that with each episode there is an educational segment on a topic related to diving. We cover practical information like; how to clean your gear, or steps to help protect our oceans, or even interviews with crew members on why they love scuba diving. Yes, everyone involved is a diver.
The inspiration for Scuba Love came from spending time in so many dive shops. So much happens that there is literally up to the minute comedic content. Whenever I am in a dive store, I jot it down for a future segment or scene in Scuba Love.
Did you have any vigorous scuba diving training for the show and if so what?
Actually, I am one of very few female Instructor Trainers in the world. Not only do I teach people how to scuba dive, but I also get to teach people how to teach scuba diving. It is very unique. So yes, although I am the lead actress in the show, I have had quite a bit of scuba diving training before filming, which helped me combine the two. I have loved every minute of it.
Are there any actors or directors you would love to work with in the future? Any actors you'd like to play alongside?
I would love to work with Wong Kar Wai. His method of coming into a film project with only a general theme, and not a structured script, allowing actors to find the heart of the subject matter and discover the story through exploration, is an actor's dream. He always achieves such beautiful motifs on love, time, memory and loss that exudes emotion and style. Daniel Day Lewis is an actor I would want to play alongside. While his body of work is extraordinary, it's the remarkable performances he brings from his co-actors that is so enticing. To play alongside such a master of his craft, I feel would bring the best from within me.
Do you get to go to the cinema much? Any films you have enjoyed lately?
I do not get many free evenings but watching new films is something I always try to make time for. I recently saw Bohemian Rhapsody which was spectacular. I mean… too many things that I love in a film plus amazing acting and production. To tell a secret, most of my favourite movies where made before my time. Growing up I rarely watched movies that were current releases but rather it was constantly digging through classic films with Judy Garland, Audrey Hepburn and of course Katherine Hepburn.
Aside from acting is there anything else you enjoy doing?
I am a big dork, and totally happy with that. I love board games, role playing games and of course Star Trek. So, my free time that isn't filled with scuba or acting, I like to join friends in an evening of games or a beautiful long hike through the woods – extra points if that hike includes a waterfall.
Our thanks to Autumn for taking the time for this interview, as well as Liz Rodriguez from EMR Media for helping us with the interview. Catch Autumn in 'Scuba Love' currently out now.