Red Stewart chats with Danny Mulhern about What They Had…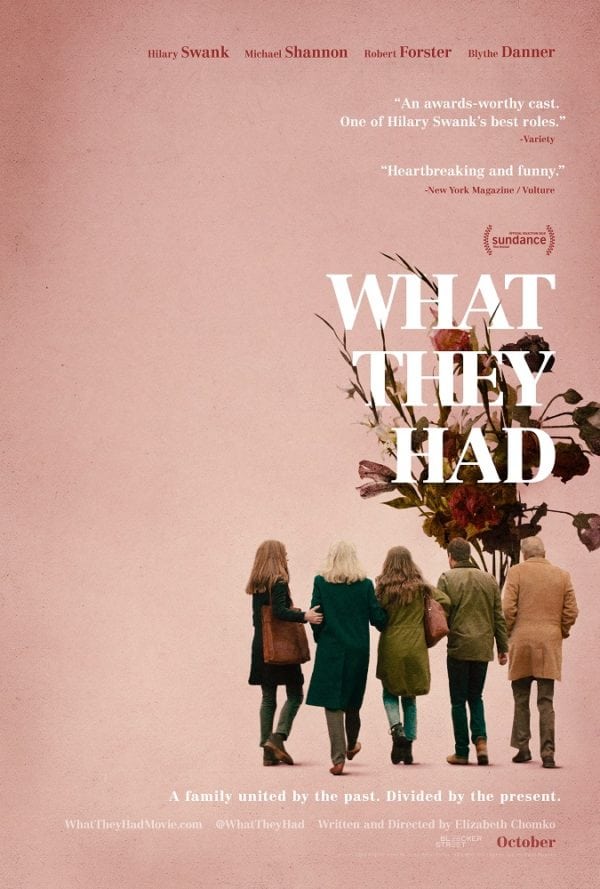 Danny Mulhern is an English composer who has been working in the film and television industries since the early-2000s. He is best known for his compositions for projects like Silent Witness, The Natural World, and What They Had.
Flickering Myth had the privilege to interview him, and I in turn had the honor to conduct it. I began by asking Mr. Mulhern about the website he has set-up for himself, which not only provides samples of his works but also links to his many social media platforms. Having spoken to another musician, Kevin Riepl, about the necessity of self-promotion in this world, I asked Danny how much he agreed with the sentiment.
"I think it's absolutely true. I've tried to make my other social media channels more coherent and linked to the same aesthetic as my site, and it all takes a lot of time. Luckily, I've found some people to help me with this stuff who really get the musical space."
Indeed, with all the competition in the industry, Mr. Mulhern insists upon the importance of being everywhere: "The whole Twitter, Instagram, Facebook artist page uses so much time, but it gives people a window into what kind of an artist you are or what your aesthetic is."
Now, anyone who has taken the time to listen to Mr. Mulhern's compositions will know that he not only likes to work with the London Contemporary Orchestra, but also incorporate synthesizers into his scores. Readers can hear this most prominently in his "Reflections on a Dead Sea" album, which was beautiful and highly recommended for listening. Because of this, I inquired as to which instruments he preferred to play live versus recreate digitally.
"I love committing to pieces of audio and then using plug-ins as instruments as well. So if there's a synth sound that I'm working with, it's about finding how to play with the toys and try and find the sound using all the toys in the box. It's almost like another form of improvisation using plug-ins. I think my favorite tools are the plug-ins: the reverbs, the delays, modulation and sequencing. Randomness is a huge factor as well, just trying to keep things guessing and not knowing what's going to come out. And that's a big part of composing is you can compose something really simple and want to commit to that, find any sort of way of making it work based on what you're doing to that sound electronically. Which is the complete opposite of the piano."
Danny went on to tell me how his work on "Reflections from a Dead Sea" reflected this attitude, as well as the importance of not falling into patterns: "I performed a few of the tracks from 'Reflections' live with the London Contemporary Orchestra last year, and that was a harp and strings with myself on a piano. That was great. I also love improv- I did bits in the same show improvising with the same players, which adds a sort of electricity to it. For everyone in the audience it creates an energy, regardless of whatever instrument. Improvising is a really fun thing to do, with varying results.
"I think that's where the energy comes from, and sort of keeping yourself interested. And then you can go back and compose within the spot of energy and make it rounder and more complete once you've spotted the energy.\ I've developed a method for writing which involves incorporating improv with those great classical players."
From there, we went on to talk about the film that brought us together for this interview, and that is the independent drama What They Had. Written and directed by Elizabeth Chomko in her feature film debut, What They Had stars Hilary Swank as Michael Shannon as siblings who have to make a decision regarding their Alzheimer's-stricken mother, portrayed by Blythe Danner. As one can expect, this adds somber layers to the movie's atmosphere, and I wondered whether that helped Mr. Mulhern given his knack for creating darker music.
"Absolutely, it spoke to me completely. But interestingly enough, even though it's about dementia and one of the characters has Alzheimer's, it doesn't feel at all like an Alzheimer's film. Even though I haven't known anyone with dementia, there was a lot of universal family stuff that spoke to me. Also, there's a sort of levity to the film. It doesn't dwell on the Alzheimer's aspect as much; it becomes an ensemble, almost a theater piece with these great performances and great actors. The script is incredibly intelligent, and I felt Elizabeth was very much a kindred spirit. She loved my music from my records, and that was how I actually ended up working on the film.
"It's a lot lighter than the synopsis suggests. There's a lot of laughing and crying, and they're both a sort of release."
Speaking of the director, one of the problems with the film and television industries is the lack of female filmmakers, a fact that was brought to vivid attention during Frances McDormand's second Oscar speech at the 90th Academy Awards. Given this unfounded discrimination, I asked Mr. Mulhern what his own working experience with Ms. Chomko had taught him about the situation, especially given that she was instrumental in helping him find his voice on What They Had.
"There are good directors and bad directors and Elizabeth was very clearly an excellent director. The gender thing didn't feel like anything in the air, it was more like 'wow, I love this film, what an incredibly talented director.' As it should be."
Mr. Mulhern went on to point out an intriguing fact about the demographics at the Toronto Film Festival this year: "It's interesting, in Toronto there was a huge number of female filmmakers there, though it was still only around 39%. I'd like to think every aspiring composer would take a project based on the merits of the director."
As stated above, Danny has scored his own albums like "Reflections on a Dead Sea." Given that he consistently works in the industry, I had to ask what the biggest differences were between creating an album versus writing music for a movie:
"The two processes in this case were very similar in terms of me connecting with the music. There's less time with a film and in a film you can't go 'that's a crazy sound, I'm going to make something out of that!' I had to be extremely careful not to be heavy-handed in the drama. Later on, the score [for What They Had] opens up more, but there's a lot of underlying family stuff and good drama which I didn't want to tread on with the music. So in that sense I had to be more restrained with the music I'd say."
Mr. Mulhern maintained that his had to do with servicing Ms. Chomko's vision: "It was less so much about the audience, and more about someone telling the story. It's somebody else's baby, whereas with mine it's mine and can be listened to within any context."
My last question for Mr. Mulhern is something I love to postulate to every composer I speak to, and that is what are three pieces of music that have had the greatest impact on him as a musician.
"That's a really god question, it's almost impossible to answer! I would say that there's a cue from a movie in the 80s called Educating Rita [by David Hentschel], which is a very unconventional film score but also very emotive. The cue is called Burning Books.
"Also, more recently, pieces from Johan Joahnnsenn, specifically anything from Orphée, which I adore. And I guess I should add to that something….actually "Something" by The Beatles [laughs]. I always liked George's songs, and that particular performance by the band on the baseline is incredible."
Flickering Myth would like to thank Mr. Mulhern for sitting down with us. What They Had is out in theaters now.
Special thanks to Adrianna Perez from White Bear PR for arranging this interview.
Red Stewart