Andy Serkis, the actor behind Supreme Leader Snoke in Star Wars: The Last Jedi, is spreading rumours for the sake of it about the character being in Episode IX.
Snoke has been one of the most mysterious and fascinating components of the new Star Wars trilogy but with the character being seemingly killed off in The Last Jedi, his story seemed to come to an end.
Rumours about the character returning in Episode IX haven't ceased since and now Andy Serkis, who plays the character, is spreading rumours himself about a possible appearance. Speaking to Hey U Guys (via ComicBook.com), the actor said:
"I emailed [director] J.J. Abrams and said, 'Let me know how things are going and how exciting it all is.' Of course, I'm very keen to see how the family's getting on. Who knows, Snoke might come back, I'm not saying anything. I'm only making that up. I'm totally just rumor-spreading for the sake of it, but anything can happen."
While Serkis tells us he is fibbing right there in the quote, the speculation regarding Snoke is surely going to continue until audiences are watching the film in 2019. And Serkis seems to have no interest in putting it all to bed.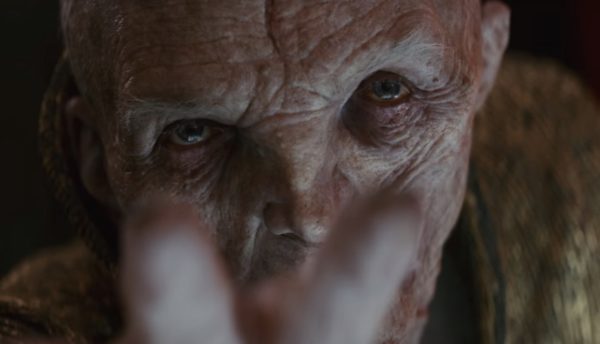 Star Wars: Episode IX is set for release on December 20th 2019 with J.J. Abrams (Star Wars: The Force Awakens) directing a cast that includes Star Wars veterans Daisy Ridley (Rey), Adam Driver (Kylo Ren), John Boyega (Finn), Oscar Isaac (Poe Dameron), Lupita Nyong'o (Maz Kanata), Domhnall Gleeson (General Hux), Kelly Marie Tran (Rose Tico), Joonas Suotamo (Chewbacca), Billie Lourd (Lieutenant Connix), Greg Grunberg (Snap Wexley), Mark Hamill (Luke Skywalker), Anthony Daniels (C-3PO), Billy Dee Williams (Lando Calrissian) and Carrie Fisher (Leia Organa) as well as new additions Naomi Ackie (Lady Mabeth), Richard E. Grant (Logan), Dominic Monaghan (Lost), Matt Smith (Doctor Who) and Keri Russell (The Americans).