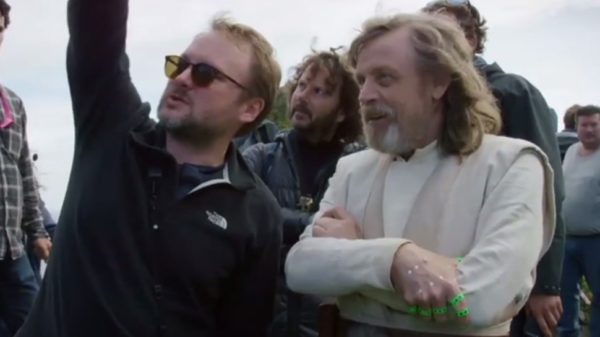 A year on from its release, writer-director Rian Johnson has taken to Twitter to thank fans for their comments and discussion about Star Wars: The Last Jedi over the past twelve months – those from both the "supportive" and "argumentative" ends of the spectrum.
SEE ALSO: Rian Johnson says Star Wars: The Last Jedi's Luke Skywalker is "100% consistent" with the Original Trilogy
Want to thank all the amazing passionate thoughtful kind creative talented supportive argumentative opinionated respectful open-hearted inspiring AMAZING Star Wars fans for the past year. Getting to hear from & meet so many of you has been the experience of a lifetime. ❤️

— Rian Johnson (@rianjohnson) December 15, 2018
Star Wars: The Last Jedi arrived last December on a wave of hugely positive reviews from critics, but the film proved hugely divisive with fans – more so than any previous instalment in the saga. Many praised Johnson for taking the series in a bold new direction, while others were critical of several aspects of the movie, not least the treatment of Luke Skywalker. Unfortunately, in some cases, these frustrations also boiled over, with a small minority of "fans" using social media as a platform to abuse the director and his cast.
Whatever you make of The Last Jedi and Johnson's creative decisions, there's no denying that the filmmaker has devoted considerable time to engaging with fans on social media over the past twelve months, which is certainly commendable.
SEE ALSO: Report claims Star Wars: The Last Jedi criticism was amplified by Russian bots and trolls
In Lucasfilm's Star Wars: The Last Jedi, the Skywalker saga continues as the heroes of The Force Awakens join the galactic legends in an epic adventure that unlocks age-old mysteries of the Force and shocking revelations of the past.
Star Wars: The Last Jedi sees returning cast members Mark Hamill (Luke Skywalker), Carrie Fisher (Leia Organa), Adam Driver (Kylo Ren), Daisy Ridley (Rey), John Boyega (Finn), Oscar Isaac (Poe Dameron), Lupita Nyong'o (Maz Kanata), Domhnall Gleeson (General Hux), Anthony Daniels (C-3PO), Gwendoline Christie (Captain Phasma), Billie Lourd (Lieutenant Connix), Andy Serkis (Supreme Leader Snoke), Peter Mayhew and Joonas Suotamo (Chewbacca), Tim Rose (Admiral Ackbar), Mike Quinn (Nien Nunb) and Warwick Davis joined by new additions Jimmy Vee (Pan) as R2-D2, Kelly Marie Tran (Ladies Like Us) as Rose, Benicio Del Toro (Guardians of the Galaxy) as DJ and Laura Dern (Jurassic Park).