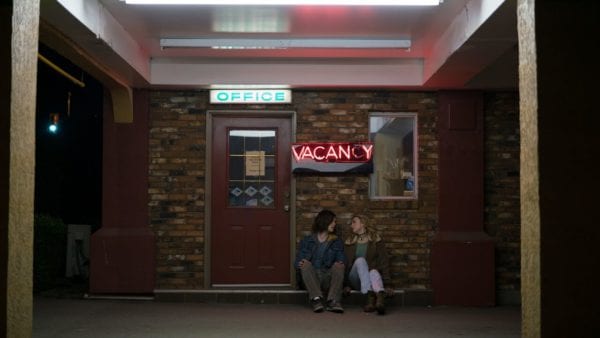 Was the casting of Juliette Lewis a conscious choice because of her iconic place in Nineties culture?
RH: For me it's because I am a huge fan of Juliette especially being a kid of the Nineties. So she was someone we reached out to with hopes that she would respond to the material which she did. Again it was just making sure we were on the same page as to how to bring Mary to life. I loved her ideas with it and I could really see her in the role. Plus there needed to be a resemblance and I really really love the relationship that Juliette and Cameron have as Luke and Mary. I think it's really lovely and now they are together on film I can't imagine it being anyone else.
What factors did you consider when deciding on a look for Anthem and the grainy immediate feel it evokes?
RH: Cinematography is something which is very important to me. Obviously the performance and story are the most important, but the look and feel is very important for all my projects. For this film I had a very clear idea of what my intention was and what I wanted the look and feel to be. I wanted the viewer to be right there with the characters and feel that they were a part of it, because one of the decisions that we made early on was that we wanted this to feel real rather than supernatural. So with what happens to Luke if we took a supernatural route then it becomes a completely different film. So to make it firmly rooted in reality we wanted to take it that route and make more grounded. Which makes you feel that this is plausible and probably could happen. So that really dictated a lot of the decisions that were made, from the look and feel to the casting, to the music to the art direction to everything. We wanted people to be able to really see themselves in the characters and say this is something that could happen. So in terms of look and tone I didn't want it to feel glossy or like a big movie. Plus it is an indie film and we didn't have a lot of time or money, so there are places we would have liked a little more light but for the most part I am really happy with the work Tod (Duym) did. I think its really beautiful.
Were there any changes from the original script you read to the final script which was shot?
RH: Definitely there were changes. Cameron and I worked pretty closely nearly on every scene to make sure the dialogue felt honest and every word spoken made sense. As far as the script goes I was involved in the writing of the story so there are things that now seeing the film, I would like to change but for the most part what was in the original to what is on the screen is pretty close.
Are there any filmmakers you look up to which maybe influenced you when making Anthem?
RH: Obviously there are people I look up to but as a filmmaker I am always trying to use my own voice and leave my own stamp on it but yes there are a few.
So in terms of future projects Robin what have you got lined up?
RH: I have a couple projects I'm working on and one of them I was working on at the same time as Anthem. It is my first animated film which is very cute and I am currently developing the feature version of that. I also have some live action projects which are in development that I can speak about soon, so I am keeping both sides going.
SEE ALSO: Read our Anthem of a Teenage Prophet review here
Many thanks to Robin Hays for taking the time for this interview and Liz Rodriguez at EMR Media for putting us in contact.
Anthem of a Teenage Prophet premiered January 10th and was released January 11th.
Martin Carr