DC Universe has just made a literal big casting decision in its upcoming Stargirl series. Luke Wilson (The Goldfinch) is set to portray Pat Dugan, otherwise known as the superhero S.T.R.I.P.E., controlling a large 15-foot robot of his own invention. S.T.R.I.P.E. is actually an acronym for Special Tactics Robotic Integrated Power Enhancer.
In the pages of DC Comics, Dugan is a gifted mechanic who was the sidekick of Sylvester Pemberton, the original Star-Spangled Kid, and a former member of the Seven Soldiers of Victory. He is the step-father to Courtney Whitmore, aka Stargirl, and dons his S.T.R.I.P.E. armour to protect her in their crime-fighting mission. While Stargirl will mark his live-action debut, he often appeared in Justice League Unlimited alongside Stargirl.
Stargirl's description of the character reads: "Pat Dugan once went by the less-than-inspired superhero name of Stripesy, sidekick to a young hero known as the Star-Spangled-Kid and later Starman of the legendary Justice Society of America. Today, Pat has left his sidekick life behind him. But when his new step-daughter, Courtney Whitmore, discovers Pat's secret past and takes on Starman's legacy to become Stargirl, Pat is forced to come out of retirement and once again become a sidekick — to his step-daughter — this time piloting a 15-foot robot called Stripe."
In announcing Wilson in the role of Dugan, DC writer and former DC Entertainment CCO Geoff Johns, who created Stargirl in the 1990s, praised the casting choice: "When I first moved to Los Angeles in 1996 and saw Bottle Rocket, I became a huge fan and admirer of Luke's," Johns said. "And I literally wrote this part for Luke, hoping that someday and somehow he'd play Pat Dugan. I only envisioned him. And now I feel like I won the lottery! Luke's talent, humor, compassion — his presence and professionalism — and his creative collaboration, his ideas — we're so lucky to have him alongside Brec in Stargirl."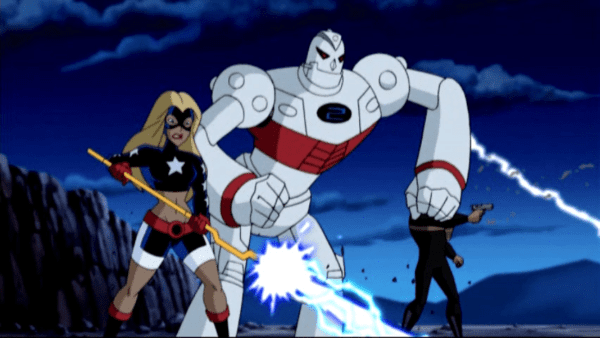 Stargirl follows high school sophomore Courtney Whitmore as she inspires an unlikely group of young heroes to stop the villains of the past. This new drama reimagines Stargirl and the very first superhero team, the Justice Society of America, in an unpredictable series.
Brec Bassinger (Bella and the Bulldogs) leads the cast of the series as Courtney Whitmore/Stargirl, along with Anjelika Washington (Young Sheldon), Yvette Monreal (Matador) and Christopher James Baker (True Detective) in as-yet-unrevealed roles. Also featuring as the Justice Society of America are Joel McHale (Community) as Starman, Lou Ferrigno Jr. (S.W.A.T.) as Hourman, Brian Stapf (The Walking Dead) as Wildcat, Henry Thomas (The Haunting of Hill House) as Dr. Mid-Nite, and Luke Wilson (The Goldfinch) as S.T.R.I.P.E.