With Toy Story 4 incoming this year, Funko has unveiled a new line of merchandise for Disney-Pixar's beloved animated movie series which includes a Pop! Rides Woody and RC, Pop! Vinyl figures for Buzz in his Mrs. Nesbitt Costume, Bo Peep, Slinky, Bullseye, and Wheezy, and a range of Pop! Keychains; check them out here…
SEE ALSO: Leaked promo art for Toy Story 4 and Frozen 2
Woody and RC, Andy's beloved remote control car, are on patrol as Pop! Rides pals.
Rounding out the cast of beloved toys, Wheezy, Slinky Dog,
Buzz (dressed as Mrs. Nesbit from the 1st film), Bullseye
and Bo-Peep are looking for adventures of their own! A flocked Bullseye is available as a Funko Web exclusive.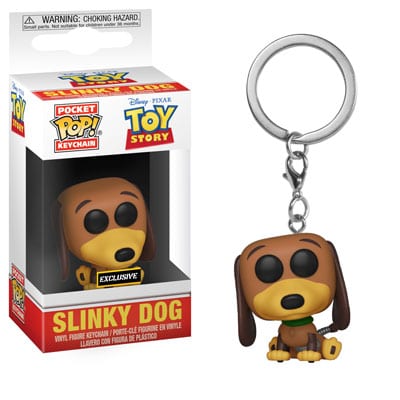 Bling out your keychain with the greatest pals any kid — or adult could ask for. Woody, Buzz Lightyear and Alien are ready to go on an adventure as Pop! keychain figures. Slinky Dog is available as a Pop! keychain BoxLunch and Hot Topic shared exclusive.
Woody has always been confident about his place in the world and that his priority is taking care of his kid, whether that's Andy or Bonnie. But when Bonnie adds a reluctant new toy called "Forky" to her room, a road trip adventure alongside old and new friends will show Woody how big the world can be for a toy.
Toy Story 4 is set for release on June 21st 2019.