George Chrysostomou on Marvel and its Phase Four plans…
With the third Phase of the Marvel Cinematic Universe quickly approaching its 'endgame', Marvel will hopefully soon announce a solid slate of post Avengers 4 plans for their faithful audience to digest. A few years ago, Marvel skipped San Diego Comic-Con in favour of holding its own press conference, which announced a whole new range of projects, including films such as Captain America: Civil War. Heading into Phase Four, I feel that it's time for Marvel Studios to do the same again in order to get ahead of the increasing rumours and half announcements that has surrounded the MCU recently. Whether this should happen after Captain Marvel or perhaps – for fear of spoilers – even after Endgame has hit cinema screens, before July's Comic-Con the House of Ideas should, in my opinion, host their own press conference again to set the stage for the future of the MCU.
Disney+ Shows
Marvel's film and TV output has felt quite separated for some time now, partially due to the different executives in control of each division. However, the recently-announced Disney+ shows should help to bridge that gap, with Kevin Feige and Marvel Studios in charge rather than Marvel Television. There is a lot to talk about in regards to these new shows coming up. So far we've had news of Vision and the Scarlet Witch and Loki announced for the streaming service, with rumours of Falcon and Winter Soldier, Rocket Raccoon and Groot, and Hawkeye shows. This already presents a wide array of stories to tell and ones which we know very little about. There has been speculation around each of these projects and what they could entail but, much like how Disney has dealt with The Mandalorian, they need to reveal a little more about these series in order to sell the service even better and get fans excited for the latest additions to the MCU. The press conference could at the very least reveal the casts and creatives behind each show, or maybe they can even tease a little of the story surrounding these – i.e. is Vision and Scarlet Witch really the rom-com that's been joked about for some time?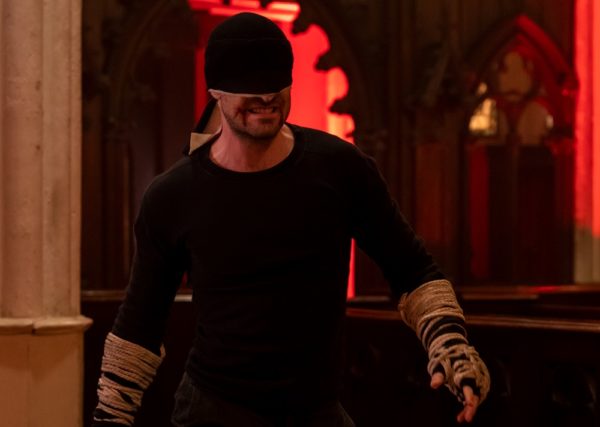 Netflix Cancellations
A press conference would also be a good place to officially address the cancellation of Netflix's beloved Marvel series. By the time its held both Jessica Jones and The Punisher will also likely be cancelled and so Marvel can finally tell us what their plans are here – if there are any plans at all. Now there may be no future for some of these incarnations (only Daredevil has been mentioned as having "more adventures"), but it makes much more sense for Marvel to capitalise on these versions and tell new stories rather than starting from scratch once again. Perhaps adding them to other shows or maybe even inserting some of the characters into the films (Daredevil into a Spider-Man movie, for example). Either way, addressing these shows rather than insulting the fans who have followed them by ignoring their existence would be a great way to continue the goodwill whilst setting the slate for the future.
Click below to continue on to the second page…