Arctic, 2019.
Written and Directed by Joe Penna.
Starring Mads Mikkelsen and Maria Thelma Smáradóttir.
SYNOPSIS:
A man stranded in the Arctic after an airplane crash must decide whether to remain in the relative safety of his makeshift camp or to embark on a deadly trek through the unknown in hopes of making it out alive.
Tired of all the usual clichés that bog down survivalism narratives? Well, writer and director Joe Penna's (a popular musician and YouTube content creator making one difficult transition here) debut feature Arctic strips Overgard's (Mads Mikkelsen putting every frozen facial expression, painful grunt, and deflated look of disbelief all to good use telling the story single-handedly with lines of dialogue you can count on one hand) hellish battle with extremely harsh weather conditions of any narrative whatsoever. There is no family he's dying to come home to that suck up the running time, it's very unclear how the crash happened or what he was doing out there besides general exploring, and the only other characters are a nameless and injured woman incapable of speaking (Maria Thelma Smáradóttir) from another crash, and a polar bear.
As interesting as it would have been to see Overgard fending out there for his life by his lonesome, the addition of this young woman serves the purpose of adding admirable and heroic traits to the man without the need for traditionally realized characters. There's less empathy for Overgard due to the creative decision to give audiences next to no information about him (why should I care about his survival if the story doesn't even want to tell me how he got in this situation?), but watching him trek around these dangerous conditions and beautiful landscapes carrying her around (someone that is contributing to his own survival in no meaningful way, not even company considering she's unable to talk) as she is strapped to a quickly rigged up bed, rendering him infinitely more likeable, subsequently investing us further into both their well-being and safety.
We also get to see Overgard (who appears to have been stranded in the Arctic for quite some time as the film begins, seeing as he already has his own makeshift camp set up alongside SOS rocks) utilize numerous holes for ice fishing, fiddle with a radio trying to reach anyone for help, leave notes and a path in case anyone stumbles across the area, and perform other good deeds like stapling up the young woman's wounds in order to further preserve her life. Not much might be happening in Arctic, but fans of visual storytelling and narratives that show more than tell will find a lot more to be engaged by here. It's hard to argue against the realism and immersion factors the film presents, whether it's cutting up a fish or acting among such exhausting and horrid weather.
Sadly, once Overgard begins traveling to increase his rescue odds, the film somewhat enters a repetitive cycle of him coming across multiple obstacles that he is either unprepared for or that are not marked on his map. None of it is also very exciting either compared to a few exciting set pieces towards the end that I will not spoil, but it's fair to say that Mads Mikkelsen is put to the test (both figuratively and literally when you factor in that the movie was shot in real locations and makes use of almost no CGI, greatly enhancing the sense of peril and often gorgeous cinematography). Perhaps the already brisk running time of 97 minutes should have been even shorter, as once you begin to break down the experience it quickly becomes clear that the middle portion is the roughest with not much excitement, whereas the final stretch contains a few moments of intensity and a strong ending with confident direction capable of working the audience.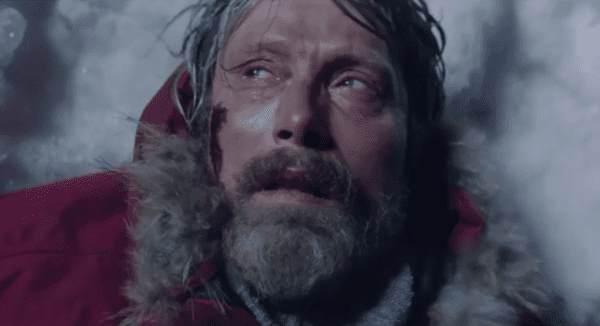 Arctic is an intriguing experiment for a film; it's all survival and no plot. And while this is not the first time such a thing has been done before, I have to that I was more impressed with the film after researching filmmaker Joe Penna and how new he is to this whole moviemaking thing. Nothing about his past credentials suggests an artistic survivalist feature would be in his future, but he pulled it off while getting an expressive and outstanding performance from Mads Mikkelsen. There's not really much to remember or to take in, and it's not necessarily amazing, but it's perfectly competent debut filmmaking with a relatively unique spin. In the near future, don't be surprised if Joe Penna comes up with something truly electrifying before capping it off with a tense ending like the one here.
Flickering Myth Rating – Film: ★ ★ ★ / Movie: ★ ★ ★
Robert Kojder is a member of the Chicago Film Critics Association and the Flickering Myth Reviews Editor. Check here for new reviews, friend me on Facebook, follow my Twitter or Letterboxd, check out my personal non-Flickering Myth affiliated Patreon, or email me at MetalGearSolid719@gmail.com