The Cannibal Club. 2019.
Directed by Guto Parente.
Starring Tavinho Teixeira, Ana Luiza Rios, Pedro Domingues, and Zé Maria.
SYNOPSIS:
Otavio and Gilda are a very wealthy couple of the Brazilian elite who have the habit of eating their employees. Otavio owns a private security company and is a notable member of The Cannibal Club. When Gilda accidentally discovers a secret from Borges, a powerful congressman and the Club's leader, her and her husband's lives are in danger.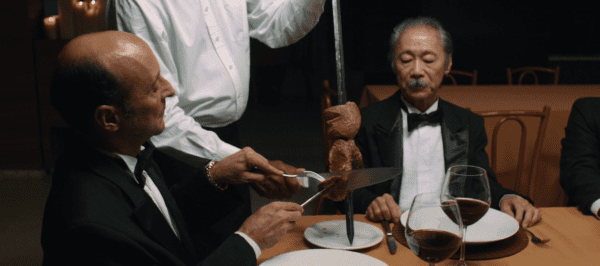 During the French Revolution, Jean-Jacques Rousseau cheekily suggested impoverished masses should "eat the rich." Guto Parente's The Cannibal Club retaliates despite the threat being hollow. Brazil's political injustice plays out as the rich munch through their problems – rivals, the underprivileged, all of it. Cannibalism acts as a voracious representation of power dynamics, and that's precisely what the primality of Parente's message hopes to drive home with the pungent odors of barbequed flesh. Never as visceral as Raw or The Green Inferno, but Club Med cinematography makes for quite the sunburned classist warfare commentary.
Five-star presentation, even if some fattier chews are left on the bone.
Otavio (Tavinho Teixeira) is a thriving private security mogul. His wife, Gilda (Ana Luiza Rios), enjoys her socialite royalty status (enough). Together they're a power couple who employ bodyguards and groundskeepers from less affluent walks of life, but secrets run deep. Otavio is part of a "Cannibal Club" who get together, button up tuxedos, then grill the poor. Gilda and Otavio participate in the same practices at home, dining upon lesser-privileged flesh – but can their corruption last forever?
Parente's representation of the upper-crust isn't *just* about sustenance. Otavio and Gilda participate in sexual gratification while "tenderizing" their meals, luring pool boys and gardeners with Gilda's seduction. Peasants sample a taste of the good life – Gilda and her mate sweating in adulterous entanglement – while Otavio masturbates in a secret viewing room. Then, at the point of climax, Otavio bursts inside and buries an axe into his victim's back; blood, semen, and salty droplets splash over Gilda's writhing body.
As I said, their cannibalistic nature isn't dietary. Otavio and Gilda get off on status, and ME OH MY is it gratuitous and gorgeously captured money shot.
Cinematographer Lucas Barbi may be The Cannibal Club's MVP because while sociopolitical commentaries are run-of-the-mill, tropical hedonism is luscious, lavish, and sensually high-class. Sophisticates sitting arena-style above a couple hardcore fornicating – chained up – only to smash-cut into fancy dinner party wine-swirling. Dishes of flayed and charred meat pop with Emeril's "Bam!" One of the very first scenes – an opening murder that wastes no time stripping down and getting messy – promises indulgence beyond appetite and Parente's team delivers.
Problems of the 1% delve into blackmail and assassination attempts but are never as inspiring as the film's cannibalistic nature. The Cannibal Club aspires to be as on the nose as naming the aforementioned society's leader Borges (Pedro Domingues). Wink wink, nudge nudge! Gilda catches Borges in a compromising act, betrayal succumbs, and before long, fighting amongst top hats allows for the bottom dwellers to strike. Naivety and egotism lead to inevitable downfalls, chaos reigns, yet we've seen these towers topple before. A stronger lean into the man-eater carnage might have freshened a blander cut of prime frustration.
Granted, there's something to be said for Teixeira and Rios' chemistry whether posing naked around roasting limbs or interacting with other club members. Teixeira balls-deep in his boy's club galavanting, Rios the stay-at-home housewife who starts chasing temptations. It takes a certain kind of "moneybags delusion" to sell cannibalistic lifestyles, but Otavio fits the bill as he coyly attempts to force his security guard human steaks at one point. Greed and power corrupt, and Teixeira bathes in malfeasance.
The Cannibal Club is a familiar base spiced with international herbs and sauces. The shimmer of glistening exotic waters and private estates, or the romanticized gratification of a perfect chop. Guto Parente doesn't mince words. Eat the rich or they'll eat you. Maybe more poignant right now in Brazilian culture ([looks around] or not), but still, Parente employs the most universally understood language of all: culinary delights.
Flickering Myth Rating – Film: ★ ★ ★  / Movie: ★ ★ ★
Matt spends his after-work hours posting nonsense on the internet instead of sleeping like a normal human. He seems like a pretty cool guy, but don't feed him after midnight just to be safe (beers are allowed/encouraged). Follow him on Twitter/Instagram/Letterboxd (@DoNatoBomb).