Sunset, 2019.
Directed by Lászlò Nemes.
Starring Juli Jakab, Vlad Ivanov, Evelin Dobos, and Marcin Czarnik.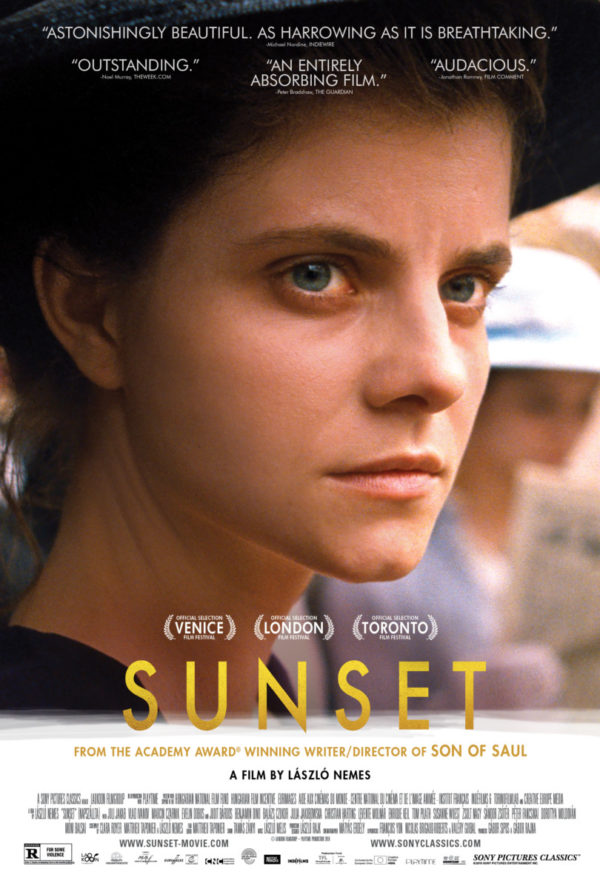 SYNOPSIS:
A young woman searches the streets of Budapest, Hungary, to find the brother she never knew she had.
At times, Sunset reminds me of the work of Andrei Tarkovsky. Some scenes feel poetic, while others come off painfully methodic. At other times, the new film from Son of Saul director László Nemes is a bit tedious and complicated. There's no chance to get lost into this period piece and just casually view it; Sunset leaves you too bewildered for anything like that. Is that a negative or positive trait? It's still hard to tell, but that doesn't take away from the sheer level of craftsmanship that went into this piece.
Sunset follows Irisz Leiter, played perfectly by Juli Jakab, as she attempts to re-enter a society she's unfamiliar and uncomfortable with. The uptight culture isn't always welcoming to Irisz as well, with her continually putting them off. She often inserts herself into situations or asks questions that no one wants to hear, but she is unmoved in her ways. With her parents recently deceased and no attachment to Trieste, she ventures into the darkest parts of 1913 Budapest in search of her disgraced brother.
When typing out the plot, it feels so simple to explain. But the viewing experience is everything but simple. Disorientating is the first word that comes to mind as you don't often really know what's happening to Irisz and why this story is taking such bizarre turns, but Juli Jakab plays it so well, and László Nemes is such a skilled filmmaker that it somehow works by the time credits roll. That's not to say I still don't have questions after viewing – yet to figure out why they had that scene where it felt like Charon was rowing Irisz across the Danube- but that's the beauty of a film like this. It's about the entire viewing experience and how it made you feel, what it made you think about after; it's not just about strange little moments or little flaws sprinkled throughout it.
With such a strange film, it's not going to work for every viewer. Even if you enjoy this type of film, it takes the right mindset to go through a movie like Sunset. This piece is light on dialogue and heavy on history, which takes a certain level of willingness to watch. Cutting down the runtime or going for less long takes could make this pill easier to swallow and make it a bit more accessible. While the film is enjoyable and quite the experience, trying to recommend this to someone isn't an easy task.
What stands out among all the bold artistic choices as one of the most positive is the adventurous camerawork. The entire film is about taking the viewer away from the "God's eye" of these events and placing you right into the action, that's spelled out entirely in the visuals of the film. All of the warmly-lit hand-held work from cinematographer Mátyás Erdély makes you feel like you right there with the characters. The atmosphere feels lowkey with nothing feeling too grand, and Erdély captures that so well.
If she's immaculately dressed or covered in sweat, Juli Jakub's performance is the center of the camera's focus and the viewer's attention. The beauty of her performance is also how she's written and how the film depicts Irisz. She isn't a perfect character, by no means a stereotypical feminist. Irisz is raw, unfiltered, and the viewer is asked to follow her as she figures it out along the way. It's refreshing to see a character know she doesn't have all the answers, knows she's the odd person out, but refuses to let it hinder her journey of self-discovery.
As previously mentioned, recommending Sunset to just any viewer is a daunting task. That doesn't mean the movie isn't worth a watch as this is another striking entry from Lászlò Nemes. The last film from Nemes, Son of Saul, handled its subject with tact and such polish, and all of that was thrown out for Sunset. It's a little messier and a little edgier, and all the better for that.
Flickering Myth Rating – Film: ★ ★ ★ ★ / Movie: ★ ★ ★
EJ Moreno