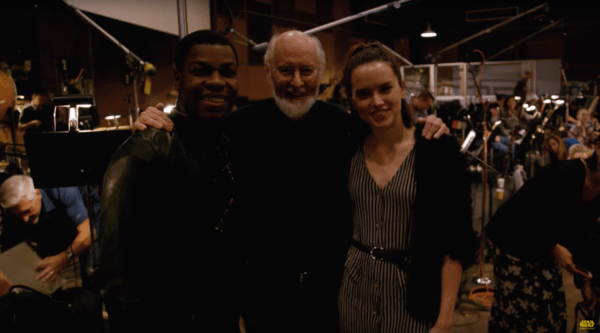 Not only does Star Wars: The Rise of Skywalker mark the final chapter of the Skywalker Saga, but it's also set to be the final Star Wars movie to be scored by legendary composer John Williams, the man responsible for some of the most iconic movie music in history.
According to an interview with orchestra contractor Sandy DeCrescent (via JW Fan), who is responsible for selecting and managing the musicians in Williams' orchestras, he will begin recording the score for The Rise of Skywalker this June, suggesting that director J.J. Abrams could be closing in on completing his cut of Episode IX.
The now 87-year-old Williams has previously confirmed that he'll be retiring from the Star Wars saga after The Rise of Skywalker, although it won't be his final film score as he is also confirmed to reunite with Steven Spielberg for 2021's Indiana Jones 5. Assuming of course that project ever sees the light of day…
SEE ALSO: Disney CEO confident that Star Wars: The Rise of Skywalker will be "extremely popular" with fans
Star Wars: The Rise of Skywalker is set for release on December 20th 2019 with J.J. Abrams (Star Wars: The Force Awakens) directing a cast that includes Star Warsveterans Daisy Ridley (Rey), Adam Driver (Kylo Ren), John Boyega (Finn), Oscar Isaac (Poe Dameron), Lupita Nyong'o (Maz Kanata), Domhnall Gleeson (General Hux), Kelly Marie Tran (Rose Tico), Joonas Suotamo (Chewbacca), Billie Lourd (Lieutenant Connix), Greg Grunberg (Snap Wexley), Mark Hamill (Luke Skywalker), Anthony Daniels (C-3PO), Billy Dee Williams (Lando Calrissian), Ian McDiarmid (Emperor Palpatine) and Carrie Fisher (Leia Organa) as well as new additions Naomi Ackie (Lady Mabeth), Richard E. Grant (Logan), Dominic Monaghan (Lost), and Keri Russell (The Americans).