Hasitha Fernando reviews the first season of the Netflix series Marianne…
Marianne follows the tale of successful French horror writer Emma Larsimon (Victoire Du Bois), who is dragged back to her hometown, when the dark entity that has haunted her childhood memories return, fifteen-years later.
To say that I was a huge fan of The Haunting of Hill House, is a bit of an understatement. The afore mentioned gothic horror-drama which made its debut last year on Netflix, simply blew me away with its brain-melting narrative, strong character development and excellent performances. But of course, the series benefitted immensely from writer-director Mike Flanagan (Ouija: Origin of Evil, Gerald's Game) being at the helm. Marianne on the other hand, has none of the above-mentioned pedigree to boast of. So, based simply on Netflix's past track record and the TV series' intriguing trailers, I decided to give this one a look-see. And I'm very glad I did.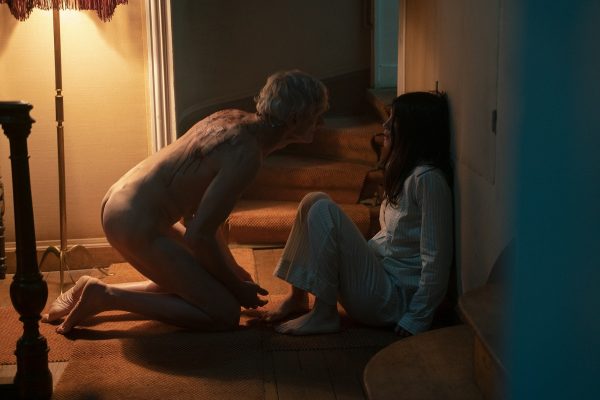 Marianne is a vastly different experience to The Haunting of Hill House. From the get-go there is a perpetual sense of overwhelming dread that permeate throughout the proceedings. The gorgeously moody cinematography at display here, plays an instrumental role in crafting the sepulchral atmosphere and setting the overall tone for the series. Even seemingly innocuous locales are imbued with a sense of grim foreboding and lurking danger. Kudos to DOP Philip Lozano, for his stellar contribution to the series. The soundtrack too, changes chameleon-like with each scene; shifting from joyfully whimsical to full-blown horror at the drop of a hat. A great soundtrack plays an integral role in the horror genre, and I tip my hat to monsieur Thomas Cappeau, for his work here. Absolutely astounding.
Unlike, The Haunting of Hill House, however Marianne doesn't shy away from its gorier aspects; instead it embraces them with devilish delight. There are some truly disturbing, stomach churning moments of body-horror but these moments are few and far between, and they are used merely as devices to intermittently shock the audience, and propel the narrative forward. The violence never overwhelms the story, and writer-director Samuel Bodin does an admirable job at walking that fine-line, without losing focus.
The strongest aspect of this TV series, however, is its amazing ensemble cast. There are great performances given by everyone, across the board. Victoria Du Bois (Call Me by Your Name) as our series protagonist Emma Larsimon, is a clear standout and is an instantly likeable character in every sense of the word. Du Bois injects her role with a vibrant energy and infectious charm that is akin to Audrey Tautou's performance in Le fabuleux destin d'Amélie Poulain. But as the story progresses, we soon realize that the cavalier, easy-going persona she projects to the public, is her attempt to conceal the broken person she is, deep within.
The other memorable standout is none other than, Mirielle Herbstmeyer; whose spine-chilling turn as Madame Daugerone will undoubtedly cast an indelible impression in everyone's minds. Her piercing hypnotic eyes and cruel demented smile, will stay with you long after the credits roll. Truly the stuff of nightmares. Here's hoping that Herbstmeyer will garner more roles in futures to showcase her acting prowess. Alban Lenoir (Taken) as Inspector Raunan acted somewhat as the series' comic relief but when required he was more than up to the task in tackling more serious, meaty scenes within the narrative.
The flashback sequences interspersed with the current timeline, serves as the platform for showcasing the mysterious backstory involving the teenagers as they battled the dark entity fifteen-years prior. These flashbacks are very reminiscent of scenes from Stranger Things, and are even complimented by a pulsating synth-wave score. Definitely not an accident.
The series finale concludes in a cliff-hanger, which will undoubtedly be resolved in its second season, and which I for one, cannot wait to see. Barring a few jarring tonal shifts here and there (undoubtedly the writers' attempts at injecting some humor to the bleak affair) Marianne, as a whole, is certainly one of the best horror mini-series this reviewer has come across in a long while. Although not quite up there with Netflix's The Haunting of Hill House, this series certainly offers up a more visceral, darker experience replete with terrific performances and some damn fine scares. Looks like Halloween has indeed, come early.
Hasitha Fernando