1917, 2019.
Directed by Sam Mendes.
Starring George MacKay, Dean-Charles Chapman, Colin Firth, Mark Strong, Benedict Cumberbatch, Andrew Scott, Claire Duburcq, Daniel Mays, Richard Madden and Adrian Scarborough.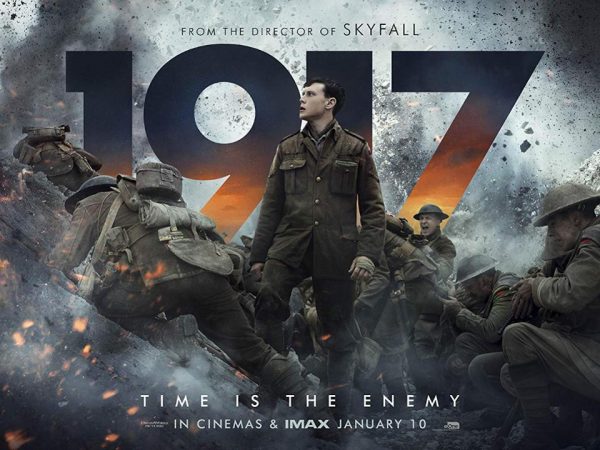 SYNOPSIS:
Two young British soldiers in the trenches of the First World War are sent on a dangerous journey to prevent another unit from walking straight into a potentially fatal German trap.
It's incredibly difficult for even the most talented and revered filmmakers to deliver war movies which truly stand out from the crowded pack; Christopher Nolan took a strong stab with his time-dilated vision of World War II in Dunkirk, and now, Sam Mendes offers his daring spin on the cinematically under-served "Great War."
1917's attention-grabbing central stylistic conceit – that Mendes and legendary cinematographer Roger Deakins have conspired to have the entire 119-minute movie resemble a single take (more or less) – is easy to sniff at as a mere gimmick intended to fill the void of substance.
But it doesn't take long for Mendes to prove the utility of his commitment to the "one-r" style; the opening scene isn't a complex action sequence or especially jaw-dropping use of the setup, but 10 minutes of our protagonists, young British soldiers Schofield (George MacKay) and Blake (Dean-Charles Chapman), traipsing through a trench to receive their orders.
It's not particularly showy nor does it really draw much attention to itself, beyond audiences perhaps commending the poor camera operator walking backwards through a trench for minutes at a time.
Like most high-concept "single-take" films, the magic trick of course is that 1917 is really comprised of numerous shorter takes cleverly stitched together through judicious, digitally-assisted editing. And while keen film fans will be able to spot a good number of the seams – entering rooms in pitch blackness and unnatural close-ups on characters' backs are dead giveaways – this does little to undermine the majesty of the overall effect.
What truly makes it more than a self-conscious, superficial trick, though, is how brilliantly it informs the story, of Schofield and Blake taking a treacherous journey to hand-deliver a message to a nearby regiment, in order to prevent 1,600 soldiers from being slain by a German ambush, Blake's brother among them.
Though there is some obvious time compression throughout 1917 – namely a mid-film cut-to-black which some are already snidely calling a "cheat" – Mendes' decision to keep us with the two young men for the entire film brilliantly enhances the arduousness of the journey and our visceral connection to them.
It helps immeasurably that Mendes is reunited with world-class DP Deakins, whose ingenious solutions to Mendes' demands are as close to literal movie magic as you're likely to see. That the film's various set-pieces, of which there are many, appear so meticulously composed despite the seemingly constraining nature of a single take is a testament to both Deakins' staggering creativity and Mendes' sheer ballsy ambition.
A mesmerising chase through a fiery French village is unquestionably one of the finest sequences Deakins has ever shot, and the climactic trench run scene plastered all over the film's marketing, wrapped in Thomas Newman's intensely rousing musical score, is an instant classic war movie moment. To call the film an engineering marvel and one that makes intelligent use of cutting-edge filmmaking techniques is quite the understatement; this is, simply, one of the most technically impressive films ever made.
And while it'd be easy for much of the human element to become lost amid all this flash, 1917 is so much more than a mere amusement ride. All the bombast would mean precious little without wonderful performances from rising stars George MacKay and Dean-Charles Chapman. While it's fair to say that characterisation is streamlined for the sake of the spectacle, the two are still given ample opportunity to unfurl their put-upon soldiers through the casual mid-mission chit-chat, and often the set-pieces themselves lend further shade to the pair and their particular, opposed stances on the war effort.
MacKay in particular is remarkable as Schofield, conveying so much of war's innocence-destroying inevitability through his stunned, expressive face. If the two performances are perhaps noted more for their physical demands, there's still more meat on the dramatic bones than might be immediately evident by the script.
In the grand tradition of the war film, 1917 also boasts a spectacular supporting cast, with the likes of Colin Firth, Andrew Scott, Mark Strong, Benedict Cumberbatch, and more getting small yet memorable roles as pitstop figures Schofield and Blake encounter throughout their mission. While there was clearly the potential for these actors to distract, especially relative to the comparative everyman quality of the young protagonists, each is in the film just enough to lend their gravitas and then get out of the way, retraining the focus on our more "anonymous" heroes.
If Hollywood is often referred to as the dream factory where the unreal can become "real," Mendes has opted to use state-of-the-art movie tech to render the stories told to him by his own grandfather in terms both beautiful and thoroughly believable. It is in its own way a lyrical and dreamlike work of art, flowing from one torrid scenario to the next, and yet, the aching human element is never once lost amid the desire to both entertain and educate.
If war films often feel like a bit of a tonal paradox, depicting historic atrocity as entertainment, it's impressive that a film this outwardly stylish doesn't ever feel like a feat of crass exploitation. That might in part be due to Mendes' decision to shy away from the large-scale battles we're all familiar with, and instead focus his magnifying glass on a sensibly simple tale of survival, albeit one unfolding over such a gorgeously ugly canvas.
Sam Mendes and Roger Deakins' bone-rattling technical virtuosity is matched by an urgent, affecting survival narrative and two exemplary lead performances. 1917 is an artfully visceral, haunting masterwork.
Flickering Myth Rating – Film: ★ ★ ★ ★ / Movie: ★ ★ ★ ★ ★
Shaun Munro – Follow me on Twitter for more film rambling.