Graeme Robertson on why The Insider should have won over American Beauty at the Academy Awards… 
The line up for the Oscars celebrating the best of 1999 could arguably be seen as something of a slow year in terms of cinematic brilliance, at least in my opinion. While none of the films nominated is particularly bad per se, many of them are merely just good or decent, but most of them are hardly the heights of brilliance.
The film named as Best Picture of 1999 was Sam Mendes' American Beauty, a decent film but deeply flawed film that boasts an excellent Oscar-winning performance from (the now disgraced) Kevin Spacey, great visuals and a beautiful score by the always wonderful Thomas Newman. However, while I like American Beauty (although I don't think I'll watch it again for a while thanks to Mr Spacey), it really hasn't aged well in and perhaps with hindsight it's awarding of Best Picture was not truly deserved.
In my view, the film that should have been named as Best Picture of 1999 was Michael Mann's deeply underrated fact-based drama The Insider.
In the mid-1990s, Dr Jeffrey Wigand a former scientist and Vice President of Research and Development at the Brown and Williamson Tobacco Company is encouraged by CBS journalist Lowell Bergman to blow the whistle on the companies shady attempts to modify the tobacco more addictive and thus drive up sales. However, as he attempts to expose the corrupt practices of his former employers, Wigand, as well as Bergman, find themselves stonewalled by legal threats as well as physical threats from those hoping to halt Wigand from revealing their dirty secrets.
This film has a stellar cast with nary a weak link amongst its line up. Al Pacino is on terrific form as journalist Lowell Bergman, an ethical, determined and loyal pursuer of the truth, with the legendary actor managing to expertly project his trademark charismatic and powerful screen presence, in what is one of his more underrated performances.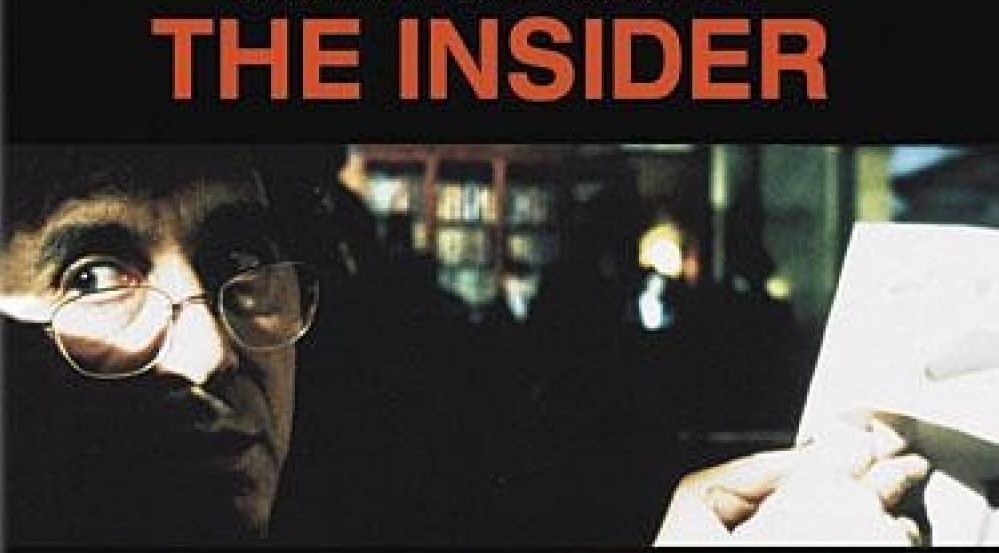 Christopher Plummer also stars as real-life news anchor Mike Wallace, and while the legendary newsman was none too pleased with his portrayal in the film, Plummer is nothing short of brilliant, managing to capture the presence of a man who, while trying to remain dedicated to his journalistic principles, appears somewhat egotistical and keen to preserve his legendary reputation even if it means selling out a little.
We also have fine, if all to short turns from the always good Phillip Baker Hall as Lowell's superior at CBS, Bruce McGill in a ferocious performance as Wigand's defence lawyer, and Michael Gambon in a memorable cameo role as Wigand's former boss at Brown and Williamson, a character who while only appearing fleetingly manages to give off a deeply sinister and powerful vibe.
However, the main reason to watch the film for Russell Crowe's incredible Oscar-nominated performance as Jeffrey Wigand the titular "insider". Crowe is simply brilliant, with him masterfully managing to create a character who, while not a particularly likeable person, is still one that we can still sympathise with as he struggles to do what he thinks is right. I also have to give credit to Crowe for the physical transformation that he undergoes to portray his real-life subject, with the Australian actor gaining significant weight, dying his hair white and modifying the way he carries his body to believably portray a man in his 50s, despite only being 35 at the time.
While Crowe would win the Best Actor trophy the following year for his performance in Gladiator, I feel that his performance as Wigand that should have won the trophy, with it being a far deeper and engaging performance than his later work.
The story of the film is also a fascinating one and it's a testament to the talents of Michael Mann and Eric Roth's screenplay that manages to make the complicated and shady dealings of the tobacco industry and Wigand's role as a whistle-blower comprehensive to an audience that is perhaps familiar with the subject matter.
As with most of his films, Mann directs The Insider with his distinctive visual flair and captivating sense of style although he does so in a much more restrained fashion than his previous films. The heavy use of colours that often overpowered his earlier films is very much toned down here, although many scenes are shot with a very noticeable blue tint which adds a quiet beauty to these moments.
With Russell Crowe in arguably his greatest performance to date, a fine supporting turn from Al Pacino, Mann's distinctive and beautiful visual style and fantastic script, The Insider is easily one of the best films that Michael Mann has ever made (not his best, that would be Heat), and it's my pick as the film that should have been named by the Academy as the Best Picture of 1999.
Do you agree with my pick dear readers or do you think the top prize should have gone elsewhere? Let me know in the comments what you think.
Graeme Robertson