She's Allergic To Cats. 2020.
Directed by Michael Reich.
Starring Mike Pinkney, Sonja Kinski, Flula Borg, Veronika Dash, and Honey Davis.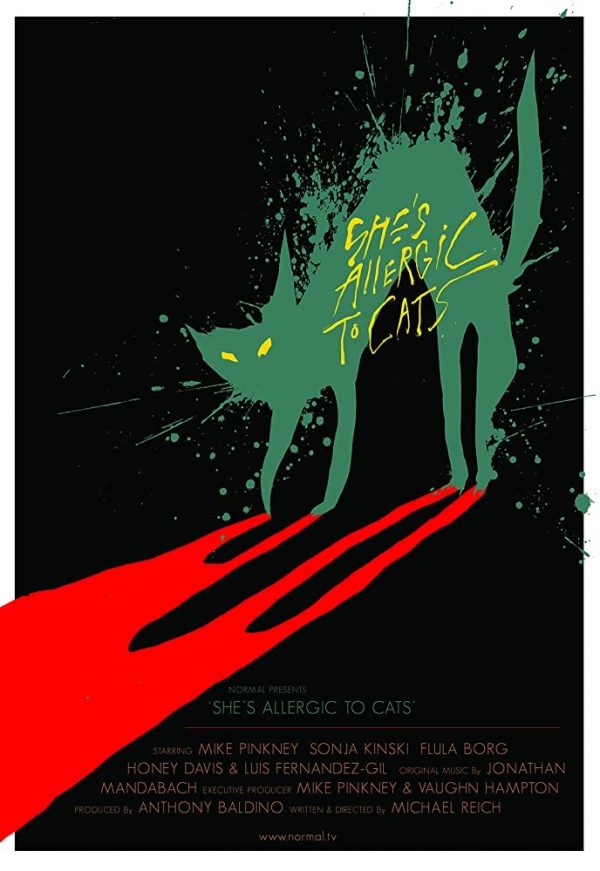 SYNOPSIS:
A dog groomer in Hollywood aspires to be more than a dog groomer in Hollywood.
I doubt writer/director Michael Reich will exhibit shock upon hearing his latest film, She's Allergic To Cats, is an acquired taste. Less an experience to be critiqued, more to be studied? Scholarly minds could pose some thought-provoking questions about the boundaries of expression through artistic voice, but as a film marketed to audiences, watchers may reject experimental justifications. Both simplistic and eccentric; a scattershot video vortex (un)hinged on romance, bananas, and the blockbuster Congo. We're sucked into Reich's acid-trippy analog world, forced to debate whether date-night awkwardness can sustain one of the year's most reckless, ambitious, and demanding moviegoing experiences.
Mike Pinkney (played by Mike Pinkney) moved to Hollywood with filmmaking aspirations but now grooms dogs. His apartment has a "mutant" rat infestation, which leads to droppings and chewed holes in laundry detergent bottles. Mike is trying to sell a cat-themed version of Carrie's prom sequence, can't reach his landlord Honey (Honey Davis), and won't stop thinking about new crush Cora (Sonja Kinski). Can the sad-sack pull himself together and finally clean the clutter out of his filthy, aimless life? Or will Cora instigate more issues instead of mending the biggest hole in his heart?
While dissecting She's Allergic To Cats, I couldn't help but recall Jack Henry Robbins' VHYes. Two movies that share "Adult Swim" DNA, Reich's aesthetic more akin to a parody of garbled film student assignments. Maybe that's intentional? Maybe my presumption is more of an insult than intended? Mike's mundane existence is represented by continual conversations about the rats who ate his banana bowl, locker room sequences that zoom on male genitalia, and the cleansing of canine anal glands. "Quirky" accents meant to juxtapose Mike's emotionless mumbling or beyond-average-joe persona. A man whose art is supposed to make him interesting, and yet, no one cares to acknowledge even a millisecond of footage.
My statement about using She's Allergic To Cats for an academic study is not sarcastic. There exists, intrinsically, this unique expression of self within Mike's "video art." His camcorder points at an olden fuzzy-tracking dialed TV while Mike sticks tape with words to the screen. "The dog is lost" leads to "We're all lost dogs," "My life is a mess" becomes "My mess is a mess." Whenever plot points shift, we're plunged into Mike's hallucinogenic interludes backgrounded by perplexed cat faces, naked women holding rats, melting animal travel holders – the works. How Mike views his world, robust and depressing, vastly differs from the ho-hum, pedestrian perspective outside viewers are granted. Mike is the star of his own internal show, wallowing in slop (physically and metaphorically), versus a more mediocre fly-on-the-wall assertion.
Thus brings us to the film's biggest question: are hazy-wavy instances of "artistic release" worth Mike's sob story about not getting laid? Reich couldn't be clearer about scripted intentions. Man is down in the dumps, man meets woman, man hopes woman can solve all his problems. The issue is, we only experience a single date between Mike and Cora, the rest is all Mike's slacker status issues and fruitless banana talk. Why do we care? Why is Mike's reflection important enough to warrant its own narrative? What's so special about another lovesick, timid schlub? My issue, and I'm likely not alone, is I have no answer to those questions. A film better represented in a gallery somewhere, with Mike's creations projected on busted television sets or other screens.
Pinkney plays himself as this muted Tim and Eric sketch re-imagining of a struggling creator. Obsessed with his own ideas, unwilling to compromise in the face of jobless eternities. Always apologizing, always mousey – which is clever considering a feline's place in his overall story – and always one step away from fully transforming into a jar of bland mayonnaise. As characters interact, from the alarming Cora to undefinable musician/business owner Honey, Mike's blank responses attempt to normalize more talk about *motherjumping* bananas. We get it. The rats are a problem, if only he still had that bowl of potassium-rich bananas. Off-kilter dialogue only works for so many introductory scenes.
She's Allergic To Cats never reaches as outlandishly far as, once again, VHYes, which is a hindrance. Visual quality is that of a handheld camera. Possibly meant to convey some sense of intimacy that the overall presentation lacks? It's funky enough to confound but underdeveloped as larger messages fail to resonate beyond fetish-and-fur montages doused in hyperallergic paranoia. Does any of this make sense? Truthfully, at seventy-ish speedy minutes, you'll have to formulate your own opinions because some will find brilliance lathered in conditioner and puppy bath soap. One loner's romantic frustrations could be another's avant-garde second coming.
Flickering Myth Rating – Film: ★ ★ / Movie: ★ ★
Matt spends his after-work hours posting nonsense on the internet instead of sleeping like a normal human. He seems like a pretty cool guy, but don't feed him after midnight just to be safe (beers are allowed/encouraged). Follow him on Twitter/Instagram/Letterboxd (@DoNatoBomb).