Rob Lake reviews 2000 AD Prog 2183…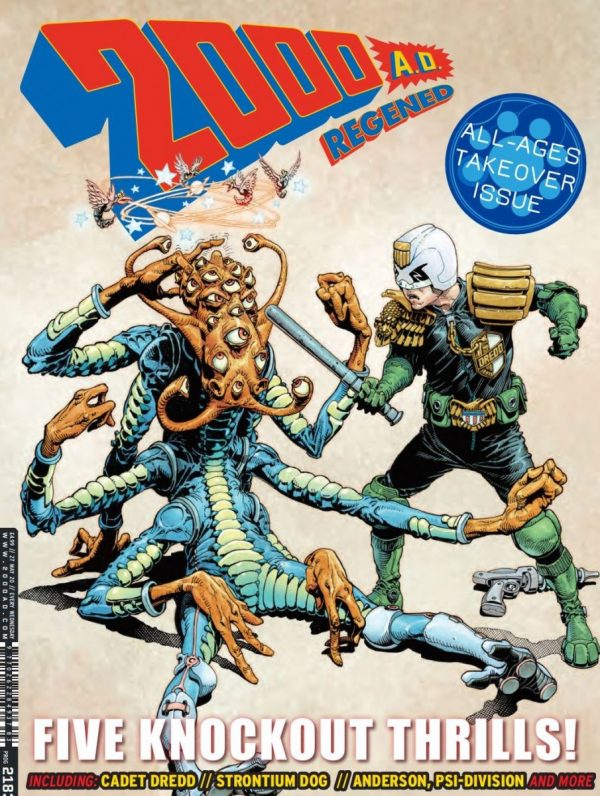 2000 AD Regened began back in 2018 as part of 2000 AD's Free Comic Book Day offerings. With special re-workings of classic characters and even all new characters, the all-ages Regened Progs cater for young and old fans alike. This week's cover features artwork from Cliff Robinson and Dylan Teague. Inside the bumper 52 page issue we get to see the early days of Judge Dredd in Cadet Dredd, more adventures with Finder and Keeper, a new Future Shock and rounding the issue up: new adventures for Psi-Judge Anderson and Johnny Alpha.
With this week's issue being my first Regened Prog I was a bit dubious as to how "all-ages" it might be. However, after reading Prog. 2183 I had my initial concerns thrown out of the window and nearly found myself in an iso-cube for dissent! The majority of whats inside could easily work with the standard Prog format, with artwork and topics at hand keeping with the classic 2000 AD format.
Cadet Dredd – Combat Ready 
The Cadets are having their first Routine Combat Assessment, which is a way for the Justice Department to judge whether they have what it take to patrol the streets of Mega-City One.
Dredd learns that Rico has an average score of 0.985 and sets out to best his clone brother. So Dredd and fellow cadet – Falkirk are paired together to take on the training droids. The later parts of the strip catch up to Cadet Dredd on the streets who happens upon the rumblings of a possible future robot uprising – something that could set up a possible future Cadet Dredd adventure…
All in all, this was a classic Dredd action story with a little bit of character development thrown in. Younger fans may not know that Dredd is a clone so touching upon Rico and Dredd's rivalry with him is a nice addition. Also the issue builds upon the scrutiny and pressure that the Justice Department places on its cadets to get it right first time.
Finder & Keeper – Nuisance Neighbours
I did not know at the time of reading but this is the third outing for the paranormal investigators (can I say Ghostbusters?). Thankfully the first two panels give a brief recap so new readers like myself can get caught up.
The pair of young paranormal investigators are still on the hunt for spooky goings on and come upon a mystery set within their own tower block. The story feels very much like Ghostbusters meets Goosebumps with the so called nuisance neighbours of the title being more misunderstood that actual nuisances.
Anderson, PSI-Division – First-Class Citizen 
Anderson is in hot pursuit of a juve wall scrawler who is in possession of a sky hopper – think futuristic surf board. With a projection of Dredd scaring the juve this tale turns into a school day/alien invasion horror set within a school gone wrong, or right?!
This one could easily jump into any of the regular 2000 AD issues. Paul Davidson'sartwork is amazing and treats the younger readers with vibrant detailed art more commonly available within the usual weekly Progs. The story is very cleaver and features Anderson's encounters with an out of place school set within one of Mega-City Ones's hellish Hab-Blocks. The Psi-Bomb scene is brilliant in portraying the horror aspect of the script, with the ending hopefully setting up yet another future re-visit to the story.
Future Shocks – The Queen of Mean
This one is a little political with a new King or Queen being chosen at random by a computer program called Kingmaker.
The program picks notorious jewellery thief Tanya Kahn as England's newest Queen. This leads to a crisis with the Prime Minister at odds with the Queen of Mean. When the creator of the Kingmaker goes missing Tanya Kahn is prime suspect, however is our new Queen to blame?
The political implications in this tale are great for young readers. A Queen picked by an A.I. was always bound to go wrong and this Future Shock shows exactly that. Whilst not as thought provoking as other Future Shock tales, this strip does a brilliant job capturing the possible constitutional mayhem of a country ruled by an notorious thief.
Strontium Dog – Acceptable Losses
A pre-SD 14 year old Johnny Alpha takes part in a Mutant Army raid of a Norm facilty.
With talk of acceptable looses and civilian war casualties Michael Carroll's script doesn't shy away from these often complex issues. Nick  Brokenshire's art does a nice job of capturing his work on Star Wars Adventures which younger readers will already be familiar with.
Rating: 8/10
Rob Lake