Rob Lake reviews 2000 AD Prog 2202…
It's Wednesday, which means Tharg has returned with another helping of 2000 AD. With the title recently restarting with Prog 2200 the past two weeks have been a brilliant time to jump on the 2000 AD train, so sit down, grab a drink and come with me as I take you though this week's offerings…
It's all systems continue this week as the featured strips rumble on. Maitland lands herself in hot water in Carry the Nine, 'Who's real?' in Stickleback, Nolan Blake…babysitter in Skip Tracer, the search for Constanta continues in Fiends of the Eastern Front, and finally we need a bigger boat in Hook-Jaw.
Judge Dredd: Carry the Nine – Part 3
Accounts Judge Maitland has a tough decision to make. She's worked out a model that could wipe out all crime in Mega-City One. The downside? Choosing to do so would mean the end to the Judges and the entire Justice System!
Maitland takes her model to the Council and naturally she gets chewed up as a result. Too be fair with the entire Justice Department in the firing line did Maitland really think the Chief Judge would agree to her idea?
Maitland ends this issue under the surveillance of the SJS. This begs the question of what comes next?
I'm really enjoying Carry the Nine. Its slow-burning, minimal action storyline really plays into showing the internal politics of the Judges. Boo Cook's art is just as stunningly detailed as previous issues and creates a fantastic looking Dredd to boot.
Stickleback: New Jerusalem – Part 3
After their dealings with the Brotherhood of the Book and their mysterious library, Stickleback and crew find themselves under mysterious conditions as they revert back to their truer selves.
Stickleback is a great little mystery, with a superb action scene where the Green Knight is demanding to know who is the real face – Stickleback or Sherlock? The twists keep on coming.
D'Israeli does a brilliant job in bringing the strange dimensional setting to life and the detail on the Green Knight was particularly charming.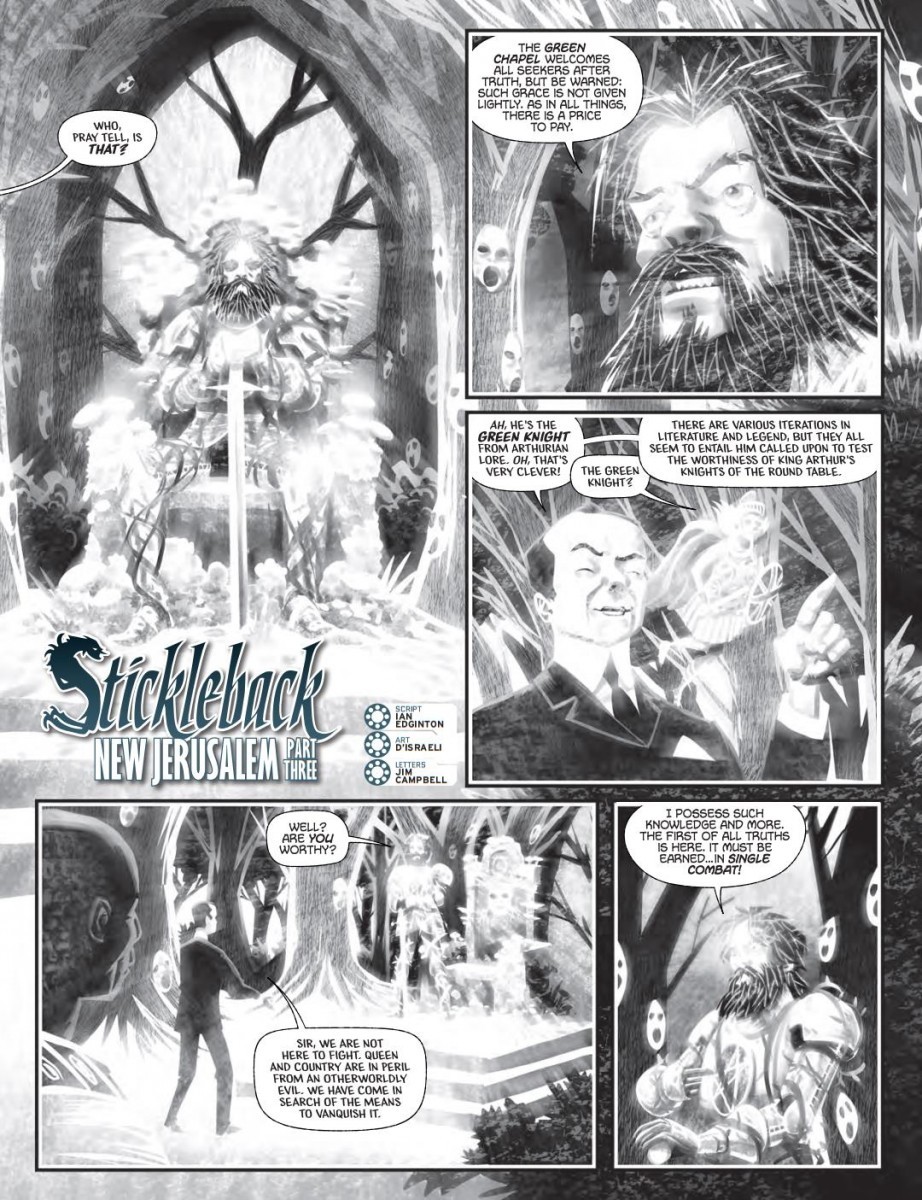 Skip Tracer: Hyperballard- Part 3
Nathan Blake's current job isn't as easy as he'd hoped it would be. Singing sensation India Sumner is a bit of a brat, her manager is a tad shady, he's had to contend with house robot turned assassin, and now a spatial gateway is malfunctioning.
I'm not a fan of Skip Tracer. It's one of those strips that simmers along and doesn't ever seem to get going. However with Hyperballard I'm finding that Paul Marshall's artwork coupled with Dylan Teague's colours has some hallucinogenic effect and I'm enjoying what I'm seeing… and reading!
Fiends of the Eastern Front: Constanta – Part 2
The search for the mysterious Constanta continues. We rejoin British Pilot Tim Wilson who's search for the illusive Captain Constanta has brought him to Romania. Now the Pilot, who's had a fateful run in with Constanta before, is getting caught up with the Captain's history.
Tiernen Trevallion has been getting heaps of praise for his artwork over on social media and its clear to see why. He's created a version of Romania where you'd expect to find vampires living. His use of deep lines and muted colours is a perfect choice for the gritty tale that Fiends of the Eastern Front is fast becoming.
Hook-Jaw – Part 3
Hook-Jaw is back and the body count is slowly but steadily rising. The beauty of the previous two parts is that we've not seen old Hook-Jaw in the flesh. This build up is sadly undone in this part as the horror of Hook-Jaw is revealed.
With the whole story being a homage to Jaws, did we really need Hook-Jaw to be revealed so early? The slow reveal of the killer shark worked wonders in Part 1 and Part 2, what with the show of sharp teeth and blood. It seems that Alec Worley could have built the final reveal up for at least another two parts.
Hook-Jaw so far has been an excellent read. As a fan of films such as Jaws and Deep Blue Sea, having a shark as the big bad is something different. However with a "monster" as the antagonist how do you end it without running into the same old tried and tested monster movie endings?
Rating 8/10
Rob Lake – You can follow me on Twitter or Twitch for more video game and comic book chat.