Rob Lake reviews 2000 AD Prog 2208…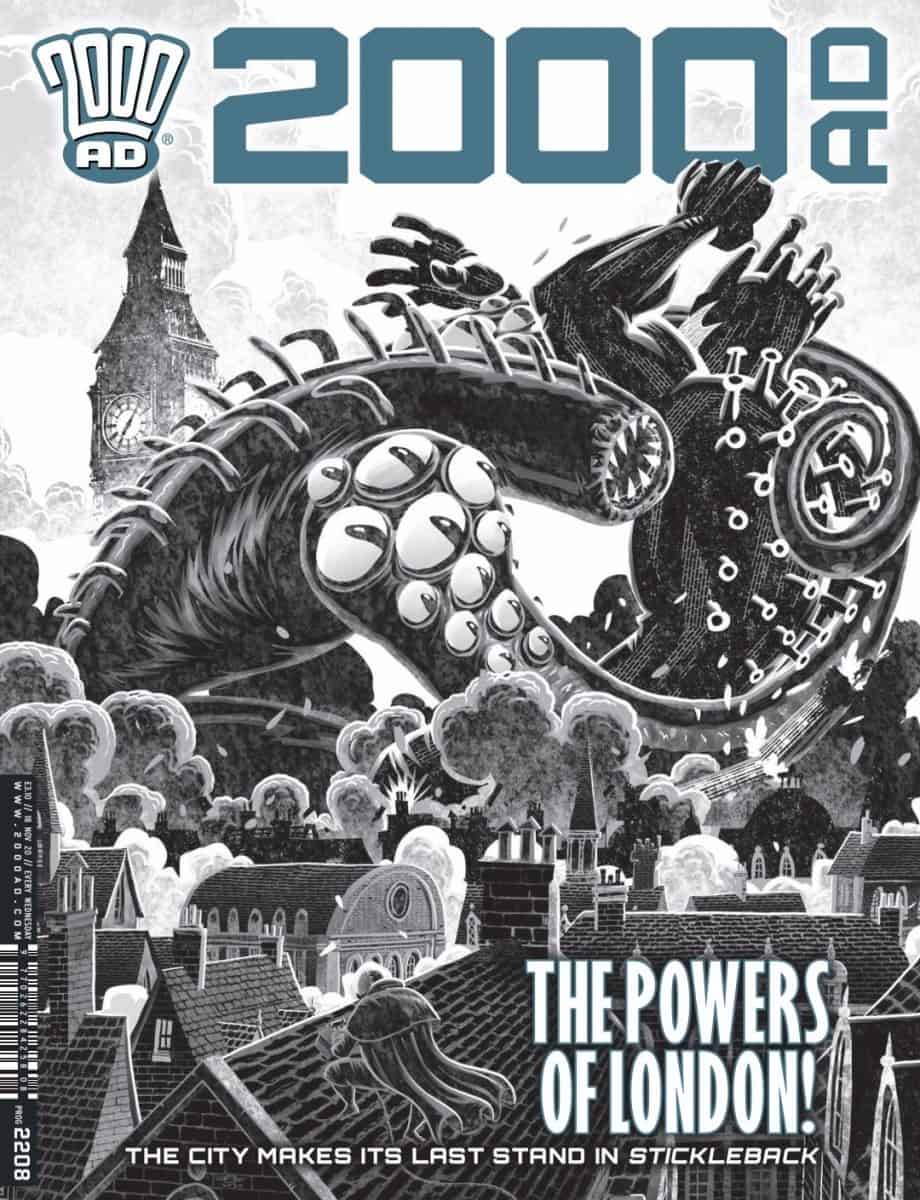 It's Wednesday yet again which means that Tharg The Mighty is back with another trip into the Thrillverse. We're up to Prog 2208 this week and it's full steam ahead with the current offerings.
It's tough being a Simp in Judge Dredd, monsters rampage across London in Stickleback, a demonic shark rampages in Hookjaw, Nolan and India continue to run in Skip Tracer, and finally the endgame approaches for Constanta in Fiends of the Eastern Front.
Judge Dredd: Simply Normal – Part 2.
It's tough being a Simp in Mega-City One, and life is even tougher if you're a Simp and your Simp lover has been a subject in norm conversion therapy. We catch up with Daisy as she's found herself in the wrong side of the Meg (is there a right side?) looking for any help to rescue Pansy from Simply Normal.
It's anything but normal for Dredd too. The Simps aren't his favourite group of people (again, who are?). Dredd's investigation is unveiling the truth behind Simply Normal and the company might not be as 'simply normal' as it seems. Daisy has also found her way into the clutches of the Radical Simp Underground which is naturally going to cause no end of issues for both herself and Dredd.
Steve Austin is showing yet more amazing work with this being his first work on Dredd. Austin dives into The Meg atmosphere with The Simps and its great to see the weird and wonderful in the spotlight. Daisy is also a surprising scene-stealer and its nice to explore the lengths people go-to for the ones they love. Even if it sends you on a course to Dredd.
Stickleback: New Jerusalem – Part 8
Valentine Bey and the giant nightmare monster rampage through London this week as Stickleback meets Godzilla. 
There's deviation and mayhem aplenty as both Edginton and D'Israeli let loose on the monster mayhem. There's plenty of action and plenty to digest with this one. With the end in sight, Stickleback's plans for London's remains are now laid bare.
Hook Jaw: Part 8
Last week we found out that the shark that's not a shark is something worse. With Hook Jaw being a supernatural entity that gains strength through belief, its hard to see this one ending on a good note. With the town full of tourists and Hook Jaw believers all lapping up whatever the world is offering them, its probably not best to all congregate on an old wooden pier.
It's an all you can eat human buffet for Hook Jaw this week as he goes on a feeding frenzy. Gallagher goes to town on with the action with Man vs. Shark and it's a bloody delight!
Skip Tracer: Hyperballard – Part 8
Both Nolan and India travel full circle this week as we're finally back where this tale began. With the goons of India's manager Van Hess still in pursuit of the duo, it's down to Nolan to bring an end to it all.
Skip Tracer is still rumbling on. Thankfully we're now up to date and after 8 parts its time to move forward. As always both Paul Marshall and Dylan Teague work together to give us some wonderful scenes.
Fiends of The Eastern Front: Constanta – Part 7
As we continue to follow the young Constanta through the moments that lead to him becoming immortal, the endgame is finally in sight. Now that he's partnered with Skade and had dodgy dealings with the Witches. All that's left is for him to return home to complete his transformation.
We all know its coming but its great to see the Witches setting the whispers in motion. It all comes full circle as it falls to Skade to bring Constanta home to Romania, and then the tale will be complete.
It's been an entertaining journey to see Constanta go from Lost Prince into Fiend. Both Edginton and Trevallion have done a superb job and I hope we see them paired together again once this current run has ended.
Rating 8/10
Rob Lake – You can follow me on Twitter for more video game and comic book chat.