Rob Lake reviews The Falconeer on Xbox Series X…
The Falconeer is a beautiful looking fantasy aerial combat game which has been upgraded for the Xbox Series X. The Falconeer offers all of the bells and whistles of a AAA title but has been developed by one person.
The Falconeer is amazing in so many ways. It looks great, controls fantastically, offers a unique world to explore and has a story that rivals any HBO epic. The general feel of the game reminded me a lot of Panza Dragoon and Crimson Skies. However, The Falconeer does its own thing and does an excellent job in doing so.
At its core, The Falconeer is a relatively straightforward game to play. We fly from A to B performing various tasks for our faction as well as fighting a few bad guys along the way. We can also upgrade our warbird to be more capable of doing tougher jobs and take on greater challenges. There are a lot of threats in the Great Ursee which range from rival houses, the weather and even the landscape. The Great Ursee is framed for exploration and very much feels like in every direction there is something be seen and uncovered.
The world of The Great Ursee is a mystical world that's "drowning in the corruption of the swollen oceans". It's Waterworld meets Game of Thrones as rival houses plot to exploit The Great Ursee for themselves. Whilst the landscape is roughly 90 per cent water the other 10 per cent boasts some impressive scenery. Archipelagos, rocky landscapes, floating settlements and even giant chasms fill the game's world. Admittedly these locations are few and far between. Whilst it does take a few minutes to fly from landscape to landscape the journey is often worth it just to marvel at the open seas.
The Falconeer isn't a hands-off experience and we can't just point our warbird in one direction and sit back with a cuppa'. Without constant input, our bird will begin to sway from side to side. Whilst this is intended to simulate the bird's free will it does get tiresome when it decides to randomly turn in the middle of one of the many racecourses. The grand illusion of The Falconeer's world is shattered by its habitats treatment of these majestic birds. Granted, its obvious that they serve as weapons and pack mules in this dangerous world but animal bonding isn't included in that list.
Knowing that the warbirds are not inherently evil makes combat that ever sadder. Whilst combat already lacks precision, the human characters we meet are not well characterised which means our only bond is to the bird we're currently flying. Of course, we naturally have to combat our enemies and it's a tough pill to swallow as the burning carcass of these once majestic animals falls into the sea. Thankfully, upgrading our bird's abilities is harmless right?
Think again! Armour and weapons can be both freely purchased and upgraded at the many outposts that litter The Great Ursee. However, upgrading our warbird is a different subject. The game offers us the use of various 'mutagens', which grant abilities to our bird in nefarious ways. One of these is called Vein Rider, which is a mutagen that coats the cardiovascular system of your warbird in a self-repairing mucus. Whilst another darker mutagen called Sark Blood stimulates your bird's adrenal gland in such a way that it is put into a permanent state of fear.
The reason as to why the birds are treated this way isn't explicitly explained during the game which puts it at odds with the world around it. It doesn't help either that the games lore and its many inhabitants don't make up for or even try justifying the sense of unease. It's a shame as the game has enough going in its favour to tell a pretty good coherent story but this lack of detail take the shine off of it.
Missions can also feel a bit bland and repetitive. With the main bulk being either bounty hunting or fetch and drop missions. Long flights can often feel boring with no real consequences felt at their conclusion. Dogfighting can also start to feel like a long winded game of Cat and Mouse as each Falconeer tries to run rings around their opponent.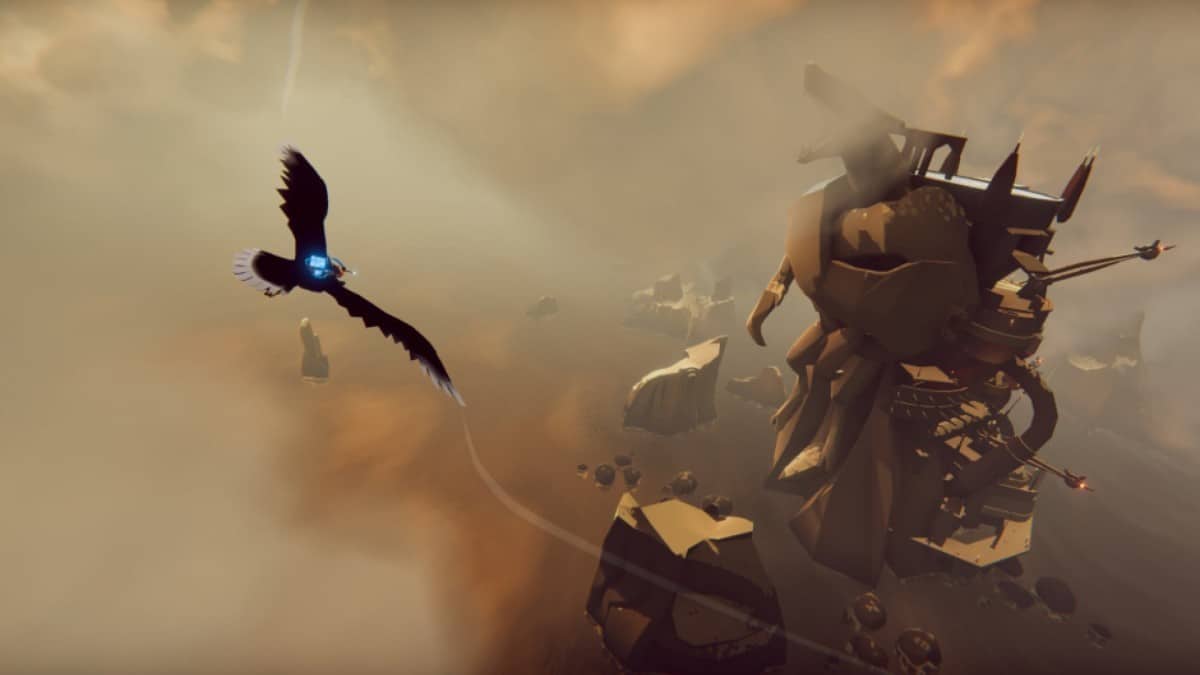 There's no doubt that Tomas Sala has put an incredible amount of work into The Falconeer. And as a one-man developed games go, The Falconeer is arguably the best one made in recent time. It takes a lot of skill to create a game this original and I applaud the time and effort Sala has put into it. The Falconeer will no doubt find a diverse range of fans due to its blend of gameplay. But yet with all of this, you can come away feeling very little. That's in no part a slight on Sala as he's a man shown incredible talent creating this new IP. Who will in no doubt use this experience to create a more refined successor.
At it's best The Falconeer is a beautiful game that allows you to explore the skies above a beautiful world. It's one full of interesting people who feel that they have hundreds of stories to tell. As we work for the various factions there are rumblings of a world on the brink of all-out war and as such from a storytelling point of view is on par with many fantasy epics. Unfortunately this is marred by a repetitive mission structure, long winded dog fighting and missing just a small amount of polish to its world. I have no doubt that The Falconeer will find an audience who will fall in love with it wholeheartedly, but there will be others where the game falls flat of the mark too.
Pros:
+ Amazing lore
+ Fantastic fantasy world
+ Very good voice acting
Cons:
– Warbirds feel pain too
– Unexciting combat
– Repetitive mission structure
Rating: 7/10
Reviewed on Xbox Series X (also available on Xbox One, Xbox Series S and PC)
A review copy was provided by the publisher.
Rob Lake – You can follow me on Twitter  for more video game and comic book chat.