Inception, 2010.
Directed by Christopher Nolan.
Starring Leonardo DiCaprio, Ellen Page, Joseph Gordon-Levitt, Cillian Murphy, Tom Hardy, Ken Watanabe, Marion Cotillard and Michael Caine.
SYNOPSIS:
In a world where technology exists to enter the human mind a single idea can be the most dangerous weapon or the most valuable asset.
Corporate thief Dom Cobb (Leonardo DiCaprio) is an expert in stealing information from where it is most unattainable, the inner-most depths of the human subconscious. Highly skilled in the practice of extraction, the process of entering an individual's dream to steal their thoughts and secrets, Cobb's life has become completely dominated by his intricate and dangerous career. Wanted by the police and unable to return home to his children, Cobb takes on one last job for wealthy business man Saito (Ken Watanabe), who promises to make it possible for Cobb to travel home should he and his team complete the mission successfully. However, Saito does not want to steal an idea from an individual's mind, he wants to plant one. Cobb and his team believe this process, known as inception, to be near impossible; but driven by the desire to escape his life bound by a world of dreams and haunted by the guilt surrounding a past personal tragedy, Cobb delves into the target's subconscious in the hope he can finally return to reality.
Observing a group of fast-talking dream thieves as they wander in and out of each other's subconscious minds whilst appearing in what seems to be reality in one moment, and then in an horizon-bending dream world the next, obviously involves mustering up more concentration than you normally would during an average trip to the movies. And this is ultimately a good thing. It's refreshing to watch a contemporary action/sci-fi movie where you actually need to rub your brain cells together to really get to grips with the narrative.
Few would dispute that Nolan is a master of intellectually and laboriously piecing together unique, high concept narratives and forming visually stunning worlds in which he can play out his original ideas. Memento and The Prestige are testimony to this and Inception acts as further proof. However, ideas and spectacle (and a spectacle it surely is – we're presented with weightless bodies fighting in a zero-gravity hotel corridor, cliffs crashing into the ocean and Paris folding in on itself) seem to be the driving force of the film, and so much effort is required from the audience to keep track of the barrage of new concepts being hurled at them, that initially it's difficult to engage with the film on anything other than surface level.
Leonardo DiCaprio is relatively convincing as the intense, intellectual criminal whose strength is faltering under the unmanageable guilt he suffers after his world-class skills in extraction cost him the most important thing in his life. However, at first I found it difficult to devote much sympathy to Cobb's plight, as any essence of feeling evoked by the characters seemed completely dwarfed by the enormity of the plot and the huge number of technicalities there were to keep track of.
Cobb has an assorted crew at his aid which faces the challenge of inserting an idea into the mind of Saito's new business rival Robert Fischer Jr. (Cillian Murphy) that will subsequently lead to the failure of his family-owned company. His team include his right hand man Arthur, played by Joseph Gordon-Levitt, who occasionally contributes to some of the more comic moments, but generally comes across as annoyingly and laughably smug . There's Eames, a forger who can shape shift once inside a dream, an enjoyable performance by Tom Hardy that provides some much needed humour to lighten the generally solemn tone of the movie. Ellen Page plays Ariadne, the astutely eager, yet slightly naive young architect that Cobb hires to build the dream landscapes in which the team's mission will take place. As the newest member of the squad, Ariadne's function is essentially to stand alongside the audience, to have every elaborate detail of 'inception' explained to her via a number of arduous tutorials from Cobb which inevitably leads to some necessary, but quite clunky dialogue.
Surprisingly, the films length, a running time of nearly 150 minutes, actually works in its favour, as it gives you the time to digest what you've just seen and begin to build an appreciation for it. I think this is what essentially turns the film around and rescues it from being a flat, two dimensional effects-fest that's too concerned with pummelling the audience with new ideas and facts, instead of investing in any kind of depth and sentiment. Of course, there can be nothing wrong in a good old flat, two-dimensional effects-fest if that's all a film claims to be, but Inception gives the impression that it's really trying to be about something more profound, about the real human reactions to this unreal, fantastical concept.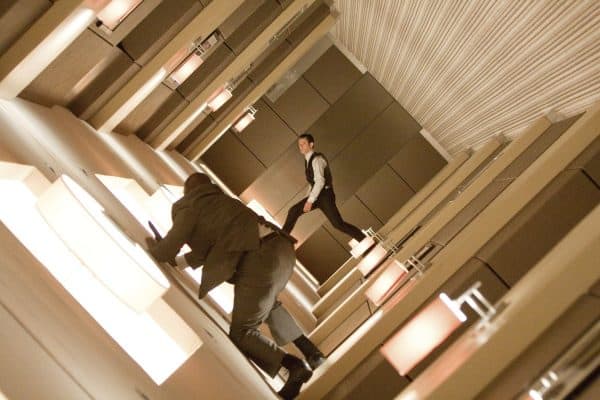 At first, I was too busy trying to stop my cerebral cortex from catching alight whilst keeping up with the narrative to detect any of this, and having an endless parade of information passing before me just left me feeling that the film was quite shallow. However, once Cobb's lectures had fizzled out and the crew embarked on the mission inside Fischer's subconscious, the narrative advanced into more of an intriguing story as opposed to a set of instructions that the audience were required to follow. After a while I found myself settling into the world of Inception, and it felt easier to emotionally engage with the characters and their personal plights. I wasn't completely blown away by it, but what essentially started out as just a clever idea expressed against a backdrop of slow-mo explosions and cool bendy buildings eventually grew into something a little more meaningful, even if it did take the entire two and a half hours to get there.
Amy Flinders