American Assassin, 2017.
Directed by Michael Cuesta.
Starring Michael Keaton, Dylan O'Brien, Taylor Kitsch, Sanaa Lathan, Shiva Negar, and Scott Adkins.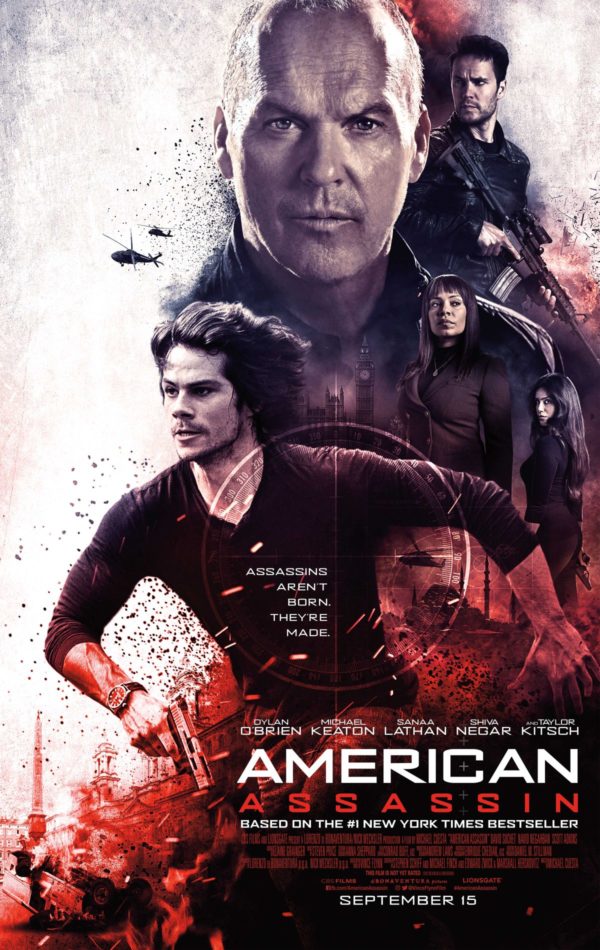 SYNOPSIS:
A story centered on counterterrorism agent Mitch Rapp.
American Assassin (based on the New York Times best-selling novel by Vince Flynn, adapted for the screen by Kill the Messenger's Michael Cuesta) sets the tone for what to expect right from the beginning, as young Mitch Rapp's (The Maze Runner franchise star Dylan O'Brien) fiancé dies immediately after his proposal, caught in the crossfire of a senseless terrorist mass shooting. Horrifyingly, it's all too similar to recent world events, and directed here with no sanitization whatsoever; blood sprays all over sandy beaches as innocent civilians are gunned down one by one. To boot, what little time we spend with the two love birds is actually successful at making audiences care about the loss.
Flash forward 18 months later and Mitch has essentially trained himself into a secret agent (he's undercover as a terrorist online, communicating discreetly to get closer to the exact branch of lowlifes that carried out the attack), although not yet skilled enough as the CIA intercepts his plan (which sees him getting kidnapped and staring down the barrel of a gun anyway) and offers an assist. Just like that vengeance is achieved, so what's left? Well, not much of a captivating series of power plays involving nuclear weapons or compelling character drama, but there is loads of bloody violence and gruesome torture.
Taken under the wing of Cold War veteran Stan Hurley (the great Michael Keaton, letting loose with a scenery chewing performance boasting grit and four letter words), Mitch and a number of other lucky winners take part in an extreme form of boot camp that involves everything from mental and physical torture (causing the throwaway line regarding this training having all the benefits of creating a soldier without the negatives of developing bad military habits to come across as highly confusing), to fancy virtual reality experiences. There's also a clever game that sees the trainees forced to remember certain targets to take out in a digital experience, where Hurley tests Mitch by repeatedly utilizing holograms of the terrorist that murdered his fiancée.
The purpose of this aligns with the central theme of American Assassin, which is to not twist the line of duty into a personal crusade founded on bloodlust. Mitch repeatedly disobeys orders throughout the film much to the chagrin of Hurley, except he is unable to do anything about it as his superior Irene Kennedy (Sanaa Lathan) continuously vouchers for the young man as someone special. What ensues is essentially a lesson on the go and in the field about never letting things get personal, but wouldn't you know it, Hurley also has a rivalry stemming from his past. And so does their female operative tagging along on the mission Annika (Shiva Negar). There's also the mystery of which country has stolen a massive amount of plutonium that could be used for the construction of a nuclear bomb.
Cue all sorts of betrayals, plot twists, and various other revelations that really don't matter, as the film fails at making audiences care about any of this. American Assassin actually gets less interesting the more it goes on; once you strip away the revenge angle and the excruciating new-wave training, what remains is a fairly generic action thriller. Even though it's obviously an action movie, it's still surprising just how much carnage and shootout mayhem there is. Thankfully, it's actually choreographed well, with UFC reminiscent takedowns and buckets of blood approach definitely adding some added fun to the proceedings. There is also an extended torture sequence that is sure to gross out even the strongest of stomachs. It's also capped off with an incredibly bad ass, primal display of brutality and survival instinct from Hurley that is elevated thanks to Michael Keaton's hardened depiction of the warrior. Even Annika gets a cool bit part in an action sequence, although unfortunately she mostly plays second fiddle to her male counterparts and is an underwritten afterthought. There are scenes with her toward the end of the movie that should elicit an emotional reaction, yet they fall completely flat.
However, the one positive that American Assassin does consistently have going for itself is the frequent amount of globetrotting the film does, traveling from Libya to Rome and more. Filming locations were aplenty, meaning there is a lot of environmental variety and beautiful architecture to behold. The final explosive set piece does take place in an ocean, coming complete with some woefully bad CGI and green screen, but there is enough good will built up beforehand to rectify this as forgivable.
I can't say for certain if the novel actually fleshed out the majority of its characters (although I'm willing to place a sizable bet on yes), but American Assassin will satisfy those looking for mindless gunplay and a desire to see the world rain blood. Again, it also does deserve a few points for pulling no punches, as some of the terrorist sequences that play out in public places hit a bit too close to home. It's just a shame the story isn't worth investing in.
Flickering Myth Rating – Film: ★ ★ / Movie: ★ ★ ★
Robert Kojder is a member of the Chicago Film Critics Association and the Flickering Myth Reviews Editor. Check here for new reviews, friend me on Facebook, follow my Twitter or Letterboxd, or email me at MetalGearSolid719@gmail.com