Kingsman: The Golden Circle, 2017.
Directed by Matthew Vaughn.
Starring Taron Egerton, Mark Strong, Colin Firth, Julianne Moore, Halle Berry, Channing Tatum, Pedro Pascal, and Jeff Bridges.
SYNOPSIS:
When their headquarters are destroyed and the world is held hostage, the Kingsmen's journey leads them to the discovery of an allied spy organization in the US. These two elite secret organizations must band together to defeat a common enemy.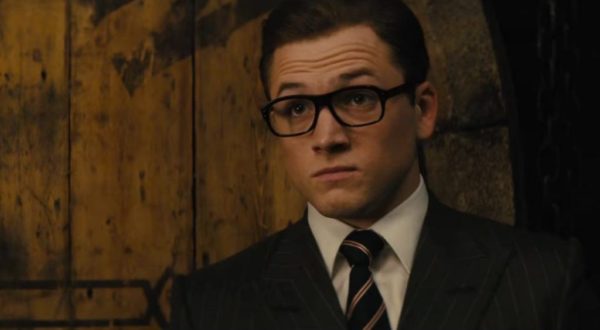 Lest we forget, Kingsman: The Secret Service ended on an anal sex joke. Finding purpose in this was futile, it was unearned, and a nasty way in which to finish a film that prior to this was a pleasant surprise. But context is necessary because that anal joke figures as a major piece of plotting in the incessantly unpleasant, entirely incoherent sequel The Golden Circle.
The Swedish princess previously kidnapped for nefarious purposes who promised our hero Eggsy that, if he succeeds in saving the world, "we can do it in the arsehole," is now his girlfriend, and her purpose seems once again, only to make jokes about anal sex.
Which is good news for fans of casual misogyny because The Golden Circle ramps it all up to 11. Not since Suicide Squad has a major blockbuster had such an indifference to gender politics, in which women are treated as sexual playthings, in which a female character's only purpose is to be fingered by our hero (more on that later). Surely writer Jane Goldman – hot off the back of the brilliant feminist murder mystery The Limehouse Golem – felt it necessary to chime in during the edit whilst watching a microchip work its way from a finger, down velvet pants and up into a vagina, or maybe it was all just played for laughs.
Plotting is incoherent and meandering. When super villain drug dealer Poppy (Julianne Moore) decides to wipe out the Kingsmen, Eggsy (Taron Egerton) and Merlin (Mark Strong) must journey to Kentucky where allied compatriots "The Statesmen," lead by Champ (Jeff Bridges on autopilot), Tequila (Channing Tatum), Whiskey (Pedro Pascal) and Ginger (Halle Berry) may be able to lend a much-needed hand.
That is the bare bones of the plot, for at just shy of two and a half hours, it's filled to the brim with meaningless distractions and tangents only there to provoke. Which all leads back to the gross case of fingering. Taking a note out of Bond's book, Eggsy is tasked with "entering" the girlfriend of henchman Charlie in order to track her moves in hope of leading to him – prior to this, they've been tracking her phone so… This leads them to Glastonbury where Eggsy seduces her and with a condom-covered finger, succeeds. We the audience see all of this, and in the screening room I sat in, it induced audible sighs and muttered "fucks."
It's systemic of the film's wider issues. Where the first succeeded in surprising, the sequel is hampered by a need to only further the extremities. The church fight scene from its predecessor, a fantastically inventive, gob-smackingly cavalcade of violence acts as a blueprint for all that follows, but without surprise, it only amplifies tedium. There are few moments of respite, that nauseating swinging camera occupies every fight sequence, and a grandiose final 30 minutes only magnifies the annoyance.
Taron Egerton again impresses, as does a returning Colin Firth. The two share palpable screen chemistry and there's real pathos between the two. It's a rather different issue with those that occupy the Statesmen. Tatum, who looks to be having the absolute time of his life, is wasted due to quite clear scheduling conflicts whilst Pedro Pascal is miscast as the Firth-lite "Whiskey."
There's so little to grab onto. An over reliance of CGI is at once garish whilst hinting at a behind the scenes issue of getting the whole cast together whilst Goldman's script is strangely stilted.
Character motivations also suffer. Why it is that Julianne Moore's Poppy chooses to wipe out the Kingsmen is foggy whilst her motives late on are made redundant by a script lacking any understanding of itself.
Then there's Elton John. His cameo has been much discussed and it's manically nonsensical. His very presence during the finale is only distracting, and Vaughn and Goldman seem infatuated with him, giving him two fight sequences, two songs and a series of jokes that never land. It's all so self-righteous, a back patting ego boost.
But all this once again feeds back into gender politics. That anal sex joke from Secret Service may as well have been a warning siren, for Vaughn treats his female characters like dirt. They're either villains, sexual figures, defined by their male counterparts or empty stereotypes.
Kingsman: The Golden Circle is peculiarly unpleasant, unruly and incoherent. The whole thing stinks of amour propre; it's a lesson in bemusing self-ego and little more.
Flickering Myth Rating – Film: ★ ★ / Movie: ★ ★
Thomas Harris