Villordsutch on the five worst Star Trek episodes ever…
With Star Trek: Discovery due to leave spacedock on the 24th September, you've still got plenty of time to quickly get in a few classic episodes of Star Trek from across the ages.  Heck, you may even want to introduce a few members of your family/peer group/Tinder dates to the universe of everything Trek.  However, and this is a big "HOWEVER" what you don't want to accidentally do is slap in a Blu-ray – or turn on Netflix – and hit play on any random episode, as Gods forbid you may land on a total dog-egg of an episode.  To keep yourselves safe from such an error we've listed five episodes, from across the past 51 years, you really need to stay clear of.
Star Trek: The Original Series.
Spock's Brain (Season 3, Episode 1)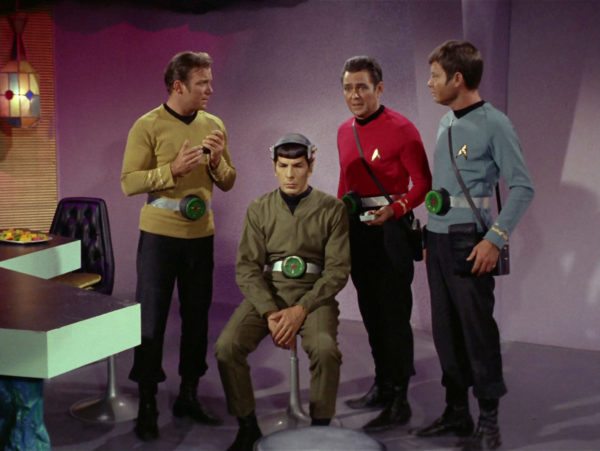 Star Trek: TOS Season 3 wasn't meant to happen; those 'Fat Cats' in their 'Suits' wanted to shutdown our beloved Trek after Season 2 – due to rather poor ratings – but thanks to numerous fans across America bombarding NBC with letters it was brought back and dropped rather kindly in the 'Death Slot' (late night Friday evening).  You'd think due to this the mighty Trek would come out swinging, fighting back with a corker of a story?  Well you'd be thinking wrong as they whimpered in with an abysmal tale called "Spock's Brain".
In this nightmare of dire sci-fi the crew of the Enterprise are knocked out cold, by Kara of the Eymorgs, who promptly removes Spock's brain and makes haste for her planet Sigma Draconis VI.  Lucky for Spock however, he can live without a brain for up to 24 hours.  With the Enterprise seeking out the Science Officer's grey matter, an Away Team discovers the planet's occupants.  The Morgs (males) on the planet's surface, and Eymorgs (Females) who are living below the surface and albeit comfortable, not completely the smartest race on the planet; hence the taking of Spock's Brain, which is now doubling as the main computer.
Things become more bizarre as Spock begins to not only communicate with the Away Team, to provide them with both help and instruction, but Spock's brainless body is now hooked up to a remote control device so said Away Team can move his Vulcan frame around.
Come the end McCoy hooks himself up to the master computer, to quickly learn how to reinsert one Vulcan Brain into one empty Vulcan Head.
This is one of those episodes which you can guarantee non-fans have seen, and they'll spend their waking lives mocking you with it, "Are you one of those Trakkers? I saw it before where Dr.Spock lost his brain! Nanu Nanu!"

Another to miss – If we're being honest, you may want to hide most of Season 3.
Star Trek: The Next Generation
Masks – (Season 7 – Episode 17)
Star Trek: TNG wasn't always great.  For this choice I could easily have said,  "Don't watch Season 1 & 2" and walked away, but that would have been a) a cop-out and b) unfair to classic episodes like Measure of a Man and The Child (one of those is a fib). Instead I've gone for an episode which includes both ham and padding and it's called 'Masks'.
Arriving just a few weeks before the excellent final episodes All Good Things…, here we find Data attending a sculpting class and Troi asking him to sculpt numerous awkward things to build his imagination.  Mid-clay moulding he's called to the Bridge to help scan an ancient comet, and it's during the scan an unknown flash of light dazzles the Enterprise; though unsure of its source Data summarises it was a sensor echo.  All isn't as it should be however when an object appears in Troi's quarters, which wasn't there earlier, and as they leave a symbol appears upon it.
Back in the sculpting class and Data has – thanks to his imagination – created a mask!  Though it appears this mask isn't all it seems, as things rapidly go from bad to worse for the Enterprise.  Symbols begin to appear, they discover there's actually an ancient structure located within the 87 million year old comet, and then Data begins to act up.
With the new mask Data takes on the roles of numerous people, with different voices including the mighty Masaka (a sun goddess), who's waiting the arrival of Korgano (a moon god) played today by Captain Picard. It all ends up being both cringeworthy and silly as sections of the ship morph into Inca-lite temples.  This is one of the episodes I can no longer watch for it makes my teeth itch when I do.
Another to miss – Sub Rosa – Beverly Crusher has an affair with a Scottish Ghost on an alien world.
Click below to continue on for Deep Space Nine, Voyager and Enterprise…