Breathe, 2017.
Directed by Andy Serkis.
Starring Andrew Garfield, Claire Foy, Tom Hollander, Hugh Bonneville, Ed Speleers, Stephen Mangan, and Dean-Charles Chapman.
SYNOPSIS:
When young married couple Robin and Diana have their new lives in Kenya violently halted by his devastating polio diagnosis, their fight to prevent his status as a responaut – one who is entirely reliant on a respirator to stay alive – from stopping him living a life outside hospital walls goes on to radically transform the way the world views – and cares for – the severely disabled.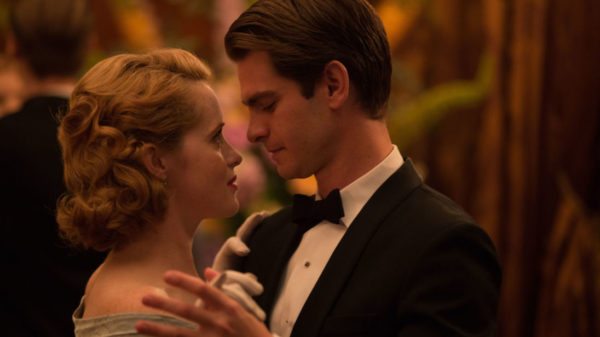 The directorial debut of Andy Serkis, Breathe sees the actor famed for his motion-capture expertise and CGI spectaculars, in new territory. This poignant biopic hones in on the life of an extraordinary couple, Robin (Andrew Garfield) and Diana (Claire Foy) Cavendish, and how the pair dealt with Robin's sudden succumbing to polio in 1958 and his subsequent below-neck paralysis. By refusing to submit to the doctors' will that Robin must remain hospital-bound for the rest of his life, the Cavendishs inadvertently – at first – began a legacy of improving the lives and treatment of tens of thousands of severely disabled people across the world.
Garfield and Foy make for perfect partners in Breathe – loving and devoted, but faced time and again with the challenges of societal opinions and expectations of the day. Their initial emotional repression and 'keep calm and carry on attitude' (complete with the spot-on, clipped RP accents of the period) almost heighten the devastation of Robin's initial diagnosis, before going on to propel them through a long series of battle – and innovations. The strength and resilience shown – particularly by Foy's Diana is a marvel. Breathe is very much a film in the British mettle of jolly well fixing it for yourself, however insurmountable the odds may seem. The duo's gorgeous performances are standouts in different ways, with Garfield's acting limited to his face, a constricted voice and some fabulous dancing eyebrows, and Foy pushing through a colossal amount pressure with an amazingly positive but brisk attitude. Neither could be accused of showboating – it's more a case of the pair literally, well, breathing their parts.
Breathe also features an able supporting cast, with heartwarming parts for actors like Ed Speleers as the loyal best friend, Hugh Bonneville as the 'decent chap' inventor – and even a cracking cameo for Diana Rigg as a brashly truthful aristocrat. Tom Hollander, though, is brilliant value as Diana's twin brothers Bloggs and David Blacker, providing a brilliantly off-beat reading of a sympathetic pair of characters.
Breathe is beautifully shot and soundtracked – Robert Richardson's cinematography takes in stunning wide shots of rural Kenya and mountainous Spain, as well as smaller, more imaginative views such as Diana's legs as she twists on a garden swing and discusses her future with her brothers. The lovely deployment of Bing Crosby's sublime 'True Love' recording for High Society is also a nice touch as Robin and Diana's anthem.
One of the most shocking things that Breathe makes no bones about bringing to the screen is how appalling the conditions of care for severely disabled people were as recently as the 1980s, brought home by an alarming trip to Germany. Patients were trapped not only physically in their bodies, but also by society's – and their doctors' – constricted view of what kind of lifestyle they could be capable of leading as a responaut.
This film's subject matter screams awards, but it's unfair to dismiss Breathe as bait – yes, it's an inspirational story, but it doesn't preach or wallow. It's intensely personal: quiet and focused on one man's extraordinary life and the extraordinary woman who made it happen, by both of them refusing to condemn him to a life of virtual imprisonment. Neither Robin nor Diana Cavendish ever saw the idea that just because something had not been done before that it shouldn't be attempted now.
Breathe will bring a lump to the throat with its passionate but un-showy telling of two individuals who sought to change the status quo, shifting the mindset of society and improving lives for thousands of people. It's a classic British underdog concept – but with one of the greatest personal successes of all time at its core.
Flickering Myth Rating – Film: ★ ★ ★ ★  / Movie: ★ ★ ★ ★
Tori Brazier