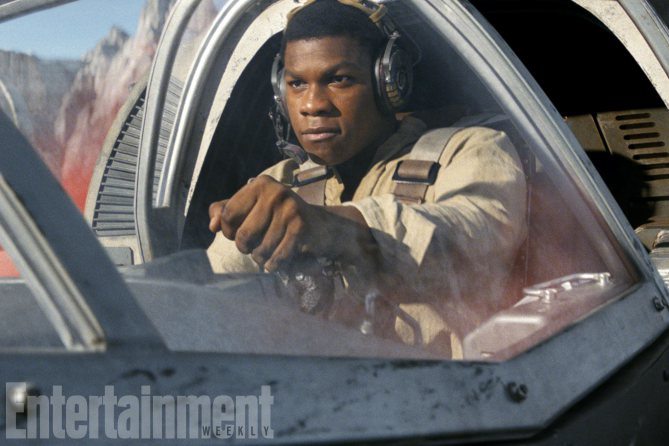 John Boyega was at the New York Comic Con yesterday to promote the upcoming release of Pacific Rim Uprising [watch the first trailer here]. However, as you'd expect, Star Wars was high on the agenda as Boyega made the press rounds, and speaking to Coming Soon the British actor shared his thoughts on J.J. Abrams' return to the saga for 2019's Star Wars: Episode IX, which he also described as "the war to end all wars".
"I think what's fantastic is it feels like it's coming back full circle," said Boyega. "I don't know nothing about the script, the story. I don't know where Finn's going, I don't know where Rey is going, but definitely I feel this is the war to end all wars in this movie. I'm interested to know how he will handle that. I'm asking so many questions and I haven't had a chance to kinda sit down and write J.J. a message just to say congratulations and I'm stoked. My fixation now is that he needs to get some SLEEP and GEAR UP because we're doing another one of these movies, mate! But I think he's gonna do a great job, as always. He's J.J."
Do you share Boyega's enthusiasm for Star Wars: Episode IX? Let us know in the comments below…
In Lucasfilm's Star Wars: The Last Jedi, the Skywalker saga continues as the heroes of The Force Awakens join the galactic legends in an epic adventure that unlocks age-old mysteries of the Force and shocking revelations of the past.
Star Wars: The Last Jedi is set for release on December 14th in the UK and December 15th in the States and sees returning cast members Mark Hamill (Luke Skywalker), Carrie Fisher (Leia Organa), Adam Driver (Kylo Ren), Daisy Ridley (Rey), John Boyega (Finn), Oscar Isaac (Poe Dameron), Lupita Nyong'o (Maz Kanata), Domhnall Gleeson (General Hux), Anthony Daniels (C-3PO), Gwendoline Christie (Captain Phasma), Billie Lourd (Lieutenant Connix), Andy Serkis (Supreme Leader Snoke), Peter Mayhew and Joonas Suotamo (Chewbacca), Tim Rose (Admiral Ackbar), Mike Quinn (Nien Nunb), Simon Pegg (Unkar Plutt), and Warwick Davis joined by new additions Jimmy Vee (Pan) as R2-D2, Kelly Marie Tran (Ladies Like Us) as Rose, and Benicio Del Toro (Guardians of the Galaxy) and Laura Dern (Jurassic Park).