Goodbye Christopher Robin, 2017.
Directed by Simon Curtis.
Starring Domhnall Gleeson, Margot Robbie, Kelly Macdonald, Will Tilston, Stephen Campbell Moore, Richard McCabe, Vicki Pepperdine, Phoebe Waller-Bridge, and Alex Lawther.
SYNOPSIS:
A behind-the-scenes look at the life of author A.A. Milne and the creation of the Winnie the Pooh stories inspired by his son C.R. Milne.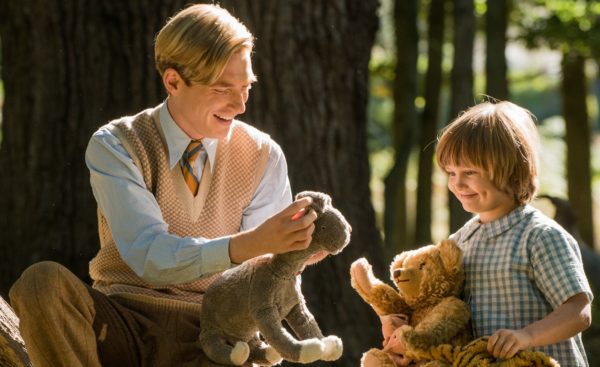 Realistically, the most gracious compliment to be given to Goodbye Christopher Robin is that it isn't awful, although there's no excuse for all of its fragmented, sometimes intersecting narrative points to miss the mark this badly. Imagine trying to hurl a baseball at a beehive full of honey, only for the pitch to wildly miss and smash Eeyore in the face, and you have the script for this film. What's most frustrating is that the structure is solidly crafted to do the creation of Winnie the Pooh and company justice, rarely attaining the level of emotional gravitas it should.
Before plunging down the rabbit's hole (haha, see what I did there?) of what isn't functional, it should be noted that Domhnall Gleeson (Ex Machina, American Made) and young newcomer Will Tilston have wonderful chemistry together, respectively portraying Alan Milne and his son, the real-life Christopher Robin often referred to as Billy. Whenever the movie shifts focus away from their complex relationship (Alan initially isn't very child-friendly, solely concerned with penning an anti-war peace to further demonstrate the PTSD-inducing evil and horror he witnessed and survived), it's a joyous relief when the pair once again get to share the screen together. Christopher Robin stirred the imagination of Alan, always playing with stuffed animals in and around their isolated home, where the grassy, forest surroundings are meant to resemble the beloved 100 Acre Wood.
Naturally, gradually amassing knowledge of how classic characters in the popular children's books got their names, among other equally interesting aspects, makes Goodbye Christopher Robin a rather breezy and fun viewing. It takes a miracle for someone to not know what Winnie the Pooh is, let alone not have to have been part of their childhood in some way, so adults will assuredly earn mileage out of the experience that way despite the glaring flaws peppered throughout other areas. Even children may have their attention span hooked, thanks to the family friendly presentation of it all, which includes the depiction of PTSD as well as brief instances of war violence and bullying.
The question to ask then is whether or not that director Simon Curtis made the right creative decision. Arguments can be made supporting or disapproving; yes, the story is handling the birth of an intellectual property synonymous with childhood, but in doing so cannot turn a blind eye to the very sadness that the novels were meant to distract its readers from. Having Alan frequently react to balloons popping or other loud noises (and it happens a lot) is both a sanitized look at PTSD and also amateurish direction. At multiple points, Goodbye Christopher Robin feels written and executed like a television movie, which actually shouldn't be surprising considering that is largely where Simon Curtis operates.
It's not just that one area either, as the overall narrative attempts to touch on far too many different subjects ranging from the inevitable childhood destruction that comes from youthful fame, marital problems, child neglect, and probably more I can't even remember. Both parents essentially make Christopher Robin feel so unwanted that his best friend was actually his nanny (Kelly Macdonald, who can also currently be seen in Loving Vincent); their relationship is the second most engaging dynamic of the film, all thanks to strong acting even with her limited screen time. However, these themes can only be explored skin-deep within the context of the PG rating, and ultimately the film definitely deserves a treatment between child-friendly and heavy-handed adult material.
Alan's wife Daphne (Margot Robbie of Harley Quinn notoriety) suffers the most, POSSIBLY because of this or due to flat-out bad writing; she jumps from uncaring bitchy spouse/mother to lovingly perfect. Underutilized, underwritten, and portrayed to the point where I have no idea how to accurately describe her character, one has to wonder what Margot Robbie even saw in the script besides the novelty of working on a project involving the creation of Winnie the Pooh. Regardless, marital troubles are acknowledged and bafflingly mishandled.
Just when it seems Goodbye Christopher Robin can't make any more detours, suddenly it guns to make a statement on bullying, but for all of maybe 30 seconds. This is also used as a transition into the film's final act, which actually manages to take all of these disjointed, moving parts and piece together a fitting ending that isn't too sentimental or overly happy. The problem is that a good 15 minutes of the third act is spent on an unnecessary fake-out death that once again shows just how amateurish of a film this is.
Numerous faults aside, I will admit I did enjoy unearthing details I never knew before about the creation of Winnie the Pooh and its characters. On a visual level, it truly does look like the 100 Acre Wood envisioned and brought to life, utilizing some digital effects occasionally to enhance the atmosphere. Alan Milne didn't create all of this, Christopher Robin did, and in that regard, the film does an admirable job of celebrating the imagination of a child forced into an unorthodox upbringing. Needless to say, I had no quarrel with saying goodbye to Goodbye Christopher Robin.
Flickering Myth Rating – Film: ★ ★ / Movie: ★ ★ ★
Robert Kojder is a member of the Chicago Film Critics Association and the Flickering Myth Reviews Editor. Check here for new reviews, friend me on Facebook, follow my Twitter or Letterboxd, or email me at MetalGearSolid719@gmail.com